Best Radiator Paint to Give Radiators a New Lease of Life
By Steve Jenkins published
The best radiator paints offer a durable, heat-resistant finish that can make painting a radiator a great option for your home renovation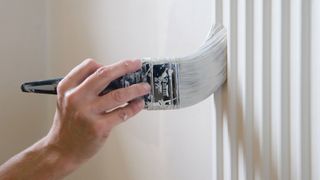 (Image credit: getty images)
The best radiator paint can transform tired old radiators or just bring an existing radiator into your room's colour scheme. It's cheap and relatively easy to paint radiators, but you need to get your prep right and of course choose the right paint.
Radiators need a hard-wearing, long-lasting finish, so they also need to be cleaned and prepped before you even start painting —i f you don't do the prep you are more likely to get a poor quality finish that won't look good for long.
Once your radiators are ready for their new look, you need to think about the paint. They require different, specialist paint to that used for painting a wall. Specialist radiator paints dry to a hard, long-lasting finish that can take the odd knock or two and are heat resistant so the paint doesn't start peeling off or bubbling the moment they get hot.
Here we have put together an essential selection of radiator paints that can give you a sparkling new factory like finish or a cool contemporary colour to match the rest of your home.
What is the Best Radiator Paint?
When it comes to painting a radiator, our pick for the best radiator paint is currently Hammerite's Radiator Enamel — applied as a spray for a factory-level finish.
However, there are some great choices both as sprays and paints that can be applied with brushes or rollers for refreshing white radiators or adding some colour to your scheme.
1. Hammerite Radiator Enamel
Get a smooth factory-like satin finish
Can size: 400ml | Coverage per l: 5m2 | Drying time: 15 minutes | Finish: Satin
Factory-like finish
Quick-drying
Satin or gloss finish
Tough and durable
One can does one radiator
Only available in white
If you want a smooth factory like finish for your radiators your best choice is to invest in a spray can like this offering from metal paint specialist Hammerite. This 400ml can offers around two square metres of coverage. That's about enough for two coats on a large radiator.
It has a subtle satin finish, also available in gloss, but you can only get it in one colour, white. It dries to a hard, durable, long-lasting finish that can take the odd knock or two in around five minutes. To finish you'll need to wait 15 minutes before you can add a second coat to get that smooth, professional-looking finish.
---
2. Rustins Quick Drying Radiator Enamel
A specialist brush on paint that stays white
Tin size: 250ml, 500ml, 1l | Coverage per l: 14m2 | Drying time: 30 minutes | Finish: Satin, Gloss
Quick drying
Satin or Gloss
Good coverage
Non-yellowing
Four hours for a recoat
If your radiators need a quick refresh to make them look like new, this specialist radiator paint from Rustins is a simple brush on solution. As it's a water based paint, it's easy to clean brushes and tools and it is heat resistant up to 105 degrees. It comes in two finishes, satin and gloss, and a single colour, white.
It is a pure brilliant white that is non-yellowing unlike a lot of oil-based paints, but this does mean it's no good for touch-ups on old discoloured radiators.
It is touch dry in around 30 minutes, but you will need to wait for four hours before a second coat can be added. It is not recommended for oil-filled electric radiators.
---
3. Rust-Oleum Radiator Enamel
Get a cool contemporary colour and finish
Can size: 400ml | Covergae per l: 5m2 | Drying time: 10 minutes | Finish: Matt, Satin, Gloss, Metallic
Four different finishes
Six colours
Smooth professional-looking finish
Easy to clean
Not as good coverage as normal paint
Like the Hammerite Radiator Enamel in this buying guide, this is another spray can solution that gives a smooth factory like finish. But the big plus with this offering from Rust-Oleum is that it comes in four finishes and six colours so you don't have to stick with white.
There are satin and gloss finishes if you do want white, Chrome, Silver and Cast Iron metallic finishes and a matt finish in Heirloom White — which is effectively cream. So something for modern and vintage style radiators. It is easy to apply and dries to a tough, durable finish that offers rust protection, is non-yellowing and is moisture resistant and easy to clean.
---
4. Johnstone's Radiator Satin Paint
A paint that works on all metal radiators
Tin size: 250ml, 750ml | Coverage per l: 9m2 | Drying time: 1-2 hours | Finish: Satin, Gloss
Easy to apply
Works on all metal radiators
Dries quickly
Ideal for hot water pipes
Only available in white
From Johnstone's Speciality range this paint has been specially formulated to work on all types of metal radiators — and metal hot water pipes. This means you can paint your pipes to match your radiator.
Available again in solely white, you can choose from a gloss or satin finish, making it ideal for modern radiators rather than vintage radiators. Like most water-based paint it dries quickly, in this case 1-2 hours, but you will need to wait for four hours for a recoat. But once dry you can start using your radiators straight away. It is best applied with a synthetic brush in two thin layers to help get a smooth finish.
---
5. Anthracite Grey Heat Resistant Satin Radiator Paint
Transform your radiators with a contemporary colour
Tin size: 150ml | Drying time: 2-4 hours | Finish : Satin
Contemporary colour
Heat resistant up to 190°C
Self-priming
Only available in small tins
Fed up with white radiators and fancy a cool contemporary colour instead? Then this Anthracite Grey enamel satin paint is a good choice to give your radiator a modern twist.
Heat resistant to 190°C, higher than most radiator paints, it is self-priming, so you can paint straight on top of previously painted radiators or bare metal radiators - though we recommend a primer for a better finish. It is touch dry in 2-4 hours, and two coats will be needed if covering a previously white radiator, however, you will need to wait for another 12 hours in between coats.
One downside is that it only comes in 150ml tins, enough for one radiator.
---
What are the Alternatives to Using a Specialist Radiator Paint?
If you are going to paint a radiator you really need to be using a specialist radiator paint to get the best finish. But you are very much limited by what colour you can choose when dealing with specialist radiator paints. They typically come in white in satin or gloss finishes that mimic the factory finish you get on most modern radiators. There are other colours available but there is a good chance you won't get the exact colour you want to complement your walls.
The alternative is to use a standard, non-specialist metal paint like Dulux Trade Satinwood or Dulux Quick Drying Satinwood or you can even use an emulsion to paint a radiator the same colour as your walls. But while you can get good looking, long lasting finishes with these paints, they won't be as hard-wearing.
To help get the best possible finish you'll need to prep your radiator - clean and rub down - and apply a primer. This ZINSSER B-I-N Primer Sealer from Amazon is a good all-round choice for this. This provides a strong first coat for the top coat to adhere to. Make sure to follow the manufacturer's instructions especially on drying times to ensure the best finish.
The next step is to add your chosen topcoat. Make a judgement call if you need a second coat. If using any emulsion to paint your radiator it will typically have a low sheen that isn't as hard-wearing as satin or gloss. To give a radiator painted in emulsion more protection, think about adding a layer of clear lacquer or varnish.
Steve is an avid DIYer with over 20 years of experience in transforming and renovating homes. He specialises in painting and decorating, but has strong all-round building skills, having previously worked in the industry for 10 years.
Homebuilding & Renovating Newsletter
Get the latest news, reviews and product advice straight to your inbox.
Thank you for signing up to Homebuilding. You will receive a verification email shortly.
There was a problem. Please refresh the page and try again.