How to Paint a Radiator for a Faultless Result
By Steve Jenkins published
These top tips for learning how to paint a radiator will give your radiators a fresh, smart new look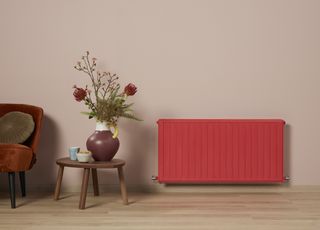 (Image credit: Dulux)
It only takes a few simple tips to learn how to paint a radiator properly, and whether you are repainting the same colour or looking to add a hot new shade, it's a job any keen DIYer can do.
Make sure the radiator is cold, properly prepped, and finished with the right paint, then and all your metal radiators will boast a fresh new look.
Here we give you all the tips and advice you need to get the job done in style.
(MORE: How to choose your radiators)
How to Paint a Radiator: Choose the Right Paint
A specialist radiator paint like Hammerite Radiator Enamel Paint is the obvious choice, but this limits your colour choice. Alternatively, you could try Trade Paints Radiator Paint which has a larger range of colours.
Solvent and water-based paints such as Dulux Trade Satinwood or Dulux Quick Drying Satinwood will do a good job but won't last as long. But they do offer colours that will match or complement your wall colour.
Spray cans such as Hammerite Radiator Enamel are a great choice for a really smooth finish, but colours are limited. And they take more time, effort, and skill to prepare and apply.
Emulsion is an option, but you will need to apply a primer and you will need to finish with a clear radiator protector similar to varnish. Only use this option if you can't get the colour you want in the other paint options.
TOP PAINTING TIP
Common sense tells you that the summer is the best time to paint a radiator. But you can paint at any time by using an alternative source of heat in the room eg a portable electric fire. This will keep the room warm and help dry the paint out.
Tool List for Painting Radiators
Once you have your ready, you can begin assembling your tools, which should include:

Sandpaper
Dust sheets
Primer
Radiator paint
Paintbrushes
Cloth/sponge/bowl
Preparation
Before you start the first thing you need to do is switch off the radiator completely and wait until it is stone cold. Do this the night before you want to paint. Then on the next day, clear the area around the radiator, vacuum, and put down dust sheets.
You can remove the radiator from the wall if you're going to paint the back and front, but this involves more work. If you are not comfortable removing a radiator, then leaving it on the wall is the easier option, and you can still get a great finish.
Clean the Radiator and Rub Down
If your radiator has a lot of loose paint then get a wire brush to remove it. Next, get a hard hand brush and remove as much dust and debris as possible. Radiators get dirty over time so you will need to give it a good clean. Use a kitchen sponge and warm soapy water - a squirt of washing up liquid will do.
If the radiator is situated in an area where it might get greasy (such as the kitchen), then use sugar soap to clean. To finish, wipe it over with a clean damp cloth and leave to dry.
Next, rub down the radiator using a fine to medium grade sandpaper - 150-220 grit will do the job. This will make sure that the paint adheres properly to the radiator to give it a long-lasting finish. Before you paint, give the area around the radiator once last clean.
(MORE: How to balance radiators)
Application
Using a brush or can are your best choices for application. You can use a roller if you have a flat panel radiator, but these don't produce the best finish on most radiators.
The easy option - and most commonly used - is a paintbrush. Use a 2-4 inch brush for the main part, but have a ½ inch brush on hand for difficult to get into areas.
The first coat is a primer - especially if you are using a paint that isn't a specialist radiator paint. ZINSSER B-I-N Primer Selaer is a good choice.
If you're painting a single panel radiator, start in the top left or top right corner and work down in strips. Don't overload the brush with paint.
When you're finished, lightly brush over any areas that need blending, and make sure you have no runs. On double panel radiators ,paint one end first and then paint the front before leaving to dry. Be sure to check the manufacturer's instructions for information on drying times.
Next, apply the topcoat the same way and leave it to dry. Make a judgement call if you need another coat or not.
How do I Spray a Radiator?
Spray cans are the easy option to spray a radiator and will produce a smooth professional finish when done right. One can will provide a couple of coats on a small radiator.
To do this, you will need to prepare the area thoroughly as spray can spread easily. Cover the walls around two feet all around the radiator with newspaper or plastic sheets, and put dust sheets on the floor and over any nearby furniture.
Shake the can as instructed to mix the paint, then apply light, even coats from a distance of around six inches. Make sure you keep the can moving - if you concentrate on one area you will get runs. Let the first coat dry and add a second, and a third coat if needed.
(MORE: How to add a radiator)
How Long Should I Wait Before Turning the Radiator Back on?
Once you have applied the final coat of paint to the radiator, leave it for at least 24 hours before switching back on. If you can, leave it for 48 hours in total. This will make sure that the paint is completely dry and ready to take the heat.
Steve is an avid DIYer with over 20 years of experience in transforming and renovating homes. He specialises in painting and decorating, but has strong all-round building skills, having previously worked in the industry for 10 years.
Homebuilding & Renovating Newsletter
Get the latest news, reviews and product advice straight to your inbox.
Thank you for signing up to Homebuilding. You will receive a verification email shortly.
There was a problem. Please refresh the page and try again.