9 Cheap and Quick Ways to Give Your Kitchen a Makeover
By Steve Jenkins published
Can't afford to splash out on a sparkly new kitchen. Here we reveal nine must-know DIY wins to get your kitchen looking like new for less than £400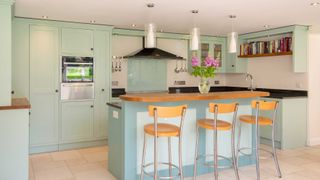 (Image credit: Used Kitchen Exchange)
Fed up of looking at your shabby old kitchen? Wish you could afford a new one, but don't have thousands of pounds to spare? Or are you renovating and the existing kitchen is in need of an update before being replaced at a later date. Don't despair — with some smart thinking, careful budgeting and a little research you can transform your dated heart of the home for a fraction of the cost.
Painting, replacing electrical sockets, worktops, silicone, sinks, taps and regrouting tiles are all jobs that any competent DIYer will be able to take on without any problem. But you don't have to stick with the standard, why not creative and introduce some clever kitchen ideas to an a touch of individuality.
Tackling jobs yourself will mean that you'll save hundreds of pounds in tradespeoples' fees. But this is not the only way to keep down costs — do a little research. Instead of buying everything you need from your local hardware store, take a look at Amazon, eBay, Facebook Marketplace and elsewhere online. You can stumble on a bargain and find exactly what you need for less.

Check out our nine quick wins and pick and choose what you need to give your kitchen a makeover.
1. Paint Cabinets and Change Hardware
Painting is a relatively quick and cheap way to give your kitchen cabinet doors and cabinets a new look. Choose a hot new contemporary colour and you'll be amazed at the difference it can make.

But there is an art to painting kitchen cabinets. You need to make sure that you are doing the prep right and choosing the right paint. Poorly prepped and painted cabinet doors will not stay looking good for long.

To keep your fresh, new look doors and cabinets company, change the handles and hardware. Think about getting soft close door hinges to add a touch of class.
If kitchen doors are in need of replacement, but the carcasses are in good working order, why not fit second-hand doors at a fraction of the price of new. Try Facebook Marketplace for second-hand kitchen unit doors.
As an alternative, the Used Kitchen Exchange offer complete second-hand and ex-display kitchens; although this will inevitably cost you more than making over existing doors.

COST: From around £60
2. Regrout Tiles
The grout in tiles will discolour quicker than the tiles themselves, especially white grout. You can scrub and clean but at some point it is better to replace the grout. When you make the change you can go like for like, or think about trying a new grout colour.
To make the job easier, invest in an inexpensive grout rake. Or, get your hands on an electric grout remover to get the job done quickly.

Alternatively, if you are not keen on your current tiles and want a new look without the expense, painting tiles is a quick and easy win.

COST: From around £15
3. Paint Ceiling and Walls
A fresh coat of paint will instantly transform your kitchen ceiling and walls. You can choose a contemporary or classic colour that will complement your newly painted kitchen cabinets and doors.

When decorating a room, painting the ceiling is the first part of the process. Typically a ceiling is painted white to give the illusion of height — and it is a colour that will match whatever shade you choose when painting a wall.
Choose a washable paint that is moisture resistant, durable and will stay looking good until the next time you give your kitchen another makeover.
COST: From around £40
4. Paint the Woodwork
If you're painting your ceilings and walls it makes sense to paint any woodwork such as door frames, doors, windows and skirting boards to complete a makeover. If the current paint job is in reasonably good condition you can give it a quick clean and rub down before painting.

Make sure you do a good job on painting skirting boards as they will receive a lot of wear and tear and will frequently come into contact with water.

If the paint is in poor condition you might want to take it back to bare wood which will involve more work, but it will be worth it.

COST: From around £50
5. Replace Old or Mouldy Silicone
This is a relatively quick and simple job that will make a big difference when you remove all the old and commonly mouldy silicone. For this you will need a silicone gun and silicone sealant as the bare minimum.

The old sealant can be removed with a Stanley knife and scraper. But, you can buy kits that include a special tool for removing silicone along with finishing tools to help make sure that you get a smooth, sharp professional looking finish.
COST: From around £20
6. Install a New Sink and Taps
A sparkling new sink and a shiny new set of taps are a welcome addition to any kitchen makeover and they are not as expensive as you might think. You can get a standard steel sink from as little as £35 with taps costing from around £25.
But if you want something a bit more stylish such as a ceramic, resin or belfast sink along with better quality taps expect to pay from £150 upwards.

A component DIYer will be able to fit a new sink and taps, but the cost will go up again if you need to call in a professional. However, if you like your taps but they are leaking you can learn how to fix a dripping tap to save a few quid.
COST: From around £60
7. Introduce New Electrical Sockets
Standard white sockets cost very little to replace and will add another subtle touch to your kitchen makeover. Alternatively, it is a good time to consider something beyond the standard. Learning how to swap a socket is quick and painless and will save you money.
Take a look at replacing the current sockets with metal ones such as brushed steel, antique brass or nickel finishes to introduce a new aesthetic. Why not go one step further and introduce USB sockets; perfect for keeping your phone charged when looking at your favourite recipes.
COST: From around £20
8. Change Your Worktops
Worktops are an integral part of a kitchen and they are one of the components that see a lot of action. They encounter a lot of wear and tear so choosing the best kitchen worktop for your needs will make a big difference to the overall appearance of your kitchen.

If you have real wood worktops you can save yourself a fortune by sanding down and treating. However, if you want to replace this will be one of the biggest costs. A three metre worktop will start from around £100-£150, but depending on what material you want it can cost two, three, four or more times this price.
Alternatively, why not try a vinyl wrap for kitchen cupboards and worktops, if the surfaces are in good working order, but in need of an update. Rolls cost from under £10 from local DIY merchants.
COST: From around £100
9. Put Up a New Blind
A nice, simple and quick addition to finish with. Once you have decided on the colours of your kitchen cabinets and doors, walls, ceiling and woodwork you can look at replacing your current kitchen blind to complete your kitchen makeover.

Choose a colour that complements your current kitchen, or pick out a pattern that makes a statement about you. Make sure that you get a material that is easy to clean and if you're looking for added privacy buy a blind that fits well to your windows and isn't transparent, especially at night when the light is on.

COST: From around £20
Steve is an avid DIYer with over 20 years of experience in transforming and renovating homes. He specialises in painting and decorating, but has strong all-round building skills, having previously worked in the industry for 10 years.
Homebuilding & Renovating Newsletter
Get the latest news, reviews and product advice straight to your inbox.
Thank you for signing up to Homebuilding. You will receive a verification email shortly.
There was a problem. Please refresh the page and try again.