Washable Paint: Best Buys for Walls That Stay Looking Fresh
By Steve Jenkins published
Looking for washable paint for walls that are easier to clean? Our decorating expert chooses his top picks for 2022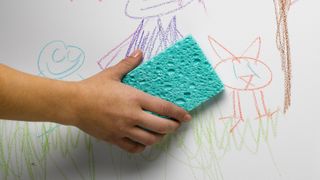 (Image credit: getty images)
Washable paint isn't something to overlook — after all, there's nothing worse than seeing a scuff mark or stain on your newly painted walls and woodwork. After spending hours or even days making your home look beautiful, you don't want to be thinking about repainting.
The simple solution is painting a wall with a washable paint. These are great for high traffic areas such as hallways and stairs where hands are always touching the walls and ideal for kitchens and dining rooms where stains happily make an appearance, especially if you have kids. Washable paints are tougher and more durable than standard paints, are typically scuff and stain resistant and are easy to wash and wipe clean.
Here we have chosen a selection of tough, durable and stain resistant paints to help you keep your walls and woodwork looking good for longer.
What is a Washable Paint?
Washable paint is a type of emulsion formulated so that it can be wiped or scrubbed to remove marks without damaging the paintwork, making it useful for high traffic areas which might otherwise need regular repainting.
When using washable paint, you can wipe it with a wet cloth or sponge without causing moisture related issues to the paintwork, however, it's still an emulsion paint and shouldn't be exposed to levels of high moisture on a regular basis such as in a bathroom, so be sure to look for the best bathroom paint for this room instead. ]
Washable characteristics are measured by a specific classification system in paint: Class 1 being the highest level of resistance for a paint coating to being wiped. However, Class 2 is also considered washable and suitable for rooms with high levels of wear and tear.
What is the Best Washable Paint?
1. Dulux Easycare Washable & Tough Matt
Stain repellent technology makes it easy to clean
Tin size: 2.5l, 5l | Coverage per l: 13m2 | Drying time: 4 hours | Finish: Matt
Stain repellent
Easy to clean
Lots of colour choice
Competitive price
Needs 3 coats for a strong colour change
Dulux is a long-established brand with plenty of paint know-how and this matt emulsion brings with it plenty of it. It uses technology from other Dulux paints to help create a tough durable finish.
The make-up of the paint means that it repels liquid making it much more difficult for it to stick and in turn easier to clean. This makes it an ideal choice for high traffic areas such as hallways and areas where stains often occur, such as kitchens and dining rooms — and there are plenty of colours to choose from.
Its consistency makes it easy to apply and it will be dry within a couple of hours and ready to recoat in around four.
---
2. Wickes Tough & Washable Matt Emulsion
Value for money scuff resistant paint
Tin size: 2.5l | Coverage per l: 12m2 | Drying time: 2-4 hours | Finish: Matt
Washable
Easy to apply
Good coverage
Colour
If you want a tough and washable matt emulsion at a budget price then this own brand paint from Wickes is a great choice. As the name suggests, it is durable (much more than Wickes standard emulsion), scuff resistant and is a good choice for high traffic areas like hallways, stairs and living rooms.
It is easy to apply with a roller or brush and has very little splatter, so less mess when painting. But, it can take up to four hours to dry, so plan ahead. It gives good coverage, has good opacity and comes in a whole host of colours to choose from. However, the colours aren't always quite as expected.
---
3. Farrow & Ball Modern Emulsion
A durable quick-drying emulsion in contemporary colours
Tin size: 2.5l | Coverage per l: 12m2 | Drying time: 2 hours | Finish: Matt
Eco-friendly
Cool contemporary colours
Scuff, stain and mould resistant
Wipeable/washable
Expensive
Farrow and Ball are synonymous with quality paint and contemporary colours and their Modern Emulsion adds durability as well. You will have to pay for the pleasure as it is double the price of other paints in this guide, but you do get an easy to apply, long-lasting, good-looking finish in a cool colour that will be perfect for your home.
Very much an interior ceiling and wall paint, it will be dry in two hours and ready for another coat in four hours. If you're worried about a paint's environmental credentials, it has minimal VOC content but is still scuff, stain and mould resistant. You can wash and/or wipe it to keep it in tip top condition without losing its finish.
---
4. Johnstone's Washable Matt Emulsion
An eco-friendly stain and moisture resistant paint.
Tin size: 2.5l | Coverage per l: 12m2 | Drying time: 1-2 hours | Finish: Matt
Quick drying
Stain and moisture resistant
Over 30 colours to choose from
Wipeable
Not really scrubbable
This is a no-nonsense washable matt specially formulated for walls where everyday stains and marks may appear. An eco-friendly paint, it's tough, durable finish makes it ideal for busy areas such as hallways, stairs and dining rooms.
Alongside being stain resistant, this paint is also moisture resistant, so it can be used in kitchens and bathrooms as well. It is available in over 30 colours and is easy to wipe clean while still retaining its colour and sheen. Plus, it's quick-drying, meaning it will be dry in around an hour, and ready to recoat in 2-4 hours, so ideal for getting a job done in a day.
---
5. Dulux Quick Dry Satinwood
A tough, durable satin finish that is easy to clean
Tin size: 750ml, 2.5l | Coverage per l: 16m2 | Drying time: 6 hours | Finish: Satin
Tough and durable
Touch dry in one hour
Subtle mid-sheen finish
Easy to clean
Long drying time
If you want a tough, hard-wearing and smart finish for your woodwork that complements your walls then this water-based satin finish from Dulux is a great choice. It says its quick drying, but this is compared with oil-based paints — it still has a drying/recoat time of six hours.
On the plus side it is touch dry in around an hour or two. Prep is the key to a good finish, but when done right you get a durable, hard-wearing finish that is scuff resistant and easy to clean. It can stand up to vigorous cleaning without losing its subtle satin finish, making it ideal for all areas.
---
How to Clean Washable Paint
Try cleaning your washable paint on a regular basis. How often will depend on if it is a high traffic area and gets dirty on a regular basis. A general rule would be every three months, but longer in low traffic areas like a bedroom. This will help stop marks from appearing and means that you'll be less likely to have to do any serious scrubbing which can affect the paint finish. Also, clean any stains or marks as soon as they happen, the longer you leave them the harder they will be to remove.
For general cleaning, first get rid of any cobwebs and general debris with a duster and soft brush. This is so you don't wash any debris into the walls. Next up get yourself a soft sponge or cloth and some warm soapy water — a couple of squirts of washing up liquid will do. Dip the sponge in the water and squeeze out most of the water so you have a damp sponge.
Now wipe over any areas that need cleaning and leave for five minutes. This helps soften up any marks. Then repeat the process but with clean water. This method always works for woodwork, but typically you can be a bit more vigorous if needed, but in general satin and gloss finishes are tougher and easier to clean.
If you have more stubborn or oil-based stains there are several options. Mixing a cup of white vinegar with a bucket of warm water is one option. Again use a soft damp sponge to wipe off the stain.
Another is to add washing up liquid to a sponge squeeze a few times to create foam and rub on the stain. Leave for 10-15 minutes and wipe off with a clean sponge. A third option is to use shaving foam. Rub on stain, leave for 10 minutes and wipe off with a clean cloth.
Steve is an avid DIYer with over 20 years of experience in transforming and renovating homes. He specialises in painting and decorating, but has strong all-round building skills, having previously worked in the industry for 10 years.
Homebuilding & Renovating Newsletter
Get the latest news, reviews and product advice straight to your inbox.
Thank you for signing up to Homebuilding. You will receive a verification email shortly.
There was a problem. Please refresh the page and try again.