Planning Reforms Criticised Following New Report on Brownfield Sites
The controversial planning reforms reflect a 'misdiagnosis' by the government, which could use brownfield sites to meet its housing targets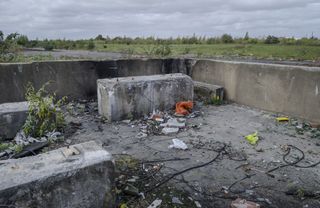 (Image credit: Getty Images)
The government's new planning reforms have been criticised after it was revealed that there is enough brownfield land in England to build 1.3m homes, of which more than half a million already have planning permission. 
Brownfield sites refer to land which has had a previous planning use that may have ceased, often for commercial purposes.
CPRE, the countryside charity, says its new report - based on data from brownfield registers - reveals that there are enough homes in the planning system to meet the government's delivery targets. 
CPRE is now calling on the government to introduce a brownfield-first policy to ensure previously developed land is prioritised for redevelopment over green spaces and countryside.
Planning Reforms Were 'Rushed'
The government is aiming to build 300,000 affordable homes per year over the next five years, but in its Planning for the Future white paper released earlier this year, it said that the planning process was too slow to meet these targets. 
The planning reforms, which are currently under consultation until 29 October, look to deregulate the planning system to speed up applications. 
At the forefront of the proposals is the plan to create a zonal planning system in England, which would grant automatic planning permission in areas designated for growth. The proposals have however been criticised for making the planning system less democratic. And CPRE has added its voice to the criticism. 
Crispin Truman, chief executive of CPRE, said: "These figures clearly show that the planning system is not what is ailing our housing market. If there is enough land in the planning system to meet the government's own housing targets, what will an overhaul of the planning system, with rushed and untested changes, really achieve?
"It's clear the government has gravely misdiagnosed the problem – slow build out rates and market led housing are blocking the quality affordable housing that rural communities are crying out for."
In response, a spokesperson for the Ministry of Housing, Communities and Local Government said: "The government is overhauling the country's outdated planning system to make it easier to build on brownfield sites, protecting our valued green spaces and greenbelt for future generations."
Brownfield-First Policy
One of the challenges facing brownfield sites is that may contain some form of contamination and thus require remedial works before work on new homes can commerce.
CPRE's analysis found that there is enough brownfield land for 1.3 million homes, and 565,564 units already had planning permission, accounting for 53% of the total brownfield land capacity.
CPRE has urged the government to better utilise its brownfield register, which it says should act as a pipeline to promote suitable sites for homes to be built. These registers are compiled and maintained by local authorities. 
Truman added: "Now more than ever is it vital that the government listens to local communities, promotes a genuinely brownfield-first policy and brings forward more brownfield sites for development so we can build more affordable, well-designed homes."
(MORE: Government Told to Incentivise Self Builders to Build on Brownfield Sites)
Homebuilding & Renovating Newsletter
Get the latest news, expert advice and product inspiration straight to your inbox.
Thank you for signing up to Homebuilding. You will receive a verification email shortly.
There was a problem. Please refresh the page and try again.