How Will House Prices be Affected by the UK Recession?
House prices will be affected by the economic instability of the UK entering recession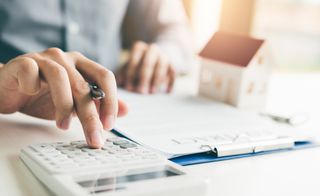 (Image credit: Getty Images)
The UK economy is officially in recession and house prices could be affected as it strives to recover from the impact of the coronavirus pandemic. 
The Office for National Statistics (ONS) confirmed that the UK has entered recession for the first time in 11 years, as GDP shrank by 20.4% between April and June. 
House prices surged in July, but experts predicted long before recession was confirmed that market values will drop throughout the year. And with the recession liable to cause further instability, this could have a serious impact on first-time buyers and those looking to buy before renovating a house.
House Prices Rising For Now
House prices have strongly fluctuated since lockdown, following a stellar January and February which saw asking prices reach an all-time high of £309.339. 
This surge was credited to the Boris Bounce observed initially after the December General Election, when uncertainty over Brexit subsided and homeowners who had been delaying house moves put their plans into action. 
Lockdown ground the housing market to a halt, but Nationwide, Rightmove and Halifax all confirmed that house prices rose in July, attributed to pent-up buyer demand and the introduction of the stamp duty holiday.
Moreover, data from estate agents Hamptons shows that 30% of properties sold in the last month were subject to a bidding war, with homes selling for 98.6% of asking prices on average. 
Recession Will Cause Instability
The recession of 2008 depressed house prices through to 2010, which resulted in losses of jobs and income, dissuading people from making a long-term investments, such as buying a home. 
The UK is in the worst recession since records began, the ONS confirmed. And it is undeniable that this will affect the housing market.
Experts have warned that unemployment is a chief concern for how house prices will hold up for the rest of the year. The government's Coronavirus Job Retention Scheme ends on 31 October and furloughed workers will be left without financial support. 
(MORE: Furloughed Workers Face Tighter Lending Restrictions From Banks)
On the one hand, the recession could mean that lower prices will enable some to get onto the housing ladder who may not have previously been able to afford to. On the other, homeowners in the midst of selling their homes may choose not to as they risk recouping a lower price than they asked for. 
Construction on the Up
The construction industry has also endured a downturn in activity during lockdown, but new data today published by the ONS reveals a more positive note.
Output grew by 23.5% in June, significantly higher than the monthly growth of 7.6% reported in May. However, the findings also reveal that output in the second quarter of 2020 fell by 35%, driven by record falls in new work and repair and maintenance.
Ross Counsell, Chartered Surveyor and Director at Good Move, said it is "encouraging to see the figures point towards a recovery in construction work which is down to the phased restart on work", but stressed that additional government support must be actioned to continue these increases. 
Brian Berry, chief Executive of the Federation of Master Builder also implored the government to act. "The Government must use the forthcoming Budget to invest in our housing stock, both new builds and improving our existing buildings. This will support recovery in the construction industry and create jobs," he said.
"The government must prioritise bringing forward planning reforms and investing in local authority planning departments to help house builders start building out new sites swiftly." 
(MORE: Planning Reforms Could be Revolutionary For the Self Build Industry)
Homebuilding & Renovating Newsletter
Get the latest news, expert advice and product inspiration straight to your inbox.
Thank you for signing up to Homebuilding. You will receive a verification email shortly.
There was a problem. Please refresh the page and try again.