14 Small Homes Under 100m²
By Claire Lloyd published
These small homes show how the smallest projects can get creative with space and design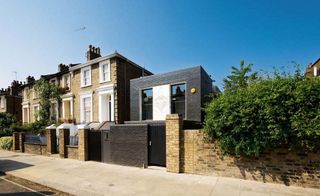 (Image credit: Tom Gildon)
Did you know that the average new build in the UK has just 85m² of floor space?
Luckily size really doesn't matter when it comes to these small self builds. These small homes that are 100m² and below (OK so one is 101m², but that's still very small), show through their clever design and planning how easily a small plot (opens in new tab) can be made into an impressive home.
1. A Remodelled Victorian Terrace
Lowering the reception room has made the ceiling feel significantly higher, and a stunning glass staircase brings light through to the back of the house.
Homeowners: Phil and Tamsyn Coffey
Size: 101m²
Region: London
2. Cottage Style Eco Home
Eco friendly and cost effective, a tiny one bedroom bungalow has been replaced with a three bedroom cottage with high-vaulted ceilings that make the most of the views, and enhance the space.
Homeowners: Nicky and Robin van der Bij
Size: 100m²
Region: Cornwall
3. A Bungalow Transformed
A side extension from the front of the bungalow (opens in new tab) to the rear garage added more space to this property, with the garage transformed into a new living space. A brilliant design feature of this transformation was the conversion of two poky rear windows into large folding doors, allowing in plenty of light.
Homeowner: Kevin Gallagher
Size: 90m²
Region: Staffordshire
4. A Family Home for £100,000
This small home was a part of the Community Land Trust (opens in new tab) project, which kept building costs low by employing an architect to design a development of simple bungalows. However, Victoria and James Mead were able to change the interior layout and now have a spacious open plan living area (opens in new tab) to relax in.
Homeowner: Victoria and James Mead
Size: 90m²
Region: Cornwall
5. Eco Friendly Cottage
Sitting on the site of an old timber chalet, this eco friendly cottage now features a double height kitchen-dining area, making the space feel large and open. The property even includes a balcony (opens in new tab) which makes the most of the beautiful surrounding area.
Homeowner: John Hughes and Harriet Wilson
Size: 90m²
Region: Exmoor
6. An End of Terrace Small Build
This end of terrace build was designed with the idea to stagger the home over three storeys. The use of glass panels in the basement makes this home feel spacious and large as the panels allow in a lot of light.
Homeowner: Warren and Jocelyn Milne
Size: 80m²
Region: London
7. Urban Self Build
This small plot benefited from preparation before the build, including digging down as much as possible to enable extra volume without breaching ridge height restrictions. Despite not having much of a garden, there is still room for a perfectly tranquil courtyard.
Homeowner: Jackie Strube and Alan Stone
Size: 80m²
Region: Brighton
8. Stand Out Self Build
This property uses frameless panels of glazing to make the most of natural light. This saves the dark coloured brick interior from feeling dungeonesque, and makes for a refreshing finish.
Homeowner: Sophie Goldhill and David Liddicoat
Size: 78m²
Region: London
9. Tiny Urban Home
This single storey home was built for city living by Hugh Strange and Adriana Ferlauto. Again, preparation was key to this self build, as Hugh spent a long time working on the design and even spent time tracking the sun to optimise the use of glazed windows in the home.
Homeowner: Hugh Strange and Andrea Ferlauto
Size: 75m²
Region: London
10. Cutting Edge Eco Home
Not only is this property space efficient, but it is also one of the most energy efficient homes in Scotland. Maximising the stunning views, a huge window on the south side effectively heats the house, as well as allowing plenty of light into the property, which makes the interior feel bright and spacious.
Homeowner: Nick Middleton and Kate Prentice
Size: 70m²
Region: Skye
11. Rustic Self Build Cabin
Located in the east Highlands meant that insulation was a priority for this idyllic rustic hut. In order to fit in his parents' collection of antique furniture, Lachie decided to heighten the ceilings, making this cosy hut feel open and spacious.
Homeowner: Lachie Stewart
Size: 65m²
Region: Highlands
12. Self Built Treehouse
Elevated by stilt-like columns, this treehouse makes the most of the striking views. To mirror the eight-sided walled garden, the treehouse is designed in an octagonal shape and centres around a beautiful oak tree, which also works as a support for the build. All of the rooms therefore surround the tree, making the most of the space and the distinguishing feature of the build.
Homeowner: Donald and Susie Hutchison
Size: 50m²
Region: Highlands
13. Charming Oak Cottage
The use of vaulted ceilings in the open plan living, kitchen and dining area makes the most of the plot size. A mezzanine storage space sits above the bedroom and is accessed via a ladder, a useful space saving feature.
Homeowner: Anna and Rachel Bruce
Size: 46m²
Region: New Forest
14. Small Self Build on a Tiny Budget
This property shows how clever design can make the most of the space you have. The porch to this property is multifunctional, as it offers plenty of storage for shoes and coats, as well as a stool that allows it to act as a bootroom. The wardrobes in the bedroom offer another cleverly designed space saving feature, as they come with built in bedside tables.
Homeowner: Jennifer Hope and Mark Higgins
Size: 40m²
Region: East Ayrshire
Claire became Editor of Homebuilding & Renovating in 2016 and has been a member of the team for 14 years. An experienced homes journalist, her work has also appeared in titles such as Real Homes and Period Living.
She has a particular interest in green homes, and interior design is a passion too; she has undertaken qualifications in this area.
After finishing a major renovation of a period cottage, she is now onto her next project: overhauling a 1930s property in the Shropshire countryside.
Homebuilding & Renovating Newsletter
Get the latest news, reviews and product advice straight to your inbox.
Thank you for signing up to Homebuilding. You will receive a verification email shortly.
There was a problem. Please refresh the page and try again.