Before and After: Couple Transform a Dated Cottage into an Amazing Modern Home
By Amy Reeves published
Amy and Bryn Jones have renovated and extended a run-down farm worker's cottage in Wales — creating a characterful, contemporary home in the process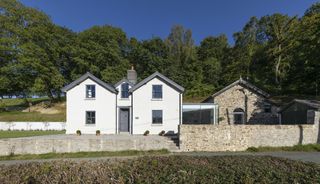 (Image credit: Jeremy Phillips)
After selling their home in London, Amy and Bryn Jones were looking to move closer to their families in Powys when they happened upon Bachie Cottage, a run-down farm worker's property set back into a hill on the edge of the village where Bryn grew up. Up to the challenge of renovating a house, the couple took the plunge.
"We wanted a project and spent ages looking for the right house but then this one came up," begins Amy. "Bryn knew all about the house because his family only lives down the road, but I hadn't seen it before. As soon as I walked through the front door I thought 'this is the one'.
Project notes
Homeowners Amy and Bryn Jones
Location Powys, Wales
Project Cottage renovation, extension and barn conversion
Build route Self project managed
Build size 246m2
Build time Apr 2015 - Jan 2017
Plot cost £270,000
Build cost £250,000
Current value £600,000
"The house dates back to 1840 and we're only the third owners ever," she adds. "The previous owner must have done a lot of work in the 1950s and '60s and just left it." Although their first project of this scale, Amy and Bryn's experience as an interior designer and a civil engineer meant they were more than ready to get stuck in and take charge of the project, designing the new additions and alterations themselves before asking an architect/family friend to ready their plans for their planning application.
When the couple bought the property, a dated carport sat between the cottage and the disused hay/storage barn; the latter hadn't been touched in decades and was falling into disrepair. With a view to unite the two buildings, Amy and Bryn designed a modern link extension (in place of the carport) with large frameless glazing to make the most of the rural views.
Starting On Site
Bryn's family run a local builders' merchant, so they sourced their small team of builders based on their reputations. The couple moved in with Amy's mum nearby, enabling them to be on site daily to deal with issues as and when they arose, and to help out with a wide range of tasks on a DIY basis.
One of the first major steps was tackling the damp. The rear of the house is built into the shale hillside, so the former kitchen – now a generous utility room – was prone to damp and flooding during heavy downpours, worsened by a drain in the corner of the room which frequently overflowed. Hundreds of tonnes of earth were excavated behind the house and a new French drain installed to divert the water around the property.
(MORE: Off Mains Drainage Solutions)
The roof was also replaced and new rooflights installed on the first floor. "At one point the roof was off and we had a really awful winter. Water was just running down the staircase and walls," remembers Amy. "The stairs took quite a bit of work to save."
The Challenges of Living Off-Mains
Amy and Bryn also needed to establish how to bring services to site: while the property had an electricity supply, mains gas and water were not options.
"The house was only supplied by a gravity-fed water tank, which is not suitable when you've got mod cons like a washing machine and a dishwasher," begins Amy. "We thought about using the well on site, which is situated under the old carport, but after seeing how low it can get if there is a dry spell, we knew we would need a more reliable source of water. We're quite far from the main road, so there's no mains supply, and the closest well is miles away, so we made the decision to dig a borehole and bring the supply in over two fields. Luckily the local farmer is Bryn's best friend so it wasn't too bad!" smiles Amy.
A ground source heat pump was also installed. This went hand in hand with the couple's fabric first approach to their renovation — ensuring the house was insulated and airtight to ensure their heating demand was minimised. A 'mini timber house' was built within the cottage walls. "We added a breathable membrane, studded inside all of the cottage, added insulation and then ran the services and electrics within in it," explains Bryn.
Reimagining the floorplan
To one side, the ground floor layout remains largely untouched. Varying floor levels and head heights have been preserved, and the smaller rooms, like the old cold store, cellar and parlour, have simply been adapted for modern living rather than knocked through to make larger rooms. These spaces now provide a home office, pantry and cosy snug, which all lead off the entrance hall, where the original staircase has been sensitively restored.
On the opposite side of the house, however, the couple have not been afraid to leave their mark. In the pared-back kitchen, living and dining area, the property's transformation can be truly appreciated. A polished concrete floor (which the couple set and polished themselves) and minimal kitchen sit alongside original features, including an exposed, limewashed fireplace and the well which Bryn couldn't bear not to keep as a feature.
(MORE: How to Pour a Concrete Floor)
"We kept on thinking some poor bloke had to dig that by hand!" he says. The result is a unique home which embraces the building's heritage while providing all the comforts of 21st-century living.
And what is it like finally living in the completed house, after years of hard graft?
"There is a sense of satisfaction and pride in what we have achieved as we worked so hard on site day in, day out alongside the builders and other trades," says Bryn.
"It's the hardest thing I've ever done," adds Amy. "I often lie in bed or sit in other areas of the house and remember the different stages the rooms went through to get to where they are now. I love the history and giving this property a new lease of life. It's not perfect but that's the beauty of an old house."
Assistant Editor Amy began working for Homebuilding & Renovating in 2018. She has an interest in sustainable building methods and always has her eye on the latest design ideas. Amy has interviewed countless self builders, renovators and extenders about their experiences for Homebuilding & Renovating magazine. She is currently renovating a mid-century home, together with her partner, on a DIY basis, and has recently fitted her own kitchen.
Homebuilding & Renovating Newsletter
Get the latest news, reviews and product advice straight to your inbox.
Thank you for signing up to Homebuilding. You will receive a verification email shortly.
There was a problem. Please refresh the page and try again.