6 Narrow, Infill Houses That are Surprisingly Spacious
By Hugh Metcalf published
One thing you might not expect from these narrow homes, each infilling a small plot in an urban area, is the decidedly spacious feel once you get beyond the façade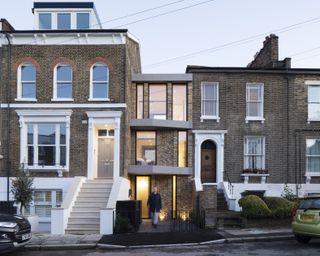 (Image credit: Richards Chivers c/o Selencky Parsons)
When it comes to finding a plot in an urban area, sometimes you have to get creative. Infill plots are smaller than average pockets of land, often located in between existing properties. However, the reason many of them haven't been developed before is that they're narrow or awkwardly shaped and have issues with site access that make a build difficult.
However, they may also represent a good investment for the right house design, and offer a plot in a densely packed urban area where there are no larger sites available for a build.
Before you discount an infill plot as a viable option for your self build project, take a look at these six projects all built in narrow spaces between houses, each cleverly designed to make a comfortable, spacious home, despite outward appearances.
(MORE: Genius Ways to Build on a City Plot)
Wedge House, Alma-Nac Architects
Image 1 of 5
Image 2 of 5
Image 3 of 5
Image 4 of 5
Image 5 of 5
Alma-Nac turned this 3.1m gap in a Victorian terrace in south east London into a two-storey, one-bedroom house. While some infill houses look narrow from the front and taper out to a larger scale at the rear, Wedge House is the opposite. The build is 2.8m wide internally at the front of the house and 1.9m wide at the rear.
An exposed timber structure mirrors the central staircase design which unites the three floors, including a loft style bedroom at the apex of the house. Internal courtyard gardens are a common theme for infill houses, creating an outdoor space that is less overlooked in these tightly packed urban streets.
Slot House, Sandy Rendel Architects with Sally Rendel
Image 1 of 4
Image 2 of 4
Image 3 of 4
Image 4 of 4
This self build, designed by architect Sandy Rendeland wife Sally, fits neatly into a 2.8m break in a London terrace, situated in between two flank walls. The resulting two-storey, one-bedroom home was built using a lightweight steel, which had to be made on site and craned down the alley.
Inside, these steels have been incorporated into the interiors of Slot House, along with the exposed timber first floor and roof structure and finished with lo-fi ply. Large glazed windows and doors at the rear and a rooflight over the stairwell help bring in natural light to this long, narrow home.
The Coach House, Selencky Parsons
Image 1 of 3
Image 2 of 3
Image 3 of 3
While from the front, Selencky Parson's Coach House may seem skinny, infilling a 3.5m gap in a London terrace where a Victorian coach house once stood, however, this plot tapers outwards to the rear.
This results in a large, L-shaped, open plan living space at the rear and a spacious private garden. The skinniest part of the house contains a hallway, larder and utility room on the ground floor, and bedrooms on the other two storeys.
The home has four bedrooms altogether, split across three storeys, and an internal living space of nearly 500 square metres. A light well over staircase brings natural light into the heart of the house.
The Gate House, Henning Stummel and Eliana Sousa
Image 1 of 3
Image 2 of 3
Image 3 of 3
Designed by architects Henning Stummel and Eliana Sousa, The Gate House was built on an infill plot in a London street of Victorian terraced houses to provide a striking live/work residence for Henning.
Where the entrance now stands was once an unsightly gap in an otherwise continuous run of pretty houses.
The brick structure you see from the street is in fact only two metres deep — creating an outward illusion of a solid traditional brick. The remaining part of the building is a highly insulated timber structure and the walls and roof use a standing seam colour coated metal as house cladding.
With a modest bedroom on the ground floor and bathroom on the first floor, the property culminates in a surprisingly spacious reception, which while having no windows onto the street, has the benefit of a lovely west-facing balcony, a compact kitchenette and a cosy cast iron log burning stove.
Day House, Paul Archer Design
Image 1 of 4
Image 2 of 4
Image 3 of 4
Image 4 of 4
While Day House by Paul Archer Design might not look quite as narrow as some of these infill houses, there's more than meets the eye behind the façade of this zinc-clad home.
Replacing a poor quality timber infill built in the 1970s, the owners decided to demolish and replace the existing house, allowing for a new design that fits four storeys into the confines of the same roofline by shifting the floor levels, making use of the pitched roof, as well as the existing below ground living areas.
The basement/ground floor level kitchen-diner has up-and-over windows, ensuring it captures as much natural light as possible, while the living room sits above with a large window overlooking the garden. The main bedroom and ensuite bathroom are on the top flooring, with the floor levels cleverly re-worked so that the ensuite sits neatly in the pitch of the roof.
In-Betweeny House, Alam-Nac Architects
Image 1 of 4
Image 2 of 4
Image 3 of 4
Image 4 of 4
Alma-Nac's In-Betweeny house is an interesting infill concept, as it was designed for the for the owners of the four-storey Lambeth home it's attached to. Think of it instead as a micro infill extension, providing a separate studio/guest accommodation, split over two storeys.
At its entrance, the small residence is not much more than a doorways width. The first storey contains a small studio and ensuite, which while connected to the main house can also be separated by a series of sliding panels. On the flip side, it can also be opened up and connected to the existing house when not in use as a separate dwelling, re-assimilating the space for use as part of the main home.
Hugh is Digital Editor of homebuilding.co.uk and has worked on a range of home, design and property magazines, including Grand Designs, Essential Kitchens, Bathrooms, Bedrooms and Good Homes. Hugh has developed a passion for modern architecture and green homes, and moonlights as an interior designer, having designed and managed projects ranging from single rooms to whole house renovations and large extensions. He's currently renovating a Victorian terrace in Essex, DIYing as much of the work as possible. His current project is a kitchen renovation which involves knocking through walls and landscaping a courtyard garden.
Homebuilding & Renovating Newsletter
Get the latest news, reviews and product advice straight to your inbox.
Thank you for signing up to Homebuilding. You will receive a verification email shortly.
There was a problem. Please refresh the page and try again.