Living Room Panelling Ideas to Add Character to Any Home
Living room panelling ideas can range from traditional wainscoting to contemporary timber slats — find out how to choose and design your style for your home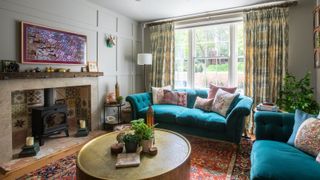 (Image credit: Fiona Murray)
Installing living room panelling ideas is a great way to add an extra dimension to the space in which you kick back and relax in. The design can be personalised to suit the shape and size of any living room, large or small — from full-height cladding to modern painted accents.
Don't let your living room be underserved by not properly considering how you use the space and how to maximise its potential with this style. Wall panelling ideas can be used to conceal insulation, hide existing damages or dents to the plasterwork or protect walls from new damage by little ones and pets.
Find out how to use wall panelling in a living room to achieve your favourite style and ambience below.
Is Living Room Wall Panelling a Good Idea?
"Wall panelling has been around for centuries (literally — it can be dated back to the 13th!) and is one of those interior design styles that falls more into a timeless aesthetic than a 'current trend'," explains Helen Johnson, director at The Decor Group.
"The beauty of the wall panelling we've seen taking off in home interiors over the past couple of years is there are some modern adaptations to ensure that panelling is suitable for any home and any vibe!
"The downside to panelling is that [if you're DIY wall panelling] you're usually glueing and nailing wood to your walls, filling and sanding it before painting it so you need to be sure you're happy with your decision as it definitely needs to be something you're going to keep for a little while to make the effort levels pay off, but it can completely transform a room!
"Whether you're opting for a more traditional and minimalistic wainscoting style, an impactful shaker vibe, a textured wall shiplap or you're going modern with the feature wall wood slat effect! Don't be panicked, while it is glued into place it is removable, just prepare yourself for the likelihood of some filling/light skimming work needed for repairs but you're going to love it so much you're likely not going to want to remove it!"
1. Paint Wall Panelling to Create a Cohesive Living Room
Paint your wall panelling the same colour as your bookshelves, skirting boards and interior doors to create a really cosy, but stylish result.
"Before you get painting, how your panelling will look is going to be greatly impacted by the prep work you do now so it's imperative not to miss this step! Use caulk to fill the gap between the wall and the panelling to get a smoother transition between the product," Helen Johnson advises.
"Use a wood filler for any nail head holes and joins between the panelling. Make sure you give these filled areas a nice sand and if you've used MDF also sand the edges for a smoother finish where its been cut. Finally give it a wipe over with a damp cloth and then a tack cloth for any dust particles still clinging on in there!"
2. Take Advantage of High Ceilings with Half Wall Living Room Panelling
Split a tall living room wall in half using panelling, or wainscoting, as it is sometimes known.
Using half wall panelling ideas this way will still maintain the impact of vaulted or high ceilings, but will also ensure the snug feels comfortable for spending evenings on the sofa.
This stunning living room pairs vertical timber cladding with white-washed exposed brick — an ingenious way to warm up a large space.
3. Capture a Rustic Look in a Living Room with Timber Panelling
Create a naturally-inspired living room space by introducing timber wall covering ideas along one wall or to create a cosy reading nook, as in this example. Wood of different grades can create very different looks here.
More characterful results can be achieved with rustic wood grades that feature knots and natural undulations; whereas a knot-free look can work better in contemporary homes where a more minimalistic appearance might be desirable.
These real-wood planks from Naturewall are designed so homeowners can simply 'peel and stick' the design to walls with very little fuss.
4. Use Acoustic Panelling in Home Cinemas and Snugs
Perfect your movie nights in by fitting acoustic wall panels on walls. A lack of sound-deadening is often the reason our living rooms don't capture the magic and depth of the cinema so taking small steps to improve this will significantly benefit your space.
Some internal timber cladding can be specified with insulated acoustic backing to lower the reverberation in a room, or you can create a similar effect on a DIY bass by adhering mineral wool to the surface before the timber.
5. Go Square for a Streamline Living Space
Jacobean-style panelling, also known as shaker-style, is a classic square design that will produce a neat and tidy living room. It is also the easiest style to emulate on a DIY basis.
Here, the traditional style has been painted a deep blue that results in a space that perfectly balances old and new tastes. Living room painting ideas such as this can really transform the space.
"Opt for a full wall or half wall design depending on whether you are thinking practically or installing panelling for aesthetic reasons," says Ann Marie Cousins, founder of AMC Design. "If you are thinking practically, panelling half the wall is a great way to have a robust finish while giving the opportunity to go wild with paint or paper above the panelling. Panelling is often painted in eggshell, which is more robust than emulsion, so great for busy areas such a bathroom or a hallway. "
6. Use Wallpaper to Create a Panel Effect in a Living Room
If you're not ready to commit to a new panelling, then try out a wallpaper which features a panelled style instead.
"There are some incredibly effective and detailed wallpaper designs for you to try out in a simple (and more cost-effective) way," suggests The Decor Group's Helen Johnson.
"If you love it then keep your wallpaper or move onto your panelling project with your hammer and glue! Not sure? It's easy to strip and replace! If you're feeling sure then utilise Pinterest and Instagram to get your vision board together before starting!"
7. Give Traditional Panelling a Modern Paint Twist
Take a traditional panel style and turn it on its head by using paint to create a contemporary template. This 60s-inspired space used warm tones to evoke a cosy environment from the Georgian-style rectangular coving.
"If you've used MDF or have bare wood decorative mouldings it's really important to prime them first," says Helen Johnson. "The MDF especially is a porous surface so without a primer it's going to soak in your top coat at different rates and look really patchy!
"Once primed and you've left the appropriate drying time it's time to apply your top coat. Matt is one of the most popular finishes when working with panelling for its sleek and modern flat appearance that also does a good job of disguising lumps and bumps.
"Acrylic matts (aka scrubbable and hardwearing matt finishes with a class 1 scrub rating) are usually suitable for both walls and woodwork so would be suitable to paint your panelling and remaining wall. These also give the added benefit of providing peace of mind you're going to be able to scrub them clean if needed and they'll withstand even high traffic areas like a hallway."
Does Panelling Make a Room Look Smaller?
Generally speaking, although wall panelling can be used to make a room feel cosier (thanks to the added texture and geometric design) it often makes a room feel larger.
Georgian-style panelling (long, vertical rectangles) will draw the eye upwards while Jacobean/shaker styles will create the illusion of a wide room.
For slatted timber designs, the direction in which you install your products will make a significant difference, so be sure to play around before committing to drilling and gluing to the walls.
What Wood Should I use for Panelling?
"The best wood to use really depends on the style of panelling you're going for. If you're going for a shaker style then the most cost-effective way is to have a large MDF sheet cut down into your strips," says Helen Johnson of The Decor Group.
"The benefit of this is that the MDF comes in different thicknesses (the most popular is 100mm - 1200mm like this board from B&Q) and you can then create varying thicknesses of your shaker style depending upon which pattern you're looking for.
"If you're going for a wainscoting style you're going to need to look for 'decorative mouldings' which are shaped wood trim products that you can then cut using a mitre block at 45 degree angles to make your square shaped design for the panelling.
"If you like the more modern wood slat style of panelling then look out for plywood which you can get in ½" thickness or ¾" if you want a bold statement. These look particularly good when left natural but treated/wood dyed with an impactful statement colour behind.
"A final option if you're not keen on working with wood and would prefer something more lightweight and easier to cut at home (not everyone has the tools and equipment for cutting large MDF sheets!) are the Noel & Marquet decorative panelling. With varying styles available all in a lightweight but versatile polyurethane that is already primed and ready to paint."
Get the Homebuilding & Renovating Newsletter
Bring your dream home to life with expert advice, how-to guides and design inspiration, direct to your inbox.
Assistant Editor Amy began working for Homebuilding & Renovating in 2018. She has an interest in sustainable building methods and always has her eye on the latest design ideas. Amy has interviewed countless self builders, renovators and extenders about their experiences for Homebuilding & Renovating magazine. She is currently renovating a mid-century home, together with her partner, on a DIY basis, and has recently fitted her own kitchen.