What a Makeover! From Drab 1960s House to Head-Turning Home
Jodie and Andy Thake lived in their dark and dated sixties house for five years until they had saved enough for a dramatic transformation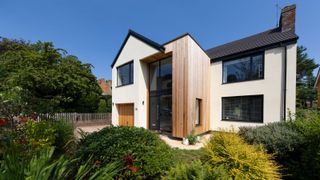 (Image credit: Dave Burton)
Like many couples, Jodie and Andy Thake could not afford the idyllic home they had in mind when they started looking for a bigger house and garden for their growing family. They could, however, rustle up the funds for a very ordinary late-sixties suburban home in the right location.
"I first saw it without Andy and thought the garden was amazing," says Jodie, a teacher. "The house was nothing like the properties we would normally go for — not very modern, and quite dark and uninspiring inside.
"I knew it would be a project, but could I persuade Andy?" Not at first. He had doubts about the north-facing garden, and was sceptical about the dated house, but when they agreed to see it one last time everything changed.
"The boys went to play in the garden and they loved it," says Jodie. "We talked a bit more and agreed that we could make it work, even if we had to live in it as it was for a while until we could save the money to renovate it."
Image 1 of 2
Homeowners Jodie and Andy Thake
Project Extension and remodel of a late 1960s detached house
Location Sheffield
Build time Apr 2018 to Apr 2019
Build route Part-managed by architect and main contractor
Construction Block, render and cedar cladding on a timber frame, with slate roof
House cost £465,000
Build cost £255,000
Value £800,000
In fact it was five years before they approached architect Paul Testa to come up with a design that ticked the boxes on their wish-list and renovated the house, including a spacious kitchen/living space, a bigger entrance hall and atrium to draw light through the middle of the house, and a modern upgrade throughout.
"The house was so old-fashioned that it had expensive fan heating in every room, single-glazed windows which made it freezing in winter, a tiny sixties oven and small, pokey rooms," says Jodie. "It was quite depressing, especially as we had three children under four at the time, but we knew it wouldn't last forever."
Going Back to Brick in a Renovation
It took two years to get planning consent for renovating the 1960s house, with an extension and remodel.
The first design was rejected because the planning permission officers felt the pointed windows at the front of the house would be too prominent, but with a few compromises and tweaks to the design it was eventually passed. By this time, Jodie and Andy realised they would have to move out of their home while the building work was done.
Image 1 of 2
Challenges in During the Build
The first stage of the build was to demolish a series of small add-on extensions, followed by the full back wall of the house, roof, floors and interior stud walls.
"We basically ended up with two side walls and a timber frame, with a staircase in the middle," says Andy. "It was back to a shell. In fact, we came down to the site one day and struggled to remember the original layout. It took two months and dozens of skips to get to the point where they were ready to start building it back up again."
"The project went comparatively smoothly thanks to great clients and an engaged contractor," says architect Julie Maxwell, of Paul Testa Architecture, who oversaw much of the build. "Once the build had started, there were some initial challenges to overcome as much of the ground floor wasn't constructed as we had expected. However, we worked together to ensure it didn't impact on the build going forwards."
Image 1 of 3
A concrete layer under the original floors and low ceilings prevented any increase to the floor height. This meant Jodie and Andy were unable to have underfloor heating on the ground floor, but they opted for electric matting in the new area.
The new double-glazed windows created a problem, putting progress back by a couple of months because they had been incorrectly measured. There was also an issue with an underground stream running through the garden, which required extra concrete in the foundations to encase the flow of water. And a planned window in the void over the hall had to be reduced in size, when the builders hit a roof joist.
The rest of the build was straightforward and included a fortuitous last-minute decision to install a rooflight over the dining table, drawing more natural light into the living-kitchen area.
Image 1 of 3
"It took a long time before we could properly see where the house was going and then, about eight months in, it all started to come together very quickly," says Jodie.
"All the decisions came flooding in at once — there was one week where I was teaching and there were calls coming in during my lunch break which required snap decisions. In some ways it's better that way — you learn to become very decisive. In fact, we chose the kitchen units a year before the build — we walked into a showroom, saw one we liked and said 'that will do'."
The family only moved back in once the second fixes and decorating were complete. "It felt really empty at first but we are gradually buying new furniture and creating the home we've always wanted," says Jodie. "It's been brilliant moving back in. It's so light and spacious -— it's like moving into a completely different house."
Get the Homebuilding & Renovating Newsletter
Bring your dream home to life with expert advice, how-to guides and design inspiration, direct to your inbox.