6 Design Ideas For Inspiration From an Award Winning Self Build
By Claire Lloyd , Amy Reeves published
From cost-saving alternatives to ultra-contemporary living spaces — this family home is bursting with innovative design ideas to copy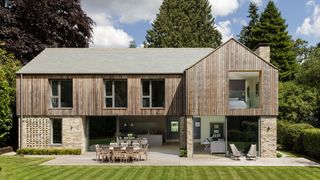 (Image credit: Simon Maxwell)
Richard and Tavia Vint's new home, nestled on a leafy lane on the fringes of a popular Surrey town, is both a sensitive approach to its site and a brilliant family home to boot — what's more it was built for just £1,500/m2.
Here's 6 ideas to steal from this brilliant self build for your own project.
1. Build a 21st-Century Home with a Timeless Aesthetic
Image 1 of 3
Image 2 of 3
Image 3 of 3
The house's contemporary, yet familiar design is achieved partly through the house's form, which takes its cue from nearby barns, but also by the considered palette of materials — the silvering timber cladding, for instance, helps this new build recede into the surrounding beech and oak trees.
The barn-like form features two gable ends — one to the front, north-facing elevation and the other to the south-facing rear elevation. The main living spaces and main bedrooms are arranged along the southern elevation to maximise opportunities for passive solar gain and views over the garden.
2. Think Creatively to Mimic High-end Features
Image 1 of 2
Image 2 of 2
"I've previously worked with a high-spec branded lighting design system: it's a black recessed track system with little spotlights hidden away and it looks amazing, but it was mile beyond our budget, says Richard, who specialise in residential architecture at the couple's practice Vint and Smith.
"So, we fabricated our recessed slots out of MDF and then painted them black and installed downlights within them. The system gives a focal point to the ceiling, but also gives us clean lines, 'decluttering' the ceiling of spotlight or downlights.
"We had to build a commercial-style dropped ceiling to accommodate this. There's also additional lighting in the form of LED strip lighting positioned behind the kitchen, in the study nook and behind the fireplaces."
3. Achieve a High-spec Home on a Budget
Image 1 of 2
Image 2 of 2
The couple admit their industry experience was a "massive starting point" for their own self build, and of course they did save on design fees. However, their canny, considered approach holds many lessons for other self-builders hoping to achieve an individual, high-spec home on a tight budget.
For starters they designed their new home around off-the-shelf items, avoiding additional expense often associated with commissioning bespoke design features.
"The rooflight above the staircase is an 'off-the-peg' product, but we've detailed it to make it look more bespoke. We packed out the windows reveals around the house to be in line with the window frames, which in turn gives the windows a frameless look — this gives a a really clean finish and bespoke look to a standard-sized product," says Richard.
4. Opt for Standard Sizes for Further Savings
Image 1 of 2
Image 2 of 2
The kitchen design is another great example, while the walnut veneered unit fronts are bespoke, Tavia designed the kitchen around standard-sized carcasses. "We even sized the stud wall behind the kitchen to suit standard carcasses. That goes a long way back in the design process, but it saved us money as we didn't then need to use bespoke-sized units. Often you need to start with the smallest detail and work back."
"Carefully selecting products which are good value and quality – for us that included Velfac windows and Kebony cladding – without compromising on the design was also key," adds Richard.
5. Design the Perfect Broken-plan Family Home
Image 1 of 3
Image 2 of 3
Image 3 of 3
Inside, the open plan kitchen/living/dining area stretches the length of the 17m-long rear elevation. 2.7m-high doors, which operate on tracks recessed into the ceiling, slide into 'pockets' within the adjacent walls when not in use.
"Because this is a family home, we didn't want a completely open-plan space; the doors provide flexibility to close off the living room. On cold winter evenings we can also shut them and enjoy the heat from the woodburner," says Richard.
6. Know When to Leave DIY to the Professionals
As well taking on the self build project management, Richard took on tasks such as the decorating and helping with the carpentry. The headboard wall-panelling in the master bedroom was designed and made DIY by the owners, wrapping fabric over wadding on MDF panels to continue the blue grey theme that creates feature walls on the ground floor.
"I enjoy making things, but I'd advise anyone to know what their limits are," says Richard. "There were things I didn't get involved in: the plastering, electrics and plumbing, for instance. Some jobs you can do at a much slower pace, but there are times when you just have to say, 'that's a job for a subcontractor who does this task day in, day out."
Claire is Editor of Homebuilding & Renovating and has been a member of the team for over 13 years. An experienced homes journalist, her work has also appeared in Real Homes and Period Living magazines. She has a particular interest in green homes, and interior design is also a passion; she has undertaken qualifications in this area. Claire has recently finished her renovation project — and is now onto the next.
Homebuilding & Renovating Newsletter
Get the latest news, reviews and product advice straight to your inbox.
Thank you for signing up to Homebuilding. You will receive a verification email shortly.
There was a problem. Please refresh the page and try again.