An Extension Built Inside Crumbing Ruins
By Amy Reeves published
Architect Will Gamble's extension scheme embraces the ruins of a 17th-century factory. Find out how the project came together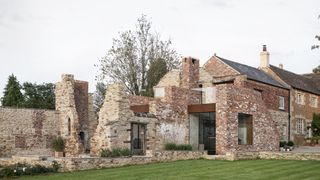 (Image credit: Johan Dehlin c/o Gamble Architects)
Architect Will Gamble gained universal praise by building an extension with an ingenious twist — embracing the ruins of a factory to house the new extension and sensitively create character.
Here, he details how the project came about and how his practice, Will Gamble Architects, created something really special...
Working with the Factory Ruins
The building is made of three parts – the original cottage on the high street, a cattle shed and the ruins of a parchment factory – and the design brief was to link all three by converting the cattle shed into living accommodation and extending to the rear.
The client early on was of the view that the ruins would have to be demolished and replaced as it was basically a series of crumbling walls that had become more of a hindrance, but there was something quite beautiful about them.
We saw them very much as an opportunity to do something different as well as the fact they were part of the listing of the property so we formed a plan to extend within the ruins.
It was such a strong concept and we were able to convince the client to embrace them as a unique house design idea — from that point on it was a really lovely design process to be a part of.
Image 1 of 2
Image 2 of 2
Planning Praise for a Unique Design
Like any project that is architecturally out of the ordinary it took a while to obtain planning permission and to get the planners onboard with the concept — it took over 18 months and a lot of discussions before Historic England got involved.
They wrote a beautiful letter praising the design and the restoration plans and we managed to get it approved. Historic England are now using it as an example of sensitive restoration while renovating a house, which is amazing.
We took on the role of project manager from start to finish which was incredible and the builders were very patient with how careful we had to be in terms of the archaeology and historical significance.
A lot of people forget about the cattle shed because the ruins are so eye-catching but it has its own personality to it so we left whatever we could inside exposed while still vastly improving its efficiency and suitability for modern living.
Linking Distinct Buildings and Styles
Image 1 of 3
Image 2 of 3
Image 3 of 3
An essential aspect of the project was linking all three buildings together so as you enter the front door of the cottage from the high street you can now actually look right the way through the shed and extension, to the picture window in the ruins, which has a beautiful view of the garden.
There is a beautiful patchwork of old stone and brickwork from the ruins which were repaired over time that extends to the cattle shed and cottage — it's a real tapestry of different materials.
We basically built a building within a building and used glass and corten steel to reference the site's industrial past — it really complements the local sandy stone and the brickwork. I don't think we will ever work on a project as special as this one.
Words of Wisdom
A lot of clients are eager to get going with a project but I would encourage to really invest in the design process. A good architect will make all the difference and fully consider the options. Take your time and end up with a design that you love.
Assistant Editor Amy began working for Homebuilding & Renovating in 2018. She has an interest in sustainable building methods and always has her eye on the latest design ideas. Amy has interviewed countless self builders, renovators and extenders about their experiences for Homebuilding & Renovating magazine. She is currently renovating a mid-century home, together with her partner, on a DIY basis, and has recently fitted her own kitchen.
Homebuilding & Renovating Newsletter
Get the latest news, reviews and product advice straight to your inbox.
Thank you for signing up to Homebuilding. You will receive a verification email shortly.
There was a problem. Please refresh the page and try again.