How This All-Electric Eco Home Reduced its Owners' Energy Bills by 75%
By Alison Wall published
Christine and David Wetherell self built a modern, energy efficient home in Cheshire that doesn't require gas central heating thanks to its fabric first approach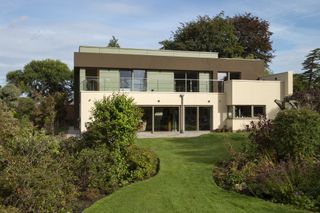 (Image credit: Jeremy Phillips)
Large Victorian houses can make great family homes, but heating their rambling interiors is often a challenge. Retired couple David and Christine Wetherell from the Wirral were paying nearly £4,000 a year in energy bills for theirs. It was time to move on — and the couple were thinking big.
"Building our own home was a dream," recalls David. "We were clear that we wanted it to be disability-friendly, light and airy, easy to clean, and as energy efficient as possible."
The couple are passionate about the environment, so once they'd delved into green building, they set their hearts on building to the Passivhaus standard.
That meant the house needed to be extremely well insulated, airtight and fitted with a mechanical ventilation with heat recovery (MVHR) system. The nondescript, energy-hungry bungalow on the large plot they'd found had to go, but its lovingly tended, mature garden and views over the River Dee into Wales made it a winner.
Building to a Passivhaus Standard
Project Details
Location: Neston, Cheshire
Size: 420m2
Build time: 14 months
Plot cost: £385,000 (2014)
Build cost: £728,200
"Originally, we wanted to build in structural insulated panels, but we couldn't find a local builder who could build using them," explains architect Michael Swinson of Ellis Williams Associates (opens in new tab).
Instead, the couple found Hooga in north Wales after searching online, who build using large aerated concrete blocks (Ytong) impressive U values and masses of insulation.
The oversized white Ytong blocks were laid with a quick-drying glue solution, similar to a tile adhesive and only 2-3mm thick, a technique known as 'thin joint' block laying. Compared with a standard 10mm bed of cement mortar, which needs time to cure properly, this approach saves time and labour costs on the build. Traditional mortar beds can also be a weak spot in a home's airtightness, so moving to a thinner joint helps here, too.
Although it's a fast way to build, it also allows for accuracy. "Every block was checked to make sure it was spot on horizontally and vertically," says David.
Although the couple decided not to have their home Passivhaus certified, it does meet those demanding energy efficiency requirements, using 250mm of insulation for the walls, foundations and roof, triple glazing for the windows and doors.
(MORE: Fabric First: How to Limit Your Home's Reliance on Heating)
Creating an Energy Efficient Home
They decided to go all-electric and had the gas supply disconnected when the original bungalow was demolished.
Christine and David specified 40 solar PV panels on their flat roof (only possible because the original bungalow had a three-phase electricity supply), a Mitsubishi Ecodan air source heat pump for hot water, and a large 5,000ltr rainwater harvesting tank. "We also have space in the plant room for up to two batteries," adds Christine.
The couple now pay only a quarter of the energy bills they paid in their previous home, and enjoy warm and even temperatures year-round. "It's better living here than we could have imagined," says Christine.
"Using the Passivhaus approach works brilliantly. We have no major source of central heating or cooling other than the MVHR, and we've lived through three very different summers and winters here now. "It is light, airy, comfortable, with no draughts, and it's easy to live in and keep clean."
Homebuilding & Renovating Newsletter
Get the latest news, reviews and product advice straight to your inbox.
Thank you for signing up to Homebuilding. You will receive a verification email shortly.
There was a problem. Please refresh the page and try again.