4 Design Lessons from a DIY House Built for Under £92K
By Amy Reeves published
George Bannister built a country holiday let to fund the renovation of his main home, but ended up living in the characterful one-bedroom retreat himself!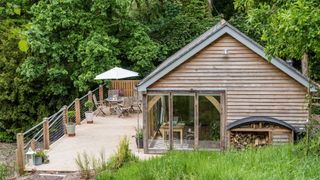 (Image credit: Rachel Bragg)
After selling his business creating luxury shepherd huts, George Bannister was looking for a new adventure. Looking for a project, and a new home, to get his teeth stuck into, he found a derelict cottage with a poultry shed behind it.
While awaiting planning permission to extend and renovate the main house, George knocked down the shed and replaced it with an idyllic tiny house to provide some income for the project. Little did he know that a year later, it would become his permanent home.
1. Build an On-site Retreat to Fund a Renovation
Image 1 of 3
Image 2 of 3
Image 3 of 3
Cost breakdown
Materials £58,356
Labour £21,786
Dressing and appliances (including hot tub) £11,211
With a plan to fund the renovation of the main house using funds from a one-bedroom holiday let, George designed a timber and oak frame house he could build by himself.
Lovingly nicknamed the 'chicken shed', George has kept the layout simple to aid with costs, with a large open-plan living area, including a kitchen, sitting and dining area, and a bedroom with en suite.
"It's a fairly simple timber frame construction but I put in a lot of effort and attention to detail so it would have character and personality," says George. "Building it was fairly straightforward and I used what I already knew from building huts in a previous job."
The process would also kick-start another business venture for George — Black Oak.
2. Use Materials to Add Character
Introducing a rustic, cosy aesthetic into the chicken shed was top priority for George, so he dedicated much of his time and effort to choosing the right materials to include in the building.
The oak frame was supplied locally and creates the vaulted ceiling of the living area, as well as the corner glazing. Rough-finish plaster was also used to give the illusion of old lime plaster and a warmer, more interesting appearance. "I wanted to make something a bit different and not straight off the shelf."
Initially, George lived in a caravan while the chicken shed was rented out as a holiday let, but once he was finished renovating the house, he moved into the smaller chicken shed and let that out instead. "It's directly opposite a nature reserve and couples would come from the city to escape," says George.
3. Create a Unique Kitchen on a Budget
Image 1 of 3
Image 2 of 3
Image 3 of 3
While there are high quality features in the design of the small house, measures were taken to stay on budget, including in the kitchen.
Unique elements, like the copper Belfast sink (sourced from America) and polished concrete worktops (from Lazenby) are balanced by smart design.
The cheap kitchen unit carcasses are from Howdens and the door fronts and shelves were created using old scaffold boards and reclaimed flooring.
4. Design a Modern Small Home
Image 1 of 3
Image 2 of 3
Image 3 of 3
Despite the home being small in stature, George made sure it was ready to cater for modern living.
The space-efficient open-plan living area includes a log burning stove in the living area, but has also features underfloor heating beneath the reclaimed brick floor. Plus, a short walk away from the tiny home sits a hot tub — something which drew couples in when rented out.
The bedroom features a walk-in wardrobe and a spacious en suite — finished with more copper pipe details, a characterful Victorian shower and industrial-inspired white metro tiles.
Assistant Editor Amy began working for Homebuilding & Renovating in 2018. She has an interest in sustainable building methods and always has her eye on the latest design ideas. Amy has interviewed countless self builders, renovators and extenders about their experiences for Homebuilding & Renovating magazine. She is currently renovating a mid-century home, together with her partner, on a DIY basis, and has recently fitted her own kitchen.
Homebuilding & Renovating Newsletter
Get the latest news, reviews and product advice straight to your inbox.
Thank you for signing up to Homebuilding. You will receive a verification email shortly.
There was a problem. Please refresh the page and try again.