Wood Burning Stove Installation Costs Explained
By Natasha Brinsmead published
If you've been searching for advice on wood burning stove installation costs you've come to the right place — our guide provides everything you need to know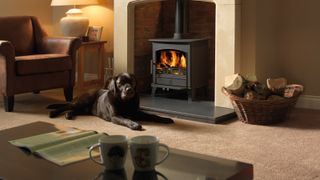 (Image credit: ACR Stoves)
Wood burning stove installation costs are likely to be at the forethought of your mind if you are considering fitting a log burner into your home.
There are many things to take into account when fitting a new log burning stove, including the type of chimney you have (if you have one at all), the style of stove you opt for, where in the country you are and who you get to install it.
Our guide is designed to ensure you understand the kinds of costs you could be facing and explains why the quotes you receive might be higher than you expected. We will also cover those pesky hidden costs you may have forgotten to budget for.
How Much Do Wood Burning Stoves Cost?
When calculating how much installing a new log burning stove is going to cost you, it is important, before calculating installation costs, to have an idea of the price of the actual stove too.
A starting price of approximately £450 is typical for a wood burning stove at the lower end of the price scale, although this figure can easily rise to £4,000 - £5,000 for designer, contemporary models. On average though, a price of around £900 - £1,500 is typical.
How Much Does Wood Burning Stove Installation Cost?
There are several factors that will affect wood burning stove installation costs, but the main thing is your chimney. If you want to install a log burner with no chimney, you will be looking at higher installation costs than if you have an existing chimney.
However, it is important to realise that costs will very much depend on a number of other factors too, including:
If you need your chimney lined with a flue liner
Access to your chimney stack
Whether an existing gas fire or similar needs to be removed
A fireplace that needs resizing
The building of a false chimney
More complex log burner ideas involving the construction of built-in log storage
Cost of Installing a Log Burner With a Chimney
For the fitting of a log burner, with an existing chimney, you can expect installation costs of between £800 - £1,500.
The higher figure would be expected to include having the chimney the flue lined if necessary. It would also be likely to include the associated flue pipes, a stainless steel liner, a register plate, chimney cowl and HETAS registration. You may also be able to get a carbon monoxide detector (which you'll need for Building Regulations purposes) for this higher price too.
Installing a Log Burner Without a Chimney
It is more expensive to install a log burner without a chimney. This is because you will need to fit a twin walled flue system in order to take the fumes produced by the fire outside.
These systems fit to the back of the stove and then run either out of an external wall up the side of the house to roof level, or within a false ceiling up and out of the roof.
Installation of a wood burning stove in this case would cost between £1,500 - £2,500, including the flue system.
Can I Install a Wood Burning Stove Myself?
If you feel confident enough to undertake the job of installing your own wood burning stove then there are no regulations to state that you can't. However, you will need to notify your local Building Control Officer so that they can inspect the installation and ensure that it complies with local Building Regulations for chimneys, stoves and fireplaces — something that can cost as much as £450.
If you were to get a HETAS-approved installer to fit your stove, they would be able to certify that the installation complies with the regulations and issue a certificate.
What Adds to Wood Burning Stove Installation Costs?
The above wood burning stove installation costs are only a guide and there are several factors that can add to costs. These include:
Access issues: In some cases it can be necessary to construct scaffolding or use a cherry picker in order to gain the access required to drop a chimney liner in. This will add around £200-£650 to your overall costs.
An existing gas or electric stove: If you want to replace a gas fire with a wood burner, you need to factor in costs for having the gas feed capped — around £50-£70.
Fireplace opening resizing: It is recommended that there should be approximately 100mm of circulation space either side of a wood burning stove and about 40mm behind. In some situations this might mean a fireplace recess has to be altered, which will inevitably add to costs and may result in some re-plastering and decoration work around the opening. The above might result in the installation of a new lintel too.
Hearth: Don't forget the cost of a hearth if you don't already have one. Slate or granite are popular options, although tiles tend to be a little cheaper. Expect additional costs of at least £130-£200.
Chimney sweeping: Your chimney should be checked and swept before the new stove is installed (and regularly thereafter). Prices for chimney sweeping tend to come in at around £50-£80.
False wall/chimney construction: It is common for those installing a stove with no chimney have a false chimney and fireplace constructed in which to house the new stove (although a freestanding model doesn't require this). The cost of this varies hugely, but taking into account building and plastering could be expected to add around £1,000 to your overall costs.
Natasha is Homebuilding & Renovating's Associate Editor and has been a member of the team for over two decades. An experienced journalist and renovation expert, she has written for a number of homes titles. She has renovated a terrace and is at the end of the DIY renovation and extension of her Edwardian cottage. She is now looking for her next project.
Homebuilding & Renovating Newsletter
Get the latest news, reviews and product advice straight to your inbox.
Thank you for signing up to Homebuilding. You will receive a verification email shortly.
There was a problem. Please refresh the page and try again.