Can You Have a Log Burner Without a Chimney?
By Natasha Brinsmead published
Breathe a sigh of relief — a log burner without a chimney really is possible. Our guide to installing a wood burning stove in a chimneyless house explains all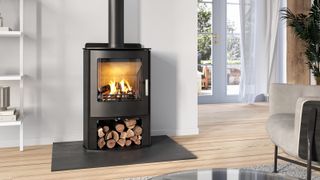 (Image credit: Mendip Stoves)
Have you been wondering whether you can install have a log burner without a chimney? If so, you are not alone. Wood burning stoves add tonnes of character and warmth to a home but, if like countless others, you live in a house with no chimney, what are your options?
Thankfully, no chimney doesn't necessarily mean no log burner. In this guide, we show you the ways round this common problem, offering log burner alternatives and solutions to the issue of no chimney.
Do I Need a Chimney For a Wood Burning Stove?
Even if you live in a house with no chimney, it is still possible to fit a log burning stove. However, it is obviously a little more complicated than if you have an existing chimney already in place.
To fit a log burning stove without a chimney, you will need to install a twin wall chimney flue system to take fumes from the stove to outside.
Twin wall flue systems – also sometimes called pre-fabricated chimney systems – are made up of connectable stainless steel pipes, wrapped in insulation. These pipes sit within an outer tube in order to keep the temperature inside the flue warm enough to draw the fumes though the pipe before they are expelled outside.
There are two types of twin wall chimney flue systems:
External twin wall flue system: These systems involve connecting the pipes to the stove. From here, they exit through an external wall, running up the side of your house, usually up to the roof, where they can deposit fumes at a safe distance.
Internal twin wall flue system: Rather than running up the side of your house, this type of system runs from your stove, through your ceilings, before exiting through the roof.
Both systems make it possible to fit a log burner with no chimney, but which one you choose will depend on your circumstances and needs.
External twin wall flue systems are less disruptive to fit than internal systems, but mean having a steel pipe running up the outside of your house.
Internal twin wall systems often result in a stove that is easier to light and use as the flue is kept warmer, but on the downside, they need space to be boxed in to the ceiling and their installation is a little more disruptive.
How is a Wood Burner Installed in a Home Without a Chimney?
Fitting a log burner without a chimney is a job best carried out by a professional and you will need to ensure it is installed in accordance with the building regulations for chimneys, stoves and fireplaces.
You (or your HETAS installer) will need to buy stove pipe, a twin wall chimney flue system and a suitable hearth — as well as a stove, of course.
In the case of external systems, the wall is usually stripped back to the brickwork. The hearth will then be positioned, before the stove is put into place and the stove pipe attached. The next step is to install the flue system.
Finally, don't forget to factor in any patching up and decorating that will be required after installation.
It is important to bear in mind that if you don't get a HETAS registered engineer to install your log burner, you will need to call out (and pay) building control to come out to inspect and sign off the installation.
Are There Alternatives to Wood Burners in Homes Without Chimneys?
If you don't like the idea of fitting a flue system, but want the warmth and charm of a log burner, you should take a look at one of the wood burning stove alternatives on offer.
These include electric stoves, gas stoves and bioethanol fires. All have their pros and cons.
Electric Stoves
Electric stoves are an easy-to-fit, fuss free solution for those with no chimney.
Compared to log burning stoves, gas stoves and other log burner alternatives, electric stoves are cheaper to buy and simple to install — in most cases you can just plug them in to an electrical socket.
They require no chimney or hearth and don't give off any fumes.
On the downside, even the most realistic flame effects are no match for the real thing — plus, should you experience a power cut, your fire won't work. In addition, they don't give off as much heat as wood burning or gas stoves.
Gas Stoves
Gas stoves are a great option for those who want real flames. They come in a huge range of styles and offer the same kind of visual charm as a log burner.
While no logs or kindling will be required, you will need a gas supply. You should also be aware than although you won't need a chimney, adequate ventilation will need to be put in place — plus you must get a Gas Safe registered engineer to install it in order to comply with Building Regulations.
While there are options available for a couple of hundred pounds, some of the best gas stoves can cost over £1,000.
Bioethanol Fireplaces
Bioethanol fireplaces require no chimney, yet produce a living flame and require no specialist fitting.
They can be placed pretty much wherever you want them and come in wall mounted or freestanding models — some can even be controlled via a remote control or smart device.
On the downside, they heat they give off is not as high as a log burning or gas stove so they may not suit those who want a stove as a primary heat source. However, they're a good options for those building new energy-efficient homes.
Natasha is Homebuilding & Renovating's Associate Editor and has been a member of the team for over two decades. An experienced journalist and renovation expert, she has written for a number of homes titles. She has renovated a terrace and is at the end of the DIY renovation and extension of her Edwardian cottage. She is now looking for her next project.
Homebuilding & Renovating Newsletter
Get the latest news, reviews and product advice straight to your inbox.
Thank you for signing up to Homebuilding. You will receive a verification email shortly.
There was a problem. Please refresh the page and try again.