Preparing a Garden for Winter: 15 brilliant tips
By Paul Hervey-Brookes published
Preparing a garden for winter means you'll reap the rewards in spring. Award-winning landscape designer Paul-Hervey Brookes shares his tips for winter gardening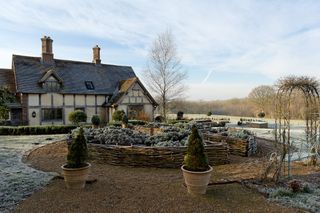 (Image credit: Border Oak)
Preparing a garden for winter is time well spent. Months of wet and cold winter weather have a big impact on our gardens. From wind and frost damage, to standing water — it's a season that seems to undo all our spring and summer efforts.
Most plants that die over winter do so from having their roots wet for long periods of time. Cold spells do cause some plants to die back but the wet weather is often the real challenge.
With good garden design and several preventative measures we can make our gardens happy, make our time outside over the winter months a little more enjoyable, and get our gardens spring-ready.
From ensuring garden furniture stays in tip-top condition, to protecting plants and ensuring paths and patios remain slip-free, here are my top tips for preparing a garden for winter.
1. Prepare Paths and Patios for Winter
The first considerations when preparing your garden for winter are always practical. Whilst we may not be using garden paths and patios as frequently in the colder months, ensuring they remain slip-free is important.
Steps, terraces, drives and paths should be treated with moss killer or, if you prefer organic gardening, scrubbed with a metal brush before being power washed.
Natural paving and some reconstituted paving can become slightly slippery over winter so a good wash and the removal of any debris will pay dividends.
If you have a wooden deck or steps then a layer of small-gauge chicken wire nailed to the surface will provide traction and reduce the chances of slipping.
Your main access routes (to the front door, side entrance and bins) are the priority, so if you have gravel paths which you know are prone to water logging, then aerate and increase the drainage now. You can simply spike to open the soil up and fill in with extra aggregate.
(MORE: Find out How to Clean Decking with our In-depth Guide)
2. Rake the Lawn
Most of us won't be walking on the grass over the winter, with the exception of the odd bright, sunny day. However, standing water can cause real issues for lawns and this can easily be compounded with the build-up of thatch.
The first step is to remove thatch by vigorously raking with a lawn rake. Mounds of moss and dead grass will come up, which is a good sign.
After this, and depending on how wet your lawn gets, either go over the lawn with a border fork making a series of holes or, if the ground is compacted, purchase a hollow tine aerator and carry out the same task, leaving a series of cores into which you can brush sand. This should protect the lawn from waterlogging over winter.
3. Pruning Plants in Preparation for Winter
Preparing a garden for winter is as much about plant care as it about looking after hardscaping.
If you have grown hardy annuals such as Nigella, Opium poppy and Aquilegia these will now have run to seed with pods bursting and brown. Many of us are tempted to cut these off and throw them away, but if collected in paper bags and sown directly into seed trays they will make hundreds of new plants to be planted out in spring.
Herbaceous perennials like Papaver and Alstroemeria will have finished flowering so pull them up, rather than cutting them, just like rhubarb. This encourages new basal growth — and with Alstroemeria new secondary flowering.
While cutting down perennials there is always a temptation to extend this attention to shrubs that have perhaps become too large. Unless the plants in question are very hardy and known to be dormant over winter I would resist this temptation until March.
Open wounds on plants like evergreens tend to weep and could become infected with disease or allow frost to enter, causing unwanted die-back.
This is particularly true of slightly tender plants like culinary sage and rosemary — while these will put up with the cold they will suffer if you cut them during winter.
4. The Seeds and Bulbs to Sow in Winter
If you haven't grown hardy annuals before then now is a good time: sow into unheated cold frames, or under some form of protection, and you will have healthy and robust plants to plant out next spring.
Pelargoniums can also be raised now from cuttings taken at the growing tip. Cut roughly 7cm off, making sure to cut just under a pair of leaves as these will root quickly to make sturdy plants by autumn.
The bulbs for plants such as lilies can be planted in October, and tulips can be planted even later in the year.
5. Grow Your Own During Winter
If you have yet to be bitten by the 'grow your own' bug you can sow some simple crops now, feel the reward and be encouraged to try more adventurous schemes next year.
For instance, you can sow lamb's lettuce under cloches (a glass or plastic shelter) ready to harvest around Christmas.
On the vegetable front, this is your last chance to plant out leeks and brassicas for winter harvest.
If you have a cool greenhouse, porch or even a well-lit shed then you can sow new potatoes now for a harvest at Christmas. You can also sow some beetroot varieties at this time.
6. How to Protect Garden Furniture From Winter Weather
Warm, dry autumnal days can be a good time to give wooden garden furniture the once-over. An afternoon with sandpaper, varnish, paint or preservative oil will ensure furniture left outside over autumn and winter is protected.
Many of us have furniture with woven panels or synthetic wickerwork that will degrade with cold, wet and sun. It's best to store indoors or within a shed or garage to preserve the look, colour and feel, during winter months.
However, we don't all have the luxury of space to store such bulky indoors. Quality breathable outdoor covers are another option.
Just ensure furniture is clean and free of debris, and not sitting on grass or other surfaces prone to becoming waterlogged, before covering.
(MORE: Discover the Best Plastic Sheds for Storing Garden Furniture)
10. Protecting Hard Landscaping
Preparing a garden for winter also means ensuring paving pointing, garden brickwork and plaster is in good order; winter weather can exacerbate any existing defects.
Cooler, dry mornings are the ideal time to make repairs knowing that the warmth of the coming days will make any mixtures really set.
7. Collect Fallen Leaves for Mulch
One of the most arduous tasks in preparing a garden for winter is collecting leaves, particularly if you're blessed with a good many deciduous trees.
Collecting fallen leaves from deciduous trees, such as oak, ash and beech, can be beneficial. They mulch down well and when stored can be a rich source of soil improver and reduce the need to weed when applied as a covering in the spring.
Leaves should always be collected and stored in leaf bins or mixed into compost heaps. Do not be tempted to store them in plastic bags and seal them up; this can potentially allow fungus to develop in the sack.
(MORE: Make the Task of Collecting Leaves Easy with our Guide to the Best Leaf Blowers)
8. Service Garden Machinery and Tools
Good garden tools can last more than one generation, so be kind to yours.
Clean, sharpen and oil metal elements, and if you have wooden tools give the wood a treatment of oil to keep it in good order. Ensure all hand tools are free of soil in order to prevent rust.
Plastic handled tools should be inspected for any splits and signs of the plastic turning brittle; if this is the case I would suggest replacing them.
Once clean and dry, ensure tools are stored in a dry place such as a garage or garden shed.
Lastly, garden work in winter inevitably has an element of preparing for spring. While garden machinery like lawn mowers and strimmers are not in use, it's an ideal time to have them serviced and sharpened.
9. Frost-Proof Your Plants
You may have noticed that plants like dahlias have gone brown following frosts. If you want to offer these kinds of plants protection over winter then the best thing is to dig up the tubers, remove the brown frosted stems, label and store in a dry, frost-free place.
With evergreens and tree ferns such as dicksonia, wrap protective fleece around the foliage or crown of the plants.
If you live in an area that is prone to prolonged frost and cold winds, consider filling with straw to keep the plant warm. This will have to be removed intermittently throughout winter to ensure you don't inadvertently harbour any pests and diseases.
Slightly tender potted plants such as agapanthus should be lifted into a cold greenhouse or well-lit shed and left until the risk of frost has passed in the spring.
If you have permanent planted containers with shrubs or frost-hardy perennials, then you can give them the best chance against winter damage by lifting them off the ground with pot feet to increase the rate of water shed through the planting medium in the container.
11. Clear Out Streams to Prevent Flooding
It goes without saying that if you are lucky enough to have a water course in your garden, even a little stream, you should pop on your waders and clear out debris such as fallen branches and leaves.
I have seen several cases of needless flooding over winter from debris choking waterways.
12. Invest in Outdoor Lighting
Garden lighting is not just for entertaining outdoors on balmy summer evenings, it's equally important (if not more so) in winter, providing security and safety — illuminating pathways and highlighting hazards such as garden steps as the nights quickly draw in.
Getting your electrician to site now will mean you can install wiring and lighting now, in readiness for winter.
Solar lighting has, however, improved in recent years and could provide a solution in areas where it is difficult to run wiring. (Check out our picks of the best garden solar lights.)
Feature lighting can also bring our gardens to life on winter evenings — allowing us to appreciate the outdoors from the warmth of a sitting room without the need to venture out.
Top garden lighting ideas include uplighting specimen trees and sculptures in the garden, or illuminating water features such as ponds. Sometimes, depending on the house, the façade itself can feature low level outdoor wall lights to pick out elements of architectural interest.
13. Clean Pots Ready for Spring
Gardeners used to use the winter to wash down seed trays, pots and greenhouses.
While many of us don't have space for all of this, if you do reuse seed trays, plastic or wood along with terracotta pots, then on a sunny day give them a good wash out and allow to dry. This will reduce the chance of soil-borne fungus in the spring and seed rot.
14. Save Rainwater
Despite the rainy weather, pots and some plants will still need watering in the winter months. And, investing in a water butt is a great way to take advantage of the higher levels of rainfall during autumn and winter — and can be a great means of saving water.
Some of best water butts, aesthetically speaking, resemble large planters or garden sculptures and so can form part of your landscaping scheme.
Also remember to add an insulating cover to outdoor taps to ensure they do not freeze as the temperature drops.
15. Plan for Next Spring and Summer
All this time spent preparing your garden for winter will give you plenty of time to think about changing your planting and adding in structure ready for next year.
While old-fashioned cottage gardeners were advocates of moving plants at any time of year, my advice is always to wait until late autumn or early spring.
However, this doesn't stop you taking time to plan now. Many herbaceous plants can easily be split simply by digging and literally chopping in half with a spade, while new shrubs and trees can be planted with a good feed from late September.
As a rule I always try to choose shrubs and trees that have good autumn foliage colour, flower and at least one other interesting attribute which means it's working hard earning its proverbial supper in the garden.
My top small tree is always Mespilus, or the common medlar, as its rich autumnal golden shades are beautifully matched in spring by masses of white flowers, fruit and amazing bark.
Paul is an award-winning landscape designer. An experienced designer, his diverse range of work has included everything from small courtyards to large country gardens, as well as public spaces, both in the UK and internationally.
He studied at The Royal Botanic Garden Edinburgh, giving him the opportunity to learn about plants and plant habitats from some of the most knowledgeable and inspiring plantsmen in the world. He created his first show garden at Malvern Autumn Show in 2008, and has since created show gardens at the Chelsea Flower Show and Hampton Court, alongside being invited to exhibit internationally in United States, France, New Zealand, Japan and Australia. (In 2022, he designed The Brewin Dolphin Garden at the Chelsea Flower Show.)
Since 2015, he has been a RHS Gardens Judge and chaired judging at all of the RHS Flower Shows including RHS Chelsea Flower Show. He has also worked with Marks & Spencer and Bradstone to create garden products, and has written for The Telegraph and Homebuilding & Renovating magazine.
Homebuilding & Renovating Newsletter
Get the latest news, reviews and product advice straight to your inbox.
Thank you for signing up to Homebuilding. You will receive a verification email shortly.
There was a problem. Please refresh the page and try again.