Saving Water: 11 Ways to Conserve Water in Your Home and Garden
By Hugh Metcalf published
Saving water is important not only to conserve our water supplies, but also prevent water entering overburdened mains drainage. Here's how to save water in your home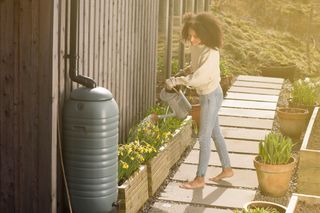 (Image credit: getty images)
You might think saving water isn't important in the UK — after all, we're a rainy climate which doesn't see rainwater in short supply for the majority of the year. However, that's just not the case and water conservation is important even here.
The average UK household uses 330 litres a day according to the Energy Saving Trust. Couple that with an increasing population and some people predict that the UK could be faced with water shortages by 2050. Water companies use a lot of electricity too, so overuse of water is intrinsically linked to more energy requirements.
Another factor to consider in making water saving adaptations to your eco home is surface run off. This is the excess water, generally from rain, which cannot infiltrate the soil and so runs off the surface into drainage. Council sewage and drainage systems in the UK are generally quite overburdened, and finding ways to return it to the ground yourself will also mean less chance of pollution and the requirement for chemical treatment.
If you're ready to start your water saving journey, here's 10 things to look at for your home and garden design.
1. Saving Water with Rainwater Harvesting
Saving water that you'd use in the garden is an easy way to start your journey. Rainwater harvesting is a way of collecting and reusing rainwater. The most common form of this is the installation of a water butt, which can collect and store rain from drainpipes and gutters, which can then be used for irrigating your garden.
(MORE: Best Water Butts)
Water from rainwater harvesting can also potentially be used for toilet flushing, car washing and laundry with the right set-up.
2. Water Saving Shower Heads
Water saving 101: taking a short shower saves a lot of water compared to taking a bath — however, not all shower heads are created equal when it comes to their water usage.
When buying a new shower head, look for the volume in litres it uses per minute of the shower. The lower the number, the better, and many modern shower heads include clever technology to ensure that you still get the power shower effect, even with a low flow head.
(MORE: Best Shower Heads)
There are several options for water saving shower heads:
Aerating shower heads which mix air with water to reduce the volume required, while still creating above average pressure from the head itself.
Pulsating shower heads which use a rotating wheel inside the head to create a massaging effect
Reduced flow shower heads or flow regulator shower heads reduce the flow into the shower head, which by itself may cause lower water pressure.
3. Low Flow Taps
Low flow taps operate on the same concept as water saving shower heads, mixing water with air to create a strong jet while using far, far less water than a regular tap.
To make sure you're comfortable with the water pressure you get from a low flow tap, try before you buy by visiting a showroom. Or choose a low flow tap that has both a regular and an eco function, so that you can switch back and forth as required.
4. Dual Flush Toilets
Most modern WCs are dual flush, and with a dual flush toilet using 4-6 litres per flush compared to a standard 13 litres for an old style toilet system, it's a no brainer as an easy way to save water.
However, it's important to check that your dual flush toilet is well maintained. According to the BBC and water saving organisation Waterwise, dual flush toilet mechanisms are more likely to leak than traditional siphon systems, and in the UK it's estimated this is wasting 400 million litres of water each day.
5. Compact Baths
While we already know that baths are bigger water-wasters than showers, if you don't want to cut out bathing entirely, a reduced-capacity bath is an effective way to ensure you use less water. While you may choose to fill a regular bath only half way to save water, a smaller bath has the benefit of a higher water level while using less water.
6. Water Leak Detectors
Leaky faucets and shower heads waste large volumes of water, but are generally easy to diagnose and get fixed. However, leaks from pipes are harder to spot, and left over time will not only waste water, but potentially cause damage to your home.
Direct Line estimates that for those on a water meter, a leak of one drip per second could increase an annual water bill by as much as 6 percent.
However, there are now smart water leak detectors that you can install as part of your home's pipework that will alert you to both pinhole and catastrophic leaks. Many also have smart functions that let you measure your water consumption and offer ideas for how to conserve water.
7. Water Saving Smart Appliances
Water saving technology also extends to washing machines and dish washers. Modern water efficient machines will adjust the water level to suit the load and minimise the amount of detergent needed while maintaining a superior clean, however, your best bet for making the most water usage for a washing machine or dishwasher is to only wash with a full load.
(MORE: Best Integrated Dishwashers)
8. Grey Water Run Off
Grey water is categorised as water that has been used by the household, including from bathrooms, kitchens and appliances. This water can be dirty, containing soaps, grease, oils chemicals and bacteria, so any re-use of grey water should be done quickly, avoiding storage where it may start to smell.
There are kits available to divert water from your downpipe when required, which can be installed in your plumbing internally or externally, and this can then be collected and used. It's best used as irrigation for the garden, but only certain grey water will be desirable for use without treatment.
Bathroom grey water tends to have low levels of soap, and it's well diluted, meaning it's suitable for irrigation. Dishwater grey water may be fine, if you use a low sodium detergent, as excess salt can harm plants and degrade soil quality. Kitchen grey water is perhaps the most 'dirty' and best avoided without treatment.
9. Green Roofs
Another way to avoid surface run off from reaching mains drainage is to make use of it as it falls. A green roof will reduce the amount of water that goes into your gutters, as rainwater will directly irrigate the soil.
10. Soakaways
Soakways offer an alternative way to get surface run off back into the ground, without relying on mains drainage. Soakways are holes dug into the ground, filled with rubble and other large stone or using a plastic soakaway crate, allowing water to infiltrate effectively back into the ground close to where it falls. These can be installed underneath paved surfaces, with pipes leading to the soakaway from an area of excess rainwater, such as a gutter.
11. Saving Water with Smart Garden Design
The effect of surface water run off is multiplied in densely populated streets and increasing variations of sustainable drainage systems (SuDS) are being incorporated into modern housing schemes to deal with this water.
Smart garden design can be used to take some of the strain off our mains drains. Rainwater can be channelled and slowed down through the garden in a series of collecting pools and planting beds before reaching the mains drain system.
Incorporating this type of system will not only provide habitats for various types of wildlife, but will help keep the front of your house green and welcoming. If you are building a new home on a more sizeable plot then a beautiful large pond or lake can be incorporated which can deal with watershed.
Hugh is Digital Editor of homebuilding.co.uk and has worked on a range of home, design and property magazines, including Grand Designs, Essential Kitchens, Bathrooms, Bedrooms and Good Homes. Hugh has developed a passion for modern architecture and green homes, and moonlights as an interior designer, having designed and managed projects ranging from single rooms to whole house renovations and large extensions. He's currently renovating a Victorian terrace in Essex, DIYing as much of the work as possible. His current project is a kitchen renovation which involves knocking through walls and landscaping a courtyard garden.
Homebuilding & Renovating Newsletter
Get the latest news, reviews and product advice straight to your inbox.
Thank you for signing up to Homebuilding. You will receive a verification email shortly.
There was a problem. Please refresh the page and try again.