The Best Kärcher Pressure Washers for Time-Saving Cleaning
By Jack Woodfield published
The best Kärcher pressure washers are versatile, easy to use and provide incredible results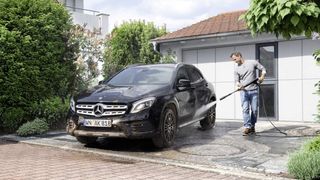 (Image credit: Kärcher )
Kärcher is a leading brand in pressure washers, and owning the best Kärcher pressure washer is an investment that can save you time on several outdoor cleaning tasks.
With spring in sight, many of us will be perfecting our garden design to (hopefully) make the most of some warmer weather. Pressure washers can help with this process because rather than manually scrubbing away at dirt, you can simply blast away stubborn mud and mildew from your patios and decking, or even hose down your bike.
Kärcher's pressure washers come in a variety of sizes, prices and power options, and with a range of accessories. If you're looking for a powerful machine to clean your driveway then you'll want to look for a higher pressure model, while smaller pressure models can be great for cleaning smaller garden spaces.
And Kärcher's user-friendly Home & Garden app is surprisingly handy for guiding you through the stages required for your clean.
Use this guide to the best Kärcher pressure washers available now to learn which model is best for your home.
Best Kärcher Pressure Washers
1. Kärcher K7 Premium Smart Control Pressure Washer
The best premium pressure washer
Specifications
Dimensions:
46.3 x 33 x 66.7cm
Reasons to buy
+
Great attachments
+
Powerful
+
Versatile applications
The Kärcher K7 Premium Smart Control Pressure Washer is the only place to start when talking about Kärcher pressure washers.
This premium model has incredible power (courtesy of a 180 bar max pressure, the highest on this list), which makes it well-suited for cleaning large patios and driveways. It also comes with brilliant accessories, including the 3-in-1 Multi Jet lance (Vario, dirt blaster and detergent), which lets you select the perfect cleaning mode for your application.
There's on-board storage for the accessories, which include a telescopic handle, the full control lances, and the T7 T-Racer Surface Cleaner to help you clean large surfaces.
The app is particularly handy for use with the K7, which lets you select the right pressure settings for each application.
---
2. Kärcher K2 Full Control Pressure Washer
The best for first-timers
Specifications
Dimensions:
32.2 x 21.2 x 40cm
Reasons to buy
+
Great for cleaning all areas outside the house
+
Easy to use and control
+
Multiple cleaning settings
Reasons to avoid
-
Not as effective on bigger cleaning jobs
The Kärcher K2 is the standout choice if you have a modest budget and don't feel too confident using one for the first time.
This is a simple-to-use, affordable pressure washer that handily guides you through which pressure to use depending on your task of choice. It comes with four cleaning settings to choose from, and the application of detergent will effectively blast dirt on patios and driveways and clean more delicate materials, such as wood.
It's not as powerful as the K7, but it does come with a high-pressure gun and hose, plus full control lances and a cable, which are great for cleaning small-to-medium-sized patios and decking, and even cars and bikes.
It's lightweight too, easy to carry with you, features on-board storage and once you've finished, it's easy to store away.
---
3. Kärcher K4 Full Control Home Pressure Washer
The best mid-range option
Specifications
Dimensions:
41.5 x 30.5 x 58.4 cm
Reasons to buy
+
Quiet
+
Great attachments
+
Effective on large patios
If the K7 is outside of your budget, then the next best premium Kärcher pressure washer is the K4 - a good all-rounder which effective blasts through larger patios and driveways.
The K4 comes with a vario power spray lance, a dirt blaster spray lance and a surface cleaner brush, and the tools can be stored on board. It also has a retractable handle for increased convenience when storing it away.
It's slightly less powerful than the K7, and comes with a smaller hose, but it is very effective - especially if you're looking for a pressure washer you don't want to use that often.
Notably, it's also very quiet. And you'll appreciate this benefit during longer cleaning jobs. The only criticism is that it's quite bulky, making it harder to carry around.
---
4. Kärcher OC3 Portable Cleaner
The best cordless cleaner
Specifications
Dimensions:
27.7 x 23.4 x 20.1 cm
Reasons to buy
+
Compact
+
Easy to transport
Reasons to avoid
-
Only suited to small cleaning jobs
-
Small hose
The Kärcher OC3 Portable Cleaner is brilliant for those who love spending time in the great outdoors. It is a cordless and compact option you can use at home to clean down your bike or muddy boots (or the muddy dog) after a walk, and you can take it in the car for quick washes after a hike.
It won't be suitable for cleaning stubborn dirt out of your driveway, but that isn't the point of this washer. It's designed for quick and easy jobs, utilising effective gentle pressure that's perfect for a quick rinse of dirty clothing or objects.
Plus, it utilises on-board storage for the spiral hose and trigger gun under the removable water tank, so it's easy to transport.
---
5. Kärcher K2 Compact
The best for cleaning cars or small patios
The K2 Compact is Kärcher's best budget pick, and despite lacking some of the power and features of the other pressure washers in this list, its 110 bar pressure is effective on both delicate surfaces such as your car, or harder surfaces such as brickwork.
This is Kärcher's smallest and cheapest pressure washer, but it's excellent value for money. It comes with a trigger gun, hose and lance which can all be neatly stored on the machine, and an integrated suction tube allows detergent to be applied to any surface being cleaned.
---
How to Choose the Best Kärcher Pressure Washer
Kärcher is a leading brand so whichever machine you opt for will deliver high-quality results, but these are some considerations to make before making your purchase.
Cost
If budget isn't a factor, then K7 is one of the most supreme machines available and well worth investing in. The K2 Full Control Pressure Washer is more cost-friendly but offers fantastic value for money.
Usage
If you only plan to use your pressure washer once in a while on small jobs, like cleaning brickwork or bikes, then a cheaper model such as the K2 Full Control Pressure Washer or Kärcher K4 Full Control Home Pressure Washer will do the job. But for regular, bigger jobs, the K7 will offer the best results.
Pressure
The bigger the pressure, the bigger the jobs your pressure washer can handle. For cleaning bikes, furniture and decking then a 100 bar pressure will suffice, while larger jobs such as cleaning large patios will likely require a 130 bar pressure or higher.
Hose length
If you want to clean the end of your drive, you'll need to go for a model with a hose that can reach (the Kärcher OC3 Portable Cleaner is a great cordless alternative). But if you just need to clean your bike in the back garden, a longer hose length isn't as essential.
How we Test Kärcher Pressure Washers
There's a lot to consider when buying one of the best Kärcher pressure washers, and the Homebuilding & Renovating team is getting hands-on experience with the products in this buying guide to help you feel confident in choosing the right model for you.
In our ongoing independent reviews we are testing the cleaning power and ease of use to gauge each Kärcher pressure washer's efficacy, and assessing key factors including the size of the patios or decking the washer was tested on, and value for money.
We're also reviewing everything in-between from included attachments to which households will most benefit from buying a specific pressure washer.
Our team is passionate about DIY and home improvement (which probably won't be a surprise) so we already have detailed knowledge about the brands that make these pressure washers. Moreover, we have taken into account user reviews when compiling this buying guide, and gleaned key information from our sister sites such as Real Homes and Ideal Home to help you find the best Kärcher pressure washer for your home.
Jack has worked in journalism for 11 years and is the News Editor for Homebuilding & Renovating, a role he has had since 2019. He strives to break the most relevant and beneficial stories for self builders, extenders and renovators, including the latest news on the construction materials shortage and hydrogen heating. In 2021 he appeared on BBC's The World at One to discuss the government's planning reforms.
He enjoys testing new tools and gadgets, and having bought his first home in 2013, he has renovated every room and recently finished a garden renovation.
Homebuilding & Renovating Newsletter
Get the latest news, reviews and product advice straight to your inbox.
Thank you for signing up to Homebuilding. You will receive a verification email shortly.
There was a problem. Please refresh the page and try again.