Best Wall Paint: 6 Favourites of a Professional Decorator
By Steve Jenkins published
Choosing the best wall paint ensures your walls get the finish they deserve. A professional decorator gives us the lowdown on which are his favourite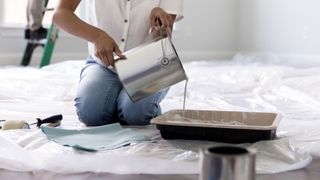 (Image credit: getty images)
Do the professionals have opinions on what's the best wall paint? Of course they do, and once they find a paint that's a good fit for a specific type of job, then they like to stick with it.
But whether you're painting a wall or the outside of your home, staying loyal to one brand isn't a must. If a paint isn't available then another will need to take its place. If a customer is set on a specific colour or brand, then it's a simple switch.
Budget can sometimes play a part, but cheap paints are typically avoided as they are rarely any good, but budget paints can still serve a purpose, such as a base for a mist coat when painting new plaster.
While opinions and preferences differ, a pro won't pick a poor quality paint. Here's a collection of wall paints that are perfect for DIYers who want to get a great finish on their next paint project.
What is the Best Wall Paint?
1. Dulux Trade White Super Matt Emulsion
Best everyday matt emulsion
Tin size: 5L, 10L | Coverage per litre: 10m2 | Drying time: 2 hours | Finish: Matt
Excellent coverage
Good opacity
Recoat in 2 hours
Smooth flat durable sheen
More expensive that the standard emulsion
A good quality white emulsion is an essential item in any DIYers arsenal and for us this offering from big guns Dulux is one of their best all rounders. It's a little more expensive than the standard Dulux white emulsion, but you get a much better finish.
It has all the qualities you want in a white emulsion. It has a smooth consistency, is easy to apply with a brush or roller and doesn't have much splatter when applied correctly, drying to a nice smooth flat durable sheen.
It offers great coverage, around 30-40% more than a lot of other white, and has a high opacity. White on white you can get away with one coat, but if not you can recoat within two hours to get a bright white finish.
---
2. Leyland Pure Brilliant White Matt Emulsion Paint
Best budget matt emulsion paint
Tin size: 10L | Coverage per litre`: 13m2 | Drying time: 2 hours | Finish: Matt
Inexpensive
Wipeable matt finish
Easy and quick to apply
Only good for white on white
If you are on the lookout for a white matt emulsion that won't break the bank then this budget paint could just be what you need. It isn't the best emulsion on the market but it's a good cheap alternative if you just want to freshen up your already white walls. It is ideal as a touch up emulsion that gives walls a bright white finish and offers good coverage, slightly more than average.
It's not a thick emulsion and needs a good stir before it is applied. It covers well, but it doesn't look like it when applying. But it dries to a decent matt finish that you can wipe clean.
---
3. Frenchic Chalk Wall Paint
A jack of all trades paint for more than walls
Tin size: 250ml, 2.5L | Coverage per litre: 14m2 | Drying time: 2 hours | Finish: Matt
16 contemporary colours
Works on most interior surfaces
Easy to apply
Durable and washable
Not cheap
If you have never heard of Frenchic, they produce eco-friendly, child-safe, minimal VOC, low odour, chalk and mineral paint that offers excellent coverage. They do a whole range of paints, including their Chalk Wall Paint range which is specially formulated for walls and ceilings.
There are 16 pastel colours to choose from including their 'Whiter than white' paint for a bright white finish. It has a lovely smooth consistency that is easy to apply and covers really well. One coat can be enough but like most paints two coats make for a much better finish.
The Ultra Matte finish gives a luxurious good-looking finish that is tough and can handle a good clean when needed. But the real beauty of Frenchic paint lies in its flexibility. This paint works really well on walls but is great for other interior paint jobs as well.
---
4. Johnstone's Wall & Ceiling paint
A straightforward no-nonsense emulsion
Tin size: 2.5L, 5.L | Coverage per l: 12m2 | Drying time: 1 hour | Finish: Matt
Good price
Decent coverage
Good on newly plastered walls
Colours are limited
If you want a no-nonsense well-priced emulsion in more than just white - there's over 20 colours to choose from — then this offering from long-time manufacturer Johnstone's is a good choice.
They've been making paint for over 100 years, so they know their stuff and it shows in their products. It is a water-based paint that offers high opacity, which means it's pretty good at hiding previously painted walls, basically it gives good coverage especially for the price.
It's also a good choice for newly plastered walls, it goes on easily and evenly and covers well after a mist coat. Two coats usually get the job done and give you a decent low sheen matt finish.
---
5. Farrow and Ball Modern Emulsion
Best for contemporary and cool colours
Tin size: 750ml, 2.5L | Coverage per litre: 12m2 | Drying time: 2 hours | Finish: Matt
Tough and durable
Over 150 colours and shades
Washable
Not cheap
Farrow and Ball produce beautiful wall paints and its Modern Emulsion range is perfect for a top quality finish in a cool contemporary colour. There's over 150 colors and shades to choose from.
Specifically formulated to withstand the rigours of a busy family home, it's tough, durable and scuff proof and child-safe. But what we really like about Modern Emulsion is that it is washable without losing its looks and has a preservative added to help it fight off mould. It's a lovely smooth consistency, easy to apply and leaves an unwavering finish.
But be warned you'll need deep pockets as it's not cheap.
---
6. Polycell Crack-Free Ceilings Emulsion
Best for covering cracks and stains
Tin size: 5L | Coverage per litre: 8m2 | Drying time: 2 hours | Finish: Matt, Silk
Great for covering cracks
Thick consistency
Easy to apply with brush or roller
Difficult to get really smooth finish
If you need to cover hairline cracks and cover up small imperfections then this paint is just what you need. It is thicker than standard emulsions, but not as thick as you might think it might be. But, it still goes on easily with a roller or a brush and covers well.
One coat is usually good enough if going white on white, but two coats gives a more consistent better-looking finish. The paint levels out well and is dry after a couple of hours and gives a tough and durable finish when fully cured. But don't expect it to completely hide larger cracks or imperfections. These will still need filling and rubbed down.
---
What to Look for in a Wall Paint
In a nutshell, when looking for a wall paint you get what you pay for. Buy a cheap paint and you get a cheap finish, even if you team it with one of the best paint rollers. In general better paints have more pigments and resins while cheaper paints have more solvents. For example in a water based paint the solvent is water, so in cheaper paints this means more water. A paint with fewer solvents gives a tougher, thicker and longer-lasting finish.
To keep it simple, ideally look for a good quality water-based paint (easier to clean and more environmentally-friendly) with a low VOC content. Effectively this means less chemicals and less odour, so better for your health and perhaps more importantly it's better for the planet. If you're looking for the greenest of the green paints, try eco paints for ultra low VOC content and sustainable manufacturing.
One top tip is to make sure that you buy enough paint for the job in hand and try and get from the same batch, especially if using colour. This ensures that you get a good even colour. If you need to use more than one tin of paint, mix in a large container with a lid — like an empty 10L paint container. Then use as needed.
But, ultimately, look out for the recommendations of others. Ask a professional, check reviews and buying guides (like this one).
Steve is an avid DIYer with over 20 years of experience in transforming and renovating homes. He specialises in painting and decorating, but has strong all-round building skills, having previously worked in the industry for 10 years.
Homebuilding & Renovating Newsletter
Get the latest news, reviews and product advice straight to your inbox.
Thank you for signing up to Homebuilding. You will receive a verification email shortly.
There was a problem. Please refresh the page and try again.