Venetian Plaster: Definition, Finish, Application and Cost
By Andy Stevens published
Venetian plaster is a versatile finish that will elevate a room to new heights. Here's how to get the look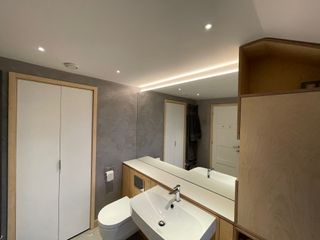 (Image credit: Paul Testa)
Venetian plaster is a surface finish that will raise your room's design credentials. A wonderfully versatile finish that can produce a high-end polished marble effect or a more subtle washed stone design, this ancient technique is once again making its mark on our walls, ceilings and floors.
(MORE: House Design Ideas)
What is Venetian Plaster Made From?
With roots dating back to Ancient Greece and Egypt, Venetian plaster is traditionally made from fired limestone and water combined to make a fine lime putty. There are no aggregates mixed in which differentiates Venetian plaster from other plasters such as Tadelakt, for example, which is lime-based but is mixed with marble granules, similar to Marmorino plaster.
How is Venetian Plaster Applied?
Using a special spatula or trowel for Venetian plaster, it's applied in a few (usually three) thin layers fairly loosely, not in straight lines like a multi finish plaster. This application technique provides depth as the swirls created provide a fluid effect rather than a flat, rigid surface finish. Once you have applied the layers, you finish with a wax coat, then polish it, which gives it a beautiful finish.
What are the Benefits of Venetian Plaster?
With self-builders and renovators wanting to use natural materials in design, the purity of authentic Venetian plaster with no aggregates makes it an environmentally friendly option. And there's no shortage of colour options and effects so there's plenty of choice.
There is also a growing focus on biophilic design (bringing the outside in) and with Venetian plaster you can achieve this in two ways: 1. by using it on surfaces inside and out to create a seamless connection, and 2. choosing to have the wall/ceiling finish look and feel earthy with pitted, slightly rougher details, for a more natural look. There are no joins with plaster so you get a smooth finish.
Another benefit of Venetian plaster is how durable and low maintenance it is. It's almost as flexible as paint in terms of upkeep and application. Years ago it was a lot harder to repair and you often had to replaster the whole wall, but now you can repair a small mark or blemish by fixing the problem in situ or wiping down.
Architect Paul Testa chose to use Venetian plaster on his bathroom walls: "We used venetian plaster to create a smooth homogeneous finish that wouldn't have joints that could discolour over time. It's also calming and feels less busy than a tiled surface." (Example in picture below.)
How Much Does Venetian Plaster Cost?
The one downside of Venetian plaster is the cost. Compared to traditional multi finish plastering and then painting or spraying, it is a lot more money. Depending on the colour of the plaster used, the type and the quantity, it can be anything from £5 to £20 a metre. Applying it per metre can be up to £150/m. This is mainly down to the fact that it is lime-based plaster.
There is also a specialist primer you have to use and then a wax to finish. You also have to use a smaller trowel than one you'd use to apply traditional multi finish plaster so it takes a lot longer!
Does a Specialist Need to Apply Venetian Plaster?
There are many reputable companies who specialise in applying Venetian plaster in homes so it's worth doing your research. Specialist skill of course comes with a price tag to match so if you're a competent DIYer, want to save on costs and are keen to learn then, like any trade, you can go on a course to learn how to do it. If you search for a course online, there are plenty to choose from, like Décor Effects Ltd based in Bury, which has been designed for beginners with no previous experience.
Now, personally I think all trades need experience, not just a condensed course, so my view as a tradesman is ideally you need to learn on a job or site as well. The real world is so different to the perfect, level, dry classroom. So, by all means, try it yourself but bear in mind that this isn't a cheap material so if you get it wrong it will cost a bit to replace all the materials.
(MORE: Wall Panelling Ideas)
Andy is an award-winning builder and managing director of Eclipse Property Solutions. He also presents a radio show on Fix Radio.
Homebuilding & Renovating Newsletter
Get the latest news, reviews and product advice straight to your inbox.
Thank you for signing up to Homebuilding. You will receive a verification email shortly.
There was a problem. Please refresh the page and try again.