Carpet vs Laminate: Which is the Best Choice For Your Home?
By Natasha Brinsmead published
Carpet vs laminate: Which of these popular flooring types should you choose? We explain the pros and cons of each option to help you decide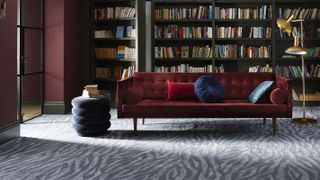 (Image credit: Carpetright)
When it comes to the issue of carpet vs laminate it all comes down to what you want from your floor in terms of both looks and performance — as well as how much you are prepared to spend on your new floor covering.
While there are many different types of flooring out there to consider, both laminate and carpet are hugely popular materials, with each having much to offer to homeowners.
Of course, just with every flooring covering around, both of these options have their advantages and disadvantages to consider and finding the right product for you is not always straightforward, with the needs of the household and even the room the flooring is to be fitted in all playing a role in deciding the best choice.
Our quick comparison guide to the pros and cons of carpet and laminate should help you decide which will best suit your home.
Carpet vs Laminate: Where to Start?
Before you can decide on the best flooring option for your home, you need to take some time to consider where in the house it will be used and exactly what you want from your new floor.
Questions to ask yourself before you can begin shopping around include:
Which room (or rooms) of the house is the new flooring be fitted in?
Does the flooring need to be resistant to water?
Do you have pets or young children who may cause the floor to become dirty quickly?
How much maintenance are you prepared for in keeping the floor clean?
Do any members of the household have allergies?
Do you have or plan on having underfloor heating?
What is the 'look' you are aiming for in the room the flooring is being fitted in?
Is the flooring being fitted on the ground floor or upper storeys?
Once you have the answers to these questions you will be far better placed to make the best decision in choosing between carpet and laminate.
Laminate Flooring Pros and Cons
First, let's take a look at laminate flooring. Although many people still confuse laminate flooring with engineered timber, laminate flooring actually consists of a photographic image of wood, stone or some other material or pattern which is fixed to a core board made of compressed fibres. The whole thing is then covered in a wear layer made from melamine which results in a durable finish.
When it comes to how to lay laminate, this is usually a pretty simple job that utilises a click system with no need for nails or glue, making it a popular choice with DIYers.
The quality of laminate really does vary hugely. Although it is possible to find flooring of this style being sold for as little as £6/m2, which may seem tempting, unless you are after nothing more than a quick fix-up solution it is usually worth seeking out something of a higher quality if it is durability you are seeking. Prices closer to £25/m2 plus are more realistic.
Laminate flooring comes with an AC rating. This indicates the durability of the laminate, with the higher ratings showing the strongest products. An AC1 rating is suitable for moderate traffic, while AC5 is suitable for heavy traffic and could be used even in commercial spaces.
A question often asked, particularly by those mulling over laminate vs vinyl flooring, is 'is laminate waterproof?' The answer is, it depends on the product. Some are designed for use in wet areas and as such make a perfect bathroom flooring choice, while others will only be a little moisture resistant. Check with your manufacturer.
Advantages of Laminate Flooring:
Cost effective
Very durable (depending on its AC rating)
Quick and easy to fit
Comes in a range of designs and colours
Suitable for use with underfloor heating
Can be expected to last up to 25 years (check the guarantee though)
Easy to clean and mop up spills
Waterproof laminate is now available that is suitable for use in bathrooms
Cons of Laminate Flooring:
Quality is variable so be sure to inspect the product before purchasing
Cannot be repaired and refinished if damaged
Can be slippery when wet (although products with a higher AC rating often come with a textured surface)
Noisier underfoot than more cushioned flooring types
Pros and Cons of Carpet vs Laminate
The popularity of carpet spans many years and it is easy to see why. Warm, cosy and quiet underfoot, the many types of carpet out there come in an enormous array of colours, patterns and styles, from luxurious deep pile designs to smooth velvets and highly contemporary versions too.
There are many options when it comes to choosing carpet, with some being more suitable for certain spaces than others. The main determiner of the style you choose should be the level of traffic in the room. Heavy traffic areas, such as hallways, will require a more durable carpet than bedrooms, for example, where underfoot comfort will be paramount.
Carpets come in both natural materials, such as wool, as well as manmade nylon and polypropylene, for example, and offer great soundproofing so are a good idea upstairs.
Despite the many draws of carpet, there are also some disadvantages to consider.
Unlike laminate, which can be easily wiped down, spills on carpet can stain. Carpet can also be problematic in households with pets, where claws can snag and fur can get lodged.
For some allergy sufferers, carpet can also be an issue, as dust and allergens are more likely to be harboured than with a hard floor.
While underfloor heating can be used in tandem with carpet, you do need to be wary of the overall combined tog rating of your underlay and carpet as anything over 2.5 togs could mean it doesn't work effectively. Hessian-backed carpets, as opposed to those with a rubber backing, are also recommended.
Advantages of Carpet:
Soft and warm underfoot
Great soundproofing qualities
Huge array of designs available
Suitable for all budgets
Safe in that they don't become slippery and are perfect at cushioning falls
Brilliant at making a room feel cosy and welcoming
Disadvantages of Carpet:
Not suitable for wet areas, such as bathrooms and kitchens — prolonged exposure to moisture can ruin carpets
Ideally needs professional installation
Higher maintenance requirements — regular vacuuming and professional carpet cleaning is recommended
Some carpet types could worsen allergy symptoms
Not all will stand up to pet claws — there are, however, ranges designed specifically for homes with pets
Is Carpet Cheaper Than Laminate Flooring?
The price of carpet and laminate is actually pretty comparable, with both being available in budget and more luxury options.
Like laminate, carpet starts from around £10-£25/m2, but the lower priced products won't necessarily stand the test of time. Higher quality carpets with good expected longevity come in at between £30- £60/m2.
Natasha is Homebuilding & Renovating's Associate Editor and has been a member of the team for over two decades. An experienced journalist and renovation expert, she has written for a number of homes titles. She has renovated a terrace and is at the end of the DIY renovation and extension of her Edwardian cottage. She is now looking for her next project.
Homebuilding & Renovating Newsletter
Get the latest news, reviews and product advice straight to your inbox.
Thank you for signing up to Homebuilding. You will receive a verification email shortly.
There was a problem. Please refresh the page and try again.