10 Excellent American-Style Homes
By Lindsey Davis published
Whether you are renovating, extending or self building, be inspired by the diverse architectural styles of the US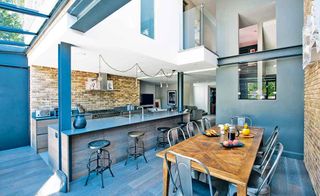 (Image credit: Jody Stewart)
While many homes take their cue from the local vernacular, looking across the pond for inspiration can be a great way to inject something special into your design. The diverse American styles have themselves been influenced by architecture from around the world, so there are plenty of looks to choose from.
Opting for a New England style (opens in new tab) is ideal if you want something different, which still has the essence of British architecture. Or, if you would like a contemporary home, why not model your house on the stunning coastal homes of California?
Either way, you are sure to find a style that suits your site and tastes in our pick of 12 American-style homes.
1. New England in Old England
The owners of this Sussex home bought the plot it sits on with planning permission for an 'ordinary looking' chalet bungalow. They decided that a Cape Cod-style one-and-a-half storey home would fit the planner's requirements while offering architecturally interesting. The interiors follow suit with an open plan layout and high ceilings.
2. A Log Cabin in Derbyshire
This log cabin, with a distinctly North American lodge vibe, took just 59 days to build. It was prefabricated from redwood pines imported from Latvia, which are slotted together on site with wooden pegs. The interiors are clad in the same redwood pine, for a look that lends itself perfectly to the woodland plot.
3. New England-Style Remodel
With a desire to make their home more suited to entertaining, a New England style with open plan spaces was chosen. The interior was remodelled and the exterior given a makeover too with timber cladding in a neutral colour palette.
4. American-Style Remodel
Builder, Charles Finch and his wife Hannah took a tired 1950s home and gave it a completely new leave of life with an American-style makeover. They update the exterior with fresh white render and Marley Eternit (opens in new tab)'s Cedral boarding (a maintenance free fibre-cement cladding), and transformed the internal layout, going open plan for modern family life.
5. Californian-Style Self Build
You would be forgiven for not being able to believe that this Californian-style home is in fact in the Gower Peninsula in Wales.
However, while the design celebrate the sun – capturing stunning views of the sunset through the masses of glazing – it has also been designed to cope with the harsher Welsh coastal climate. The swimming pool is fringed by a wall and the whole house has an overhanging roof, both of which offer protection on stormy days.
6. 1960s Semi to Miami-Style Villa
This remarkable remodelling scheme has taken a dull 1960s semi-detached home to the height of style with a Miami beach house inspired makeover. The rear elevation has been opened up to the garden with bi-fold doors and a dramatic monochrome decorating scheme has been used throughout.
7. A Renovated Beach House
The 1960s chalet-style bungalow that stood here before was not living up to its beautiful seaside location. However, a New England style remodel has totally transformed the home which has been clad in weather-resistant fibre-cement planks — a practical choice for a coastal location.
8. Ranch Style Home In the Scottish Borders
Ranch style was the perfect choice for this home designed for a growing family. With six children – plus a menagerie of cats and dogs – the owners have included a massive hallway at the heart of their home leading to a large country style kitchen, meaning plenty of room for everyday life.
9. A Dream Home on the Coast
Architect Stan Bolt is well known throughout the south west for his stunning contemporary designs and this home certainly shows why that fame is well deserved. To make the most of a beautiful site above an estuary, everything has been done to blue the lines between inside and outside, creating a Californian-style home that visually pulls the landscape into the building.
10. New York Loft
A Georgian-style exterior was deemed most appropriate for this self build in a conservation area, but step inside and neoclassical England makes way for downtown New York. Reminiscent of an apartment in a converted loft, this home is truly suited for modern family life. Industrial style touches and finishes bring it to life, including exposed brick and open steelwork.
Homebuilding & Renovating Newsletter
Get the latest news, reviews and product advice straight to your inbox.
Thank you for signing up to Homebuilding. You will receive a verification email shortly.
There was a problem. Please refresh the page and try again.