Air Source Heat Pump Costs Explained
By David Hilton
Discover the main air source heat pump costs associated with this renewable heating alternative, as well as how you could save money on installation through government grants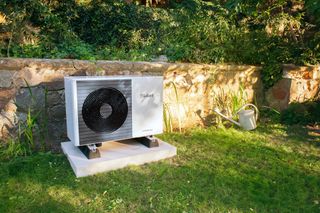 (Image credit: Vaillant)
With schemes offering an opportunity to offset air source heat pump costs, including the expense of buying a heat pump system, these renewable alternatives to gas boilers are an attractive prospect at present for many renovators and self builders.
The government's Green Homes Grant (GHG) scheme, for example, has introduced a way for those adopting heat pump systems to reduce their initial outlay, while the Renewable Heat Incentive (RHI) can help heat pump owners recoup on their investment. 
However, the upfront cost of purchasing a heat pump is only one part of the puzzle for budgeting for the switch to a heat pump system. 
(MORE: Get a quote for your heat pump)
From how to calculate an approximate installation cost to how much air source heat pumps cost to run, this is what you need to know. 
How Much Does an Air Source Heat Pump Cost to Buy?
A basic air source heat pump costs between £1,600 for a small air source mono block unit and around £14,000 for a top end large capacity fan unit. 
More expensive air source heat pumps can have higher quality components and software for monitoring heat pump operation, while more expensive alloys are also often used in the construction of the cases and components. 
Editor's Note: Homebuilding.co.uk partners with the UK's best heat pump specialists to match your requirements with their products and services. Simply answer a few questions on what you need from your heat pump and we'll put you in touch with a suitable partner.
How Much Does it Cost to Install an Air Source Heat Pump?
When it comes to the installation of an air source heat pump, cost breakdowns will be influenced by the complexity of the installation, including the distance from the heat pump unit.
If required, additional acoustic housings may also increase your installation bill. 
If you live in a large property, you may need a bigger heat pump, including possibly more than one unit, and also require more complex hydraulic design.
While the price of a fully installed air source heat pump system is difficult to price for these reasons, there is a basic formula you can apply to create an approximate calculation:
Use £6,000 as a base cost. 
Add £750 per kW to the price (or £1000 per kW for some top end European heat pumps.) 
As an example, a 10kW heat pump will cost £6,000 plus £7,500 (10kW x £750), which gives an overall installation cost of £13,500.
You can expect the cost of installing an air source heat pump in a new or self build to be upwards from £11,000. 
Putting the costs into real context is not easy but the following costs (made up of the system cost and installation) can be used for guidance:
Additional Costs You Could Face When Installing an Air Source Heat Pump 
A recent government report found that installation of an air source heat pump in an existing property can run upwards of £27,000. 
Air source heat pumps are at their most efficient at low flow temperatures, which are slow to react in heating systems. This means that high insulation levels are also required for these systems to heat your home efficiently. 
The levels of insulation and airtightness are often not optimised in older properties. This would cause the heat pump to operate at increased flow temperatures, resulting in lower efficiency and higher running costs. This will mean added cost in remedying these immediate fabric issues before installing an air source heat pump. 
The cost of installing an air source heat pump system will also be complicated by the difficulty and disruption involved in running new pipework. 
This pipework will need to run from the outdoor fan unit to the hot water cylinder, which may be in a cupboard upstairs, as well as to the central heating distribution, which may be located near the existing boiler rather than conveniently placed near the proposed location of the heat pump unit. 
If you are switching over from an electrical off-peak storage heater system then you will need to consider the cost of a complete wet radiator system. 
Even if you do have an existing wet radiator system, if the emitters (radiators or underfloor heating) are too small, you may need to upgrade the size to accommodate the low flow temperatures.
(MORE: Heating: Beginner's Guide)
There may also be a cost in removing the existing boiler. In the case of oil or LPG, the removal of fuel storage tanks, concrete base and fuel pipework will need to be factored in. 
Are There Any Grants Available?
The Green Homes Grant is currently available until March 2022 and includes a grant to help cover the cost of the installation of air source heat pumps as a primary measure in an existing property. 
The grant covers two thirds of the installation cost up to a maximum of £5,000 (covering around a third of the average air source heat pump installation cost) or £10,000 for certain low income households. 
Installations must be carried out by a Trustmark or Microgeneration Certification Scheme (MCS) registered installer, or a sub-contractor acting on their behalf. 
To be eligible for funding for installation of an air source heat pump, the home must meet certain levels of insulation efficiency. 
The Renewable Heat Incentive is a government scheme that pays for the generation of renewable heat. All MCS registered air source heat pump installations are potentially eligible for payments in compliant properties for seven years. 
While you can apply for both the Green Homes Grant and the RHI for an air source heat pump in an existing property, there are certain caveats of which to be aware. 
The value of grants from the GHG will be subtracted from subsequent RHI pay outs when using both schemes specifically to finance air source heat pump installation. 
You'll also need to apply for the GHG before you can make an application to the Domestic RHI scheme. 
How Much Does an Air Source Heat Pump Cost to Run?
The cost of a unit of electricity is around 15p per kWh and the average efficiency of an air source heat pump is 220% to 320%. 
In a property that has an annual heat load of 15000kWh, you would expect the electric use to be somewhere between 6850kWh and 4700kWh, which is an annual running cost of between £700 and £1,050.
These are the average costs of using different heating fuels in order to compare with the running costs of air source heat pumps:
Oil: between £500 and £1,250 per year.
LPG: between £825 and £1,320 per year.
Natural gas: between £660 and £825 per year.
 A ground source heat pump costs between £540 and £700 per year to run. 
(MORE: What Type of Heat Pump is Right for Your Project?)
The efficiency of an air source heat pump is also dependent on factors beyond the fabric of your home. The renewable heat produced comes from the ambient air, so as the air around the unit cools down the efficiency will drop. 
When it gets closer to zero degrees outside, the air source heat pump will also need to perform a defrost cycle more often and this will also lower the efficiency. 
Also, if not commissioned properly, an air source heat pump could turn direct electric heaters on when they are not actually required, resulting in high electricity bills.
How Much Does an Air Source Heat Pump Cost to Maintain?
Air source heat pumps require ongoing visual inspections by their owners, looking at pipework for leaks, corrosion and breached insulation.
Annual inspections by an engineer could include deeper inspections for signs of leaks and corrosion, as well as checking pressure meters and the levels of anti freeze and inhibitors in the pipe loops. They may also check the controller settings and clean (or change) any filters, de-aerators and sensor pockets. 
An annual service contract can range in cost from  £10 - £40 a month, depending on the complexity of the system, the items that are included and the proximity of a suitable engineer. Any breakdowns will be diagnosed and costed on a job-by-job basis. 
If there is a compressor failure or heat exchanger fracture then the heat pump could be written off as an uneconomical repair.
How Long Do Air Source Heat Pumps Last?
Air source heat pumps have an average life expectancy of around 15 years.
However, the compressors often have a 10-year guarantee and, if compared with similar technologies such as fridges, then a well-serviced and maintained air source heat pump could last up to 20 years.  
Homebuilding & Renovating Newsletter
Get the latest news, reviews and product advice straight to your inbox.
Thank you for signing up to Homebuilding. You will receive a verification email shortly.
There was a problem. Please refresh the page and try again.