High Temperature Heat Pumps: Are They a Eureka Product for Homeowners?
By David Hilton published
High temperature heat pumps could be a good option for many homes, but they are not a one-size-fits-all solution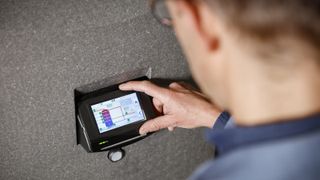 (Image credit: Vattenfall)
High temperature heat pumps entered the industry discourse last week following the announcement of a new system from Swedish company Vattenfall. The company's compelling claims that their pump could directly replace gas boilers is an interesting one, and bears investigating, so can high temperatures really offer a Eureka product for homeowners?
Most air source source heat pumps and ground source heat pumps operate at a maximum flow temperature of 55°C, but in order to be efficient they are much better suited to running at flow temperatures of around 35°C to 45°C.
Boilers (gas, oil or biomass) meanwhile produce water temperatures of 60°C to 80°C. This is the fundamental difference between the heating technologies, and the biggest design stumbling block when trying to convert homes from a boiler to a heat pump, as they ultimately necessitate new compatible radiators to be installed and new plumbing will be required.
There are, however, heat pumps that can produce higher water flow temperatures and they may, on the outside, look like the ideal solution for a seamless change to heat pump technologies. But are they?
What Are High Temperature Heat Pumps?
High temperature heat pumps can achieve operating temperatures of between 60-80°C, the same high temperatures usually associated with boilers. You may not need to install new insulation or radiators to have a high temperature heat pump installed, however, they don't tend to have the same efficiency as boilers.
In comparison, many conventional heat pumps are designed to operate at 44-55°C, and can comfortably heat our homes. But as mentioned above, choosing radiators might be required before the heat pump can be installed and homeowners might need to heavily insulate their homes in advance.
How do High Temperature Heat Pumps Work?
Some medium temperature heat pumps can achieve temperatures of over 60°C by using special compressor technology to enhance the temperature. While this temperature is certainly an increase on the standard technology, it is most optimised for hot water production on modern low-energy homes.
High temperature heat pumps like the new Vattenfall pump can achieve temperatures between 60-80°C, but despite claims that high temperature heat pumps could offer direct replacements for boilers on existing housing stock, it is an important point that they cannot produce the heat at the same rate as a boiler.
As James Standley, Managing Director of Kensa Heat Pumps explains: "Simply put, running heat pumps at higher temperatures requires more electricity because the unit has to work harder to increase the source temperature further."
This is because there are a number of technology options within this sector using combinations of refrigerants, or specialist refrigerants that behave in very specific ways.
For example, Daikin has had a high temperature heat pump in its lineup for many years: the Daikin Altherma HT. This heat pump is what is referred to as a 'cascade' heat pump. It effectively has two heat pumps with different refrigerants that are designed to work at different levels and under different conditions.
The first heat pump lifts the temperature by a certain amount and then 'cascades' this temperature into the second stage heat pump which absorbs the heat and lifts it further.
Many manufacturers have now adopted this 'cascade' technology, and while high temperatures are achievable, the efficiency can be temperamental if there is a lot of stop-start cycling or if you really need the low temperature output.
How Efficient Are High Temperature Heat Pumps?
James Standley, Managing Director of Kensa Heat Pumps says:
"Traditionally, to get the most efficient operation from a heat pump, it's important that the outlet temperature of the heating distribution system is kept as low as possible. That way, the heat pump has to perform less work to upgrade the energy from the source to a comfortable temperature inside the property."
High temperature heat pumps can be very efficient for hot water production and have been adopted in commercial settings for hotels and restaurants where there is high hot water demand. For space heating, however, they may be less so, but this depends on what you are comparing them to.
There are also different refrigerants that can achieve high temperatures. Heat pump technology is based on the physics of the compression of gasses: any gas that is compressed gets hot, and the more you compress it the hotter it gets. Conversely, the more you compress it the more energy it needs.
Some refrigerants, however, cannot be compressed beyond a certain limit or they break down. Unfortunately these are the ones that are best suited to efficient heat pump technology.
Propane and CO2 can be compressed to very high temperatures and can therefore produce high temperatures in one step, but this takes a lot of pressure and therefore the compressor has to work hard. It is best to keep them running and then stop, rather than ramping up and down. Balance is key.
Heating manufacturer Vaillant has successfully used propane in its Aroterm heat pumps and Mitsubishi Electric has a 4kW CO2 heat pump in its Ecodan heat pump range. You may ask, 'why only that size?' The answer lies in the way the technology works.
This is not a boiler and the CO2 needs very high pressure to get the temperature rise so is best suited to properties with a fairly equal energy load balance between hot water demand and space heating demand. In real terms, this would be best used in a low-energy home such as a Passivhaus home or similar.
So What About the Vattenfall Heat Pump?
It's hard to comment on the Vattenfall pump in great detail because the full technical details have not yet been disclosed. What we do know is that the system's buffer works as a heat battery which provides heat to radiators and generates hot tap water, and I look forward to following the progress of the pump's rollout in the Netherlands later this year.
It is very exciting to see the advances in technology and refrigerants but we also need to be sure that the technologies are applied correctly to our homes to optimise operation. This is not a product with a one-size-fits-all promise, and Vattenfall has stressed that its high temperature heat pump could be particularly suitable in suburban and rural areas, where properties are dispersed. This would therefore provide an alternative to building or retrofitting distribution networks.
In comparison, Vattenfall promotes heating district networks for more densely packed urban areas, which would rely on captured waste heat.
There's certainly more to it than high temperature heat pumps offering a direct replacement for gas boilers, but they are a very clever bit of kit that may indeed be just the ticket for many homes.
David is a renewables and ventilation installer, with over 35 years experience, and is a long-standing contributor to Homebuilding and Renovating magazine. He is a member of the Gas Safe Register, has a Masters degree in Sustainable Architecture, and is an authority in sustainable building and energy efficiency, with extensive knowledge in building fabrics, heat recovery ventilation, renewables, and also conventional heating systems. He is also a speaker at the Homebuilding & Renovating Show.
Passionate about healthy, efficient homes, he is director of Heat and Energy Ltd. He works with architects, builders, self builders and renovators, and designs and project manages the installation of ventilation and heating systems to achieve the most energy efficient and cost effective outcome for every home.
Homebuilding & Renovating Newsletter
Get the latest news, reviews and product advice straight to your inbox.
Thank you for signing up to Homebuilding. You will receive a verification email shortly.
There was a problem. Please refresh the page and try again.