What Homeowners Must Know Following the End of the Green Homes Grant
By Jack Woodfield published
Do you have a live Green Homes Grant application in progress? Read on to find out what happens next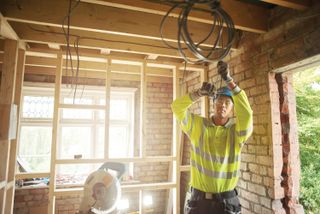 (Image credit: getty images)
The Green Homes Grant was finally scrapped over the weekend, following months of uncertainty about the scheme which had faced criticism from homeowners, installers and other industry professionals.
Having only launched in September 2020, the £1.5bn scheme was designed to help homeowners afford energy-efficient home improvements such as heat pumps and insulation, to help lower their emissions and energy bills.
It had been set to run until 31 March 2022, after it was extended in November, but has only reached 10% of the 600,000 homes chancellor Rishi Sunak promised would be improved.
The scheme will now end on Wednesday 31 March 2021. Here's what you need to know if you have been considering applying for the scheme, or if you are currently waiting on a live application.
(MORE: 11 reasons the Green Homes Grant failed)
Can I Still Apply?
Yes, but you'll have to be quick. All new applications will close on Wednesday 31 March at 5pm.
Is My Application Still Valid?
All applications for Green Homes Grant vouchers made before 31 March will be honoured, the government has confirmed.
Moreover, any vouchers already issued may be extended upon request.
You can find out more (opens in new tab) about your application on the government's official Green Homes Grant page.
Why Was The Grant Stopped?
The Green Homes Grant has been blighted by problems since its launch. These include homeowners reporting issues with the application process, administrators being slow to distribute vouchers, and tradespeople reportedly being left out of pocket for completed work.
A BEIS spokesperson said earlier this year there was an "understandable reluctance on the part of the public to welcome tradespeople into their homes". However this claim was refuted by MCS and Solar Energy UK, which represent installers of low-carbon heating systems.
Ian Rippin, chief executive of MCS, said in response: "There has been considerable homeowner demand but this is being stifled by a scheme that is extremely slow at issuing vouchers."
Funding Cut Indicated Problems
Of the £1.5bn put aside for homeowners to benefit from the Green Homes Grant, around £73m had been distributed to homeowners by the end of February.
Only 28,300 vouchers had been issued, despite more than 80,000 households applying for the scheme, and around 120,000 applications were in progress.
The government confirmed earlier this year that a far smaller figure announced in the November Spending Review by Mr Sunak - £320m – would be made available from March.
This funding cut alarmed many observers, and more than 25 businesses and organisations subsequently signed a letter from the Energy Efficiency Infrastructure Group (EEIG) to the government requesting it to keep investing in the scheme, rather than pulling funding.
Now, the £320m which had previously allocated for the grant this year will go into a programme administered by local authorities, targeted at lower income households.
Reaction to the Grant's Closure
Discussing the new funding for local authorities, Matthew Pennycook, the shadow minister for climate change, said: "The funding announced doesn't even come close to plugging the investment gap created by the government's decision to slash more than £1bn from its Green Homes Grant scheme and then scrap it altogether."
Ed Matthew, campaigns director at the E3G thinktank, believes the short-term intention of the Green Homes Grant was part of the problem, and says it's important that a new scheme is introduced to replace it.
Matthews said: "The end of the government's flagship green homes scheme is a tragedy that was avoidable.
"They [the government] must pick themselves up and create a new green programme that works, and has long-term funding in place from the beginning."
Jack has worked in journalism for 11 years and is the News Editor for Homebuilding & Renovating, a role he has had since 2019. He strives to break the most relevant and beneficial stories for self builders, extenders and renovators, including the latest news on the construction materials shortage and hydrogen heating. In 2021 he appeared on BBC's The World at One to discuss the government's planning reforms.
He enjoys testing new tools and gadgets, and having bought his first home in 2013, he has renovated every room and recently finished a garden renovation.
Homebuilding & Renovating Newsletter
Get the latest news, reviews and product advice straight to your inbox.
Thank you for signing up to Homebuilding. You will receive a verification email shortly.
There was a problem. Please refresh the page and try again.