Green Homes Grant Extension
The Green Homes Grant extension will give homeowners longer to complete green home improvements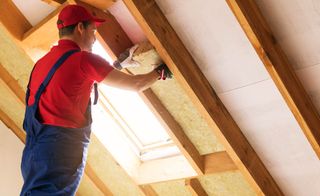 (Image credit: Getty Images)
The Green Homes Grant extension until 2022 is a significant announcement for homeowners, who now have longer to make the most of vouchers to improve their home's energy efficiency.
The government confirmed the extension on Wednesday, a move which has been welcomed by campaigners who have called for the scheme to be extended.
Under the Green Homes Grant, homeowners can apply for vouchers up to £5,000 to make specific energy efficiency improvements to their homes, such as insulation and heat pumps.
Green Homes Grant Extension - What's Changed?
The key change is the date. Homeowners now have until 31 March 2022 to complete home improvements under the grant.
The scheme will continue to fund up to two-thirds of the cost of certain green home improvements up to £5,000, or 100% of the cost for homeowners on low incomes, up to £10,000.
And Green Homes Grant vouchers will remain valid for three months from the date they are issued or until 31 March 2022, whichever is earlier.
The government has confirmed that homeowners can request an extension for circumstances outside of their control.
Extension Follows Government Pressure
The initial deadline of 31 March 2021 for all works to be completed had led to fears from tradespeople, industry experts and homeowners that some projects wouldn't finish in time.
For homeowners, the extension will come as a relief because once the vouchers are redeemed, they are only valid for three months from the date they are issued, or until 31 March 2021.
Therefore, homeowners looking to apply for the scheme faced having to push through their claims by the end of December in order to make the most of the scheme.
Builders had fears too, particularly those who are not TrustMark accredited - a requirement to work on the Green Homes Grant - because they believed that the short deadline did not justify the level of investment required to work on the scheme.
This extension, the Federation of Master Builders says, will reassure builders. Brian Berry, chief executive of the FMB said: "The extension of the Green Homes Grant for another year is very positive news, and shows that builders' concerns have been listened to. This will give the reassurance needed to the building industry to invest in the scheme."
Homebuilding & Renovating Newsletter
Get the latest news, expert advice and product inspiration straight to your inbox.
Thank you for signing up to Homebuilding. You will receive a verification email shortly.
There was a problem. Please refresh the page and try again.