Green Homes Grant Extension Welcomed by Homeowners and Tradespeople
By Jack Woodfield published
The Green Homes Grant extension is a shot in the arm for homeowners, who have longer to complete improvements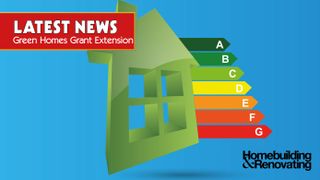 (Image credit: Future)
The Green Homes Grant extension – which means the scheme will now run until 2022 – was a significant announcement for homeowners, who now have longer to make the most of vouchers to improve their home's energy efficiency.
The government confirmed the extension on 18 November; the move has been welcomed by campaigners who had called for the scheme to be extended.
Under the Green Homes Grant, homeowners can apply for vouchers of up to £5,000 to make specific energy efficiency improvements to their homes, such as adding insulation and heat pumps.
But some industry experts believe the extension is not enough for some installers, and have called for the government to simplify the accreditation process so more tradespeople can work on the scheme.
Green Homes Grant Extension - What's Changed?
The key change is the date. Homeowners now have until 31 March 2022 to complete home improvements under the grant.
The scheme will continue to fund up to two-thirds of the cost of certain green home improvements up to £5,000, or 100% of the cost for homeowners on low incomes, up to £10,000.
And Green Homes Grant vouchers will remain valid for three months from the date they are issued or until 31 March 2022, whichever is earlier.
The government has confirmed that homeowners can request an extension for circumstances outside of their control.
Extension Follows Government Pressure
The initial deadline of 31 March 2021 for all works to be completed had led to fears from tradespeople, industry experts and homeowners that some projects wouldn't finish in time.
For homeowners, the extension will come as a relief because, under the initial deadline, once the vouchers were redeemed, they would have only been valid for three months from the date they were issued, or until 31 March 2021.
Therefore, homeowners who were looking to apply for the scheme in late-2020 faced having to push through their claims by the end of December 2020 in order to make the most of the scheme by March 2021.
Application Obstacles
A primary reason for the extension was that many installers viewed the deadline as not being long enough to apply for accreditation.
Builders and installers have to be TrustMark and Microgeneration Certification Scheme (MCS) registered to work on the grant, and these trades were relieved with the extension - they now have longer to complete current applications, and longer to work on new projects.
But concerns persist that the current registration process is alienating some smaller businesses, and calls are growing for an alternative method to be introduced to help smaller installers (many with decades of experience) to be able to work on the scheme.
Adrienne Minster, chief executive of Rated People, said: "It's critical tradespeople are qualified to take on work covered by the Green Homes Grant. However, even for those who have the appropriate certifications, the additional hoops they need to jump through to access this work presents a real challenge for small businesses and will likely impact their ability or willingness to take part in the scheme."
Applying for Accreditation is 'Unrealistic'
In October, Chrissie Lloyd, managing director of Urbane Eco, told us that applying for the accreditation was unrealistic for the average SME, citing costs (which can run into the thousands) and the length of time required to complete the application.
We asked Urbane Eco if the extension meant they were more likely to apply. "No," was Chrissie Lloyd's answer. "The extension will make it more worthwhile for up and coming installation companies, and I'm sure that once you have it it's very worthwhile, but it's not for us.
"It can take months, and thousands of pounds to get accredited, it's a huge investment. And you'll need substantial administrative support."
Lloyd called on the government to adopt alternative arrangements for smaller installers to work on the grant. "There needs to be an easier way for experienced installers, with good track records, to apply. There are so many procedures you need to follow to apply, and until people apply, it's easy to underestimate how much work is involved."
Trades Interest is Growing
Jessica Levy, communications director at the Federation of Master Builders (FMB), agrees that the process of becoming accredited in its current form is complex, and will understandably put some installers off applying.
She told Homebuilding & Renovating: "The process itself is far from straightforward. It's quite a complex scheme, and we have been doing what we can with other organisations involved in the delivery of the scheme to simplify it, to ensure that more of our members can engage with it."
Levy adds, however, that interest is now increasing among FMB members, and the extension is a shot in the arm for trades who were put off by the initial deadline.
"Our members were telling us in advance of the extension that the short-term nature of the scheme was a real turn-off for them. Not because they were unaware of the need to engage in the green agenda, and not because they weren't interested, but because they had been trying to acquire the training and the necessary skills —and to commit to that investment in such a short timeframe, the risks were too great.
"We've had quite a lot of interest, and we hope that the extension will now translate that interest into action, but we acknowledge the time and cost involved. However, given the interest we had there is a good population of FMB members and small builders out there who are interested in this and the hope is that a longer time frame provides a bit more certainty to take that plunge."
Jack has worked in journalism for 11 years and is the News Editor for Homebuilding & Renovating, a role he has had since 2019. He strives to break the most relevant and beneficial stories for self builders, extenders and renovators, including the latest news on the construction materials shortage and hydrogen heating. In 2021 he appeared on BBC's The World at One to discuss the government's planning reforms.
He enjoys testing new tools and gadgets, and having bought his first home in 2013, he has renovated every room and recently finished a garden renovation.
Homebuilding & Renovating Newsletter
Get the latest news, reviews and product advice straight to your inbox.
Thank you for signing up to Homebuilding. You will receive a verification email shortly.
There was a problem. Please refresh the page and try again.