Spending Review: How Will Government Plans Affect Homebuilding?
By Jack Woodfield published
The October Spending Review made bold pledges for homebuilding, including the development of brownfield sites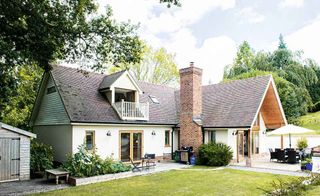 (Image credit: Jody Stewart)
Chancellor Rishi Sunak used the October Spending Review and Autumn Budget 2021 to make bold funding pledges for homebuilding in the UK, but how significantly will homebuilding be affected?
In a rare move, the government published Wednesday's Spending Review alongside the Autumn Budget, which deliver differing funding plans. Whereas the Budget outlines how the government will spend money over the coming months, the Spending Review is carried out every three or so years, and provides a multi-year spending plan, including how much is allocated to government departments.
Last November, the government published a Spending Review to provide a financial roadmap following lockdown - and this introduced significant funding to help custom and self builders.
£2.2 billion of new loan finance was pledged to support those who want to self build their own home, which included the delivery of Help to Build for custom and self builders, and funding for SME builders and modem methods of construction (MMC).
These are the key polices that were introduced in Wednesday's Spending Review, and how they could affect homebuilding in the UK.
(MORE: 10 Things we Learned From The Spending Review and Budget 2021)
What Was Announced in the Spending Review?
Planning system funding
As an extension of the government's planning reforms, £65m was promised to help digitalise the English planning system and speed up the efficiency of planning decisions. The funding will go towards the delivery of new software to help with the digitisation of the town planning system.
Brownfield land funding
Funding of £1.8bn will be spent on developing brownfield sites, which will help to build 160,000 homes. The funding includes £300m to combined and local authorities to "unlock" smaller sites, alongside £1.5bn to provide funding "to regenerate underused land and deliver transport links and community facilities".
What else?
There was also confirmation that property developers with profits over £25m will face a levy of 4% which will be used to improve cladding fire safety. Plus, £3.8bn will be spent on skills and training over the parliament, which could prove vital for the construction sector amid the record number of construction vacancies and the construction materials shortage.
What About Self Build?
No additional funding pledges were made this year for self build, but Andrew Baddeley-Chappell, CEO of the National Custom & Self Build Association (NaCSBA) said last week that he wouldn't have been surprised by this. This is due to the positive plans for the sector already underway.
"Positive news would be great, but no news should not mean that positive changes aren't happening below the surface," he said.
One of these positive changes was announced in last year's Spending Review, when Mr Sunak announced Help to Build, which is expected to be launched soon. He also pledged £100m funding to support, among other things, the release of public sector land, including for serviced plots for self and custom builders.
Earlier this year, the £75m Brownfield Land Release Fund (BLRF) launched on One Public Estate, which includes a £25m Self and Custom Land Release Fund. The Brownfield Land Release Fund is for brownfield sites only, while the Self and Custom Land Release Fund is also available on greenfield sites.
This only directly impacts local authorities, but will support the delivery of more plots for anyone wishing to self build.
Spending Review Reaction
The Federation of Master Builders (FMB) welcomed the confirmation of investment for skills and training.
Brian Berry, chief executive of the FMB, said: "Long-term skills shortages are delaying jobs for builders, with 60% reporting paused jobs in the latest FMB membership survey. I'm also glad to see further investment in housing, and warmly welcome the grant funding for local authorities to free-up small brownfield sites for housing given that land availability is the major obstacle to SME house builders."
(MORE: 89% of Builders Delay Jobs Amid Shortages)
But Berry bemoaned the lack of a national retrofit strategy to help green up the UK's housing stock, a point which was echoed by Julie Hirigoyen, chief executive of the UK Green Building Council (UKGBC).
Hirigoyen said: "Whilst we welcome changes to business rates to incentivise investment in renewable technologies, new research and development funding, and grants for local authorities, there were no big announcements to fill the clear gap that has emerged around decarbonising existing buildings.
"By supporting the industry's plan for a national programme to retrofit our homes, the government could have delivered substantial progress towards net zero and unlocked a new wave of green jobs to help level up the country."
Jack has worked in journalism for 11 years and is the News Editor for Homebuilding & Renovating, a role he has had since 2019. He strives to break the most relevant and beneficial stories for self builders, extenders and renovators, including the latest news on the construction materials shortage and hydrogen heating. In 2021 he appeared on BBC's The World at One to discuss the government's planning reforms.
He enjoys testing new tools and gadgets, and having bought his first home in 2013, he has renovated every room and recently finished a garden renovation.
Homebuilding & Renovating Newsletter
Get the latest news, reviews and product advice straight to your inbox.
Thank you for signing up to Homebuilding. You will receive a verification email shortly.
There was a problem. Please refresh the page and try again.