Spending Review: Chancellor Pledges Financial Support for Self Builders
The Spending Review includes funding to help custom and self builders to build their own home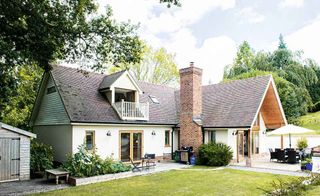 (Image credit: Jody Stewart)
Chancellor Rishi Sunak has used the Spending Review to introduce significant spending on new housing in the UK, including funding to help custom and self builders.
Mr Sunak has pledged £2.2 billion of new loan finance to support those who want to self build their own home. This includes the delivery of Help to Build for custom and self builders, and funding for SME builders and modem methods of construction (MMC).
There will also be £100m funding to support, among other things, the release of public sector land, including for serviced plots for self and custom builders.
The National Self Build and Custom Association (NaCSBA) had implored the government to follow up its manifesto promises with greater support for the self build sector, and chief executive Andrew Baddeley-Chappell was delighted with the announcement.
Baddeley-Chappell told Homebuilding & Renovating: "It is fantastic news to see the announcement of a new Help to Build Scheme for the custom and self build sector in England.
"This announcement should be an encouragement for everyone thinking about building or commissioning their own home and a great message for the many quality businesses working in the sector as to the opportunities ahead. We will help build our way out of this pandemic."
What Else Was Announced in the Spending Review?
The chancellor has also committed £20 billion of funding to support new housing from 2020-21, which comprises a £7.1bn National Home Building Fund, on top of a £12.2bn affordable homes programme.
Additionally, there is a pledge to unlock brownfield sites to support housing delivery and regeneration, through an additional £100 million in 2021-22 on top of the £400 million Brownfield Fund announced earlier this year.
The government will also develop a UK-wide framework for investment in neighbourhood and housing improvements.
UPDATE, APRIL 2021: The £75m Brownfield Land Release Fund (BLRF) launched on 19 April on One Public Estate, which includes a £25m Self and Custom Land Release Fund. The Brownfield Land Release Fund is for brownfield sites only, while the Self and Custom Land Release Fund is also available on greenfield sites.
This only directly impacts local authorities, but will support the delivery of more plots for anyone wishing to self build.
Spending Review Reaction
The Federation of Master Builders (FMB) welcomed confirmation of funding for Help to Build, as well as the announcement of the National Home Building Fund.
But Brian Berry, chief executive of the FMB, criticised the government's decision not to introduce a long-term retrofit strategy. "Local builders stand ready to support a strong and green economic recovery, but the statement from the Chancellor today fell far short," he said.
"We look to the National Infrastructure Strategy for more detail, but we cannot meet our net zero carbon targets without improving the energy efficiency of our homes and moving to low carbon heat sources."
Last week, the government announced an extension to the Green Homes Grant as part of its 10-point plan for a Green Industrial Revolution, and also pledged to install more heat pumps in homes.
Caroline Lucas, Green Party MP,was hoping that more green measures would follow in the Spending Review. "A week after the Prime Minister's ten-point plan, the Chancellor seems to have forgotten about the climate and nature crises.
"The biggest ever investment in new roads does not deliver a greener future – and nature was not mentioned once."
Jack is News Editor of Homebuilding & Renovating and strives to break the most relevant and beneficial stories for self builders and renovators. Having bought his first home in 2013, he and his wife have renovated almost every room and recently finished a garden renovation. Jack reports on all of the latest news that could affect your project.
Homebuilding & Renovating Newsletter
Get the latest news, reviews and product advice straight to your inbox.
Thank you for signing up to Homebuilding. You will receive a verification email shortly.
There was a problem. Please refresh the page and try again.