11 Reasons the Green Homes Grant Failed
By Jack Woodfield published
It is unclear if the Green Homes Grant will be replaced, but what is clear is that there were several reasons why it failed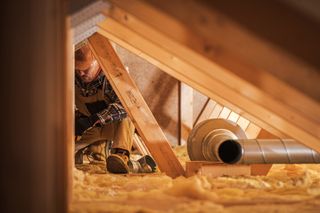 (Image credit: getty images)
The axing of the Green Homes Grant this past weekend brought an end to a scheme that promised much, but delivered very little.
Having only launched in September, the government pledged to improve the energy efficiency of 600,000 homes on the grant. Reportedly just 10% of this target has been met, although applications remain open until Wednesday 31 March at 5pm, and all live applications will be honoured.
It is sad end for the government's flagship green home scheme, and it is unclear if it will be replaced. What is clear, however, is that there was a myriad of reasons why the Green Homes Grant did not deliver on the government's lofty ambitions.
These are 11 reasons why the Green Homes Grant failed.
(MORE: I have a live Green Homes Grant application, what now?)
1. It wasn't well promoted
Prior to its launch on 30 September, there were fears that a lack of promotion might mean many homeowners not realising the scheme exists.
There had been uncertainty about the launch date, which Victoria Brocklesby, COO of bifold doors and windows specialists Origin (opens in new tab), described in September as "a little strange", especially considering the initial cut-off for the scheme was March 2021.
"Quite a lot of people may not even realise that the scheme exists, or that they need to register to apply for it," she said.
"There's obviously a lot going on right now, but I'm not sure whether the government has done a good enough job in promoting this scheme to homeowners."
2. It was initially too short
The initial deadline for all work to be completed on the Green Homes Grant was 31 March 2021, regarded by many tradespeople and homeowners as too short a timeframe, and risked projects not being completed in time.
Because the vouchers, once redeemed, were valid for the three months from the date they are issued, homeowners who were looking to apply in late-2020 faced having to push through their claims by the end of December in order to make the most of the scheme.
To address these concerns, and to increase uptake, the government announced a Green Homes Grant extension in November, which prolonged the scheme until March 2022.
3. It was too complex for tradespeople to apply
Another reason for the extension was that many installers viewed the initial deadline as not being long enough to apply for TrustMark accreditation - a requirement to the work on the grant.
In October, Chrissie Lloyd, managing director of Urbane Eco (opens in new tab), told us that applying for the grant was unrealistic for the average SME, citing costs (which can run into the thousands) and the length of time required to complete the application.
Ultimately, the extension didn't change the fact that for many smaller installers, the level of investment required would be too demanding to work on the scheme.
Earlier this year, Rated People warned that the registration process alienated some smaller businesses, and called on the government to introduce an alternative method to help smaller installers (many with decades of experience) to work on the scheme.
4. The application criteria was too limited
The eligibility criteria prevented many homeowners from being able to access vouchers, according to the Environmental Audit Committee (opens in new tab).
This was due to the rule that a primary measure (insulation or low-carbon heating) must be installed before a homeowner can receive the same funding towards secondary measures (such as glazing or smart heating controls).
Amending the criteria had also been backed by the National Residential Landlords Association (NRLA), which said "We agree with the Select Committee that the eligibility criteria for the scheme is preventing many from being able to access [the grant]."
5. Homeowners couldn't access tradespeople
Applicants had reported being unable to access quotes from installers within their area, leading to concerns that the scheme was turning into a postcode lottery.
One Instagram user told us in November: "We've found it tricky. There seems to be a very limited number of approved suppliers and ones we've contacted are super busy fielding calls. We haven't even been able to book one estimate in."
A survey carried out in November by the EAC revealed nearly 75% found it difficult to find a registered contractor.
To try and address the lack of availability, the government relaxed its requirement to work on the grant on 4 January 2021, meaning subcontractors could perform work even if they were not TrustMark registered, Microgeneration Certification Scheme (MCS) registered or held the required PAS.
6. There were delays in issuing vouchers
The first set of vouchers were only issued in November, and EAC chairman Philip Dunne warned this year that delays meant the scheme was moving "at a snail's pace".
The EAC claimed on 8 February that, based on the speed of voucher rollout, it would take 10 years for the government to meet its targets.
Around 120,000 applications had been made by the end of February, with Ian Rippin, chief executive of MCS, saying: "There has been considerable homeowner demand but this is being stifled by a scheme that is extremely slow at issuing vouchers."
By the end of March, the government says it expects to have issued 39,000 vouchers.
7. Tradespeople couldn't cope with demand
Meanwhile, in some parts of the country installers said they were overwhelmed with demand, and some firms pulled out of the scheme altogether.
Mr Dunne reported earlier this year that many builders and installers were in limbo due to the time taken to approve applications, and some even had to lay off skilled workers as orders had been stalled pending confirmation of vouchers.
Mr Rippin said in February: "Delays to payments are especially damaging and we are calling for consumer incentives like this to be simplified to enable renewable energy businesses to do what they do best, without worrying about their financial health."
8. The application process was too clunky
The EAC survey in November also revealed 86% of homeowners had a poor experience with the application process, citing complex paperwork.
Following the grant's extension, the EAC warned that poor consumer experiences on the scheme could prevent the grant from achieving its aims, and requested details of what improvements would be made.
9. Some installers weren't getting paid
Many installers have yet to be paid for the work they have done by ICF, the American firm awarded the contract for the Green Homes Grant, according to The Guardian (opens in new tab).
MCS reports that some companies are owed as much as £20,000, and estimates it is taking 40 days on average to pay installers, many of which are small businesses with a maximum of 20 staff.
10. There was no long-term plan
The government always said the Green Homes Grant was intended as a short-term stimulus, but many see this as part of the problem.
Lord Jonathan Oates, Liberal Democrat Lords Spokesperson for Energy and Climate Change, told us he believed the scheme should have been extended to a minimum of five years, campaigning for it to become "a much longer-term programme which really ramps up the ability to meet demand."
Ed Matthew, campaigns director at the E3G thinktank, added: "The end of the government's flagship green homes scheme is a tragedy that was avoidable.
"They [the government] must pick themselves up and create a new green programme that works, and has long-term funding in place from the beginning."
11. The pandemic
The government cited poor uptake when it confirmed in February that funding for the scheme will be slashed from April, allocating just £320m from March having only spent 5% of the initial £1.5bn budget.
A BEIS spokesperson said there was an "understandable reluctance on the part of the public to welcome tradespeople into their homes", but this claim was refuted by MCS and Solar Energy UK, which represent installers of low-carbon heating systems.
It is of course likely that some homeowners will have been reticent to invite tradespeople into their homes, but amid the vaccine rollout it stands to reason that update could have been higher this summer.
Jack has worked in journalism for 11 years and is the News Editor for Homebuilding & Renovating, a role he has had since 2019. He strives to break the most relevant and beneficial stories for self builders, extenders and renovators, including the latest news on the construction materials shortage and hydrogen heating. In 2021 he appeared on BBC's The World at One to discuss the government's planning reforms.
He enjoys testing new tools and gadgets, and having bought his first home in 2013, he has renovated every room and recently finished a garden renovation.
Homebuilding & Renovating Newsletter
Get the latest news, reviews and product advice straight to your inbox.
Thank you for signing up to Homebuilding. You will receive a verification email shortly.
There was a problem. Please refresh the page and try again.