What Does the Budget 2021 Mean for Homebuilders and Renovators?
By Jack Woodfield published
There's a collective sigh of relief amid the stamp duty holiday extension, and the Green Homes Grant survives for now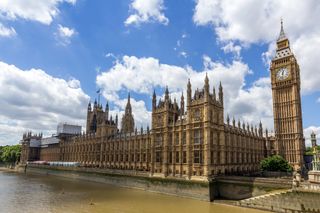 (Image credit: Getty Images)
The Budget 2021 has been published and chancellor Rishi Sunak has unveiled key announcements for the housing sector, but there is a shared sense of disappointment that the Budget doesn't go further towards helping homeowners make green home improvements.
There are very positive announcements in the form of the stamp duty holiday extension, and the Green Homes Grant (reported to be in line for the scrap this month) has not been referenced.
But the opportunity to lower VAT on retrofit has again not been taken by the government, and we still await key details on the launch date for the Help to Build scheme.
These are the key takeaways from Wednesday's Budget.
1. The Stamp Duty Holiday is Extended Until June
It's official. The heavily-rumoured stamp duty holiday extension has been confirmed. The new deadline is now 30 June, giving homebuyers an extra three months to complete deals and make the most of up to £15,000 of tax saving.
Nicky Stevenson, managing director at national estate agent group Fine & Country, said of the announcement: "That sound you just heard was hundreds of thousands of people all breathing a collective sigh of relief."
The announcement follows months of concern from homebuyers and industry that the initial deadline of 31 March would result in thousands of deals falling through. Recent Rightmove data shows one in five sales that were agreed in the same month the stamp duty holiday was first announced in July last year still haven't completed.
Rightmove property expert Tim Bannister said: "This three-month extension will come as a huge relief for those people who have been going through the sales process since last year and were always expecting to make use of the stamp duty savings."
2. The Green Homes Grant is Given a Stay of Execution
Reports have circulated for several weeks that the Green Homes Grant will soon be scrapped, but the chancellor refrained from announcing this in the Budget.
The scheme, announced in September, is set to run until March 2022 but has come under increasing pressure following recent government funding cuts, administrative delays and complaints from homeowners.
(MORE: 5 Ways to Fix the Ill-Fated Green Homes Grant)
3. A New Mortgage Scheme is Introduced
To help more people get onto the housing ladder, a new UK-wide mortgage guarantee scheme will be introduced in April to make home ownership more achievable for thousands of people.
First-time buyers and existing homeowners across the UK will be able to apply for the scheme, which will provide a guarantee to lenders across the UK who offer mortgages to people with a deposit of just 5% on homes with a value of up to £600,000.
4. There's Still no VAT Cut on Retrofit
Perhaps more out of optimism than expectation, industry experts including the Federation of Master Builders (FMB) had looked to the Budget as a platform to announce a reduction in VAT on retrofit.
There was no such luck. And this is a little surprising after the government hinted in its Energy White Paper in December that a major programme for retrofitting homes for improved energy efficiency will be introduced.
Christian Cubitt, head of UK Government Affairs at the Royal Institute of Chartered Surveyors, responded: "We will continue to call for a VAT cut for builders looking to retrofit existing homes – an important step in really helping to deliver a greener Britain."
And Brian Berry, chief executive of the FMB, said: "The Chancellor missed an opportunity in today's Budget to show global leadership with a long-term plan to make our homes greener, healthier, and more affordable to run.
"The Government's commitment to green growth must include backing for a National Retrofit Strategy – an oven-ready infrastructure plan that will tackle climate change, level up and create jobs."
5. We Don't Have a Launch Date for Help to Build
Until November's Spending Review, the Help to Build equity scheme existed as a proposal devised by NaCSBA. But the government's decision to pledge £2.2 billion of new loan finance to support self build, including the delivery of the Help to Build scheme for custom and self builders, means that proposal will soon become a reality.
When, exactly, is unclear though. And the Budget did nothing to elucidate on this. However, in February the government confirmed that the funding will be provided at some point this year, which includes £150 million over four years to support Help to Build.
Richard Bacon MP says that the scheme "could be transformational" in increasing access to the self build market, and "open up a range of opportunities" for custom and self builders.
What Else Has Been Announced?
The £5.2bn floods scheme announced in last year's Budget will start in April this year. The government says the scheme will better protect over 3,700 homes from flooding
A £4.8m hydrogen hub will be set up in Holyhead, Wales, to pilot the creation of hydrogen from renewable energy, and to support the development of a green hydrogen demonstration project (Read more about hydrogen heating)
The Modern Methods of Construction (MMC) Taskforce will be backed with £10m funding to accelerate the delivery of MMC homes in the UK. It is unclear when the taskforce will launch
As part of a Green Industrial Revolution, ports and infrastructure in Humberside will be upgraded to advance offshore wind manufacturing. This builds on the government's 10 Point Plan, where £160m was pledged to progress the next generation of offshore wind.
Jack has worked in journalism for 11 years and is the News Editor for Homebuilding & Renovating, a role he has had since 2019. He strives to break the most relevant and beneficial stories for self builders, extenders and renovators, including the latest news on the construction materials shortage and hydrogen heating. In 2021 he appeared on BBC's The World at One to discuss the government's planning reforms.
He enjoys testing new tools and gadgets, and having bought his first home in 2013, he has renovated every room and recently finished a garden renovation.
Homebuilding & Renovating Newsletter
Get the latest news, reviews and product advice straight to your inbox.
Thank you for signing up to Homebuilding. You will receive a verification email shortly.
There was a problem. Please refresh the page and try again.