VAT on Retrofit Must be Cut in March Budget, Government Told
By Jack Woodfield published
Lowering VAT on retrofit would incentivise homeowners to make green home improvements, the EAC says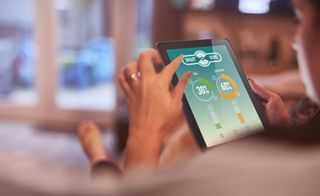 (Image credit: Getty Images)
Reducing VAT on retrofit should be announced as part of the March Budget to encourage green home improvements and revive the UK economy, the Environmental Audit Committee (EAC) has said.
The EAC has penned a report called Growing Back Better which makes recommendations for the government to incentivise homeowners to reduce their energy consumption, thus helping to lower heating bills.
The report calls for chancellor Rishi Sunak to use the Budget on 3 March to cut VAT on retrofit (the current rate is 20%), which the authors say will "incentivise installation of low-carbon domestic technologies and improve energy efficiency of homes".
Retrofitting a home helps to improve its energy efficiency through new technology or features. This process differs from renovating a house or making home improvements designed to make a home more aesthetic.
(MORE: How to retrofit your central heating)
VAT on Retrofit Campaign Grows
Campaigning to lower VAT on retrofit has been ongoing for several months. In January, 35 prominent names in architecture, including broadcasters Kevin McCloud and George Clark, signed a letter encouraging the government to adopt the Architects' Journal RetroFirst campaign, which calls for VAT on refurbishment to be lowered to 5% or less.
And last summer, an open letter signed by leading architects called for prime minister Boris Johnson to cut VAT on retrofits to zero. Signatories included Architects Direct, Architects' Climate Action Network (ACAN) and the London Energy Transformation Initiative (LETI).
The Federation of Master Builders (FMB) has campaigned persistently on this issue. It wants to see the tax on retrofit building work cut down from 20%, and wants the government to deliver a plan which helps to reduce energy demand and carbon emissions from every home across the UK.
Why Would a Tax Cut Help?
The built environment accounts for roughly 40% of UK greenhouse gas emissions, with 20% of this coming from the 28 million homes in the UK.
Cutting tax on retrofit is seen as a way of incentivising homeowners to perform repairs and refurbishment which could make their homes more energy efficient.
Campaigners also say that a mass retrofit of homes as part of a transformation of the built environment could help the UK economy as it continues to reel amid the coronavirus pandemic.
Could it be Introduced in the Budget?
The Green Homes Grant currently enables homeowners to make green home improvements, but the scheme is set to end in 2022, and the government recently announced that its funding will be cut for this financial year.
One way of using the unspent Green Homes Grant millions could be through the introduction of a national retrofit strategy.
The government revealed in its Energy White Paper in December that a major programme for retrofitting homes for improved energy efficiency will be introduced, and the Budget could be the platform for this to be announced.
Brian Berry, Chief Executive of the FMB, says: "The government will not succeed in achieving its Green Industrial Revolution with a short-term plan like the Green Homes Grant scheme.
"The Government needs to think bigger and bolder and back a long-term National Retrofit Strategy, that sets out an ambitious delivery plan to cut carbon emissions from all our homes, and the Budget is the perfect opportunity to do so."
Jack is News Editor for Homebuilding & Renovating, and strives to break the most relevant and beneficial stories for self builders, extenders and renovators, including the latest news on the construction materials shortage and planning reforms. Having bought his first home in 2013, he and his wife have renovated almost every room and recently finished a garden renovation.
Homebuilding & Renovating Newsletter
Get the latest news, reviews and product advice straight to your inbox.
Thank you for signing up to Homebuilding. You will receive a verification email shortly.
There was a problem. Please refresh the page and try again.