Help to Build: How the New Scheme to Support Self Builders Could Work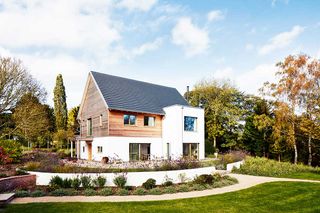 (Image credit: c/o Baufritz)
The Help to Build scheme has now formally been announced, and we're welcoming further details about this government directive aiming to kickstart the self build revolution. 
Having first been announced in the November 2020 Spending Review, housing secretary Robert Jenrick revealed further information on 24 April about what the Help to Build scheme will look like. 
The government believes that with the Help to Build scheme in place, self and custom builds could contribute 30,000-40,000 new homes a year in the UK. 
Here's what we know about the scheme so far.
What is Help to Build? 
The Help to Build scheme is a £150 million fund from the government allowing for low-deposit mortgages through equity loans on self and custom build homes — similar to the Help to Buy scheme. 
Help to Buy is unsuitable for self builders because it requires the equity loan to be paid on legal completion to the developer. This approach means that the scheme cannot be readily used for custom and self build which typically have multiple payments to different parties. 
(MORE: Self Build Mortgages) 
The scheme aims to help people build or commission a house that meets their specific needs, with the likes of extra office space for home workers or design customisation for specific family requirements including caring for disabled or older people just a handful of ideas of those who could benefit specifically from self and custom building. 
"The Help to Build scheme is an important step towards greater customer choice for those with ambition, sound plans and smaller deposits," says Andrew Baddeley-Chappell, CEO, National Custom and Self Build Association (NaCSBA). 
"Custom and self build is about the homeowner having control over the design and specification of their project — enabling them to create the home they want, rather than the one someone else believes they would like."
How Will the Help to Build Scheme Work?
Specific details of Help to Build are still to be revealed, notably whether the scheme will operate in a similar style to Help to Buy. However the government has developed the scheme with Homes England using a model proposed by NaCSBA as a starting point, which we can use as an initial reference.  
NaCSBA's proposed structure is similar to Help to Buy, but with key differences. Firstly, the scheme would based upon the estimated build cost (rather than the estimated property price), and the government share would only be paid to the lender upon practical completion (rather than legal completion). 
Plus, the payment made on completion of a build goes to the mortgage lender in the absence of a house builder. 
In NaCSBA's proposal, self builders would secure a self build mortgage with a 5% deposit, with the mortgage lender providing 95% of funding for the project. On completion of the build, the government would provide 20% of the cost of the build to the lender, reducing the outstanding mortgage value to 75%. 
One caveat to this, however, is that from 1 April this year the Help to Buy scheme changed.
Having operated for eight years whereby all homebuyers could apply for the scheme (providing it was their only property, post-completion), the scheme is now restricted to first-time buyers. Moreover, the price cap has been reduced from £600,000 to £186,100. It is unclear, therefore, if Help to Build will be aligned with the first version of Help to Buy or the second one. 
It's also worth noting that the value of a completed self build is usually more than the cost to build it, whereas when buying a new build property through Help to Buy, the property value is likely to fall. 
Other self build schemes may also play into the eventual shape of Help to Build, including Self Build Wales.
When is Help to Build Open for Applications?
Applications will be open from late summer, while a Help to Build prospectus is expected to be published this spring. 
How Long Will Help to Build Run? 
The government has confirmed that £150 million will be allocated across four years to support the Help to Build scheme.
What Does Help to Build Mean for Self Builders?
MP Richard Bacon, an ambassador of the Right to Build Task Force, says the scheme could be transformational for increasing access to the self build market.
Mr Bacon told Homebuilding & Renovating: "I lobbied very hard to get something on Help to Build into the December 2019 Conservative manifesto. We can't have discrimination against people who want to build their own home, so we need to extend the Help to Buy programme to include self builders."
He added that Help to Build "could open up a range of opportunities" and provide financial assistance to a generation of aspiring self builders. 
Homebuilding & Renovating Newsletter
Get the latest news, reviews and product advice straight to your inbox.
Thank you for signing up to Homebuilding. You will receive a verification email shortly.
There was a problem. Please refresh the page and try again.