Help to Build Prospectus Published - This is When You Can Apply
By Jack Woodfield published
The Help to Build prospectus reveals how the scheme will make self build more accessible and affordable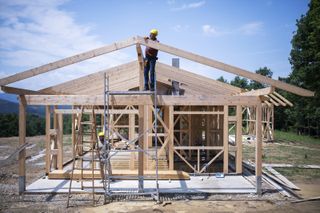 (Image credit: Getty Images)
The Help to Build prospectus has been published which reveals that aspiring self builders can apply for the equity loan scheme this winter.
Having been formally announced in April, the government believes that Help to Build could result in self build and custom build homes contributing 30,000-40,000 new homes a year in the UK.
The prospectus includes more details on what the government scheme is, how it works and who is eligible to apply. It also includes a link for people to register their interest to find out more, so they will be among the first to hear when Help to Build is available for bids.
Andrew Baddeley-Chappell, CEO of the National Custom and Self Build Association (NaCSBA) said of the announcement: "There has been a long-recognised need for greater diversity in our new homes market. The launch of the Help to Build prospectus is another important milestone for custom and self-build homes.
"It will mean that more people can have the new home they actually want, including those with smaller deposits, sound plans and big hopes. The greater choice enabled by this scheme will lead to more affordable and better homes that are more wanted and more sustainable."
Ahead of its winter launch, here's what we know about the scheme so far.
What is Help to Build?
The Help to Build scheme will utilise a £150 million fund from the government that allows for low-deposit mortgages through equity loans on self and custom build homes — similar to the Help to Buy scheme.
Help to Buy is unsuitable for self builders because it requires the equity loan to be paid on legal completion to the developer. This approach means that the scheme cannot be readily used for custom and self build which typically have multiple payments to different parties.
The set-up of Help to Build requires you to have a self build mortgage to help pay for land and set-up costs, and your lender will release funds to you at various stages of the build. However, you'll then get your equity loan and start to pay fees for it after you've built your home.
Who is Help to Build for?
The scheme will aim to help people build or commission a house that meets their specific needs. You'll be able to decide on the design of your self or custom build home, as well as its internal layout and location.
For example, it will help with the likes of extra office space for home workers or design customisation for specific family requirements, including caring for disabled or older people.
How Will the Help to Build Scheme Work?
The government has confirmed that successful applicants will be offered an equity loan based on the estimated costs to buy a plot of land and build the home.
These are the scheme's key points:
You'll need a deposit of at least 5% for the equity loan - as well as a self build mortgage to pay for the land and build phase
You can spend up to £600,000 on your new home - which must include the cost of the land, if you don't already own it, and no more than £400,000 on the cost to build it
You'll have 3 years to buy the land (if needed) and build your home upon being offered an equity loan
Your mortgage lender will release funds to you at various stages of the build until your home is finished.
When do you pay the loan fees? You only get your equity loan and start to pay fees for it after you've built your home
What happens upon completion? Upon build completion, the government will pay your mortgage lender the equity loan amount offered to you, and your self build mortgage will automatically switch to a repayment mortgage.
How Much Can I Borrow?
The Help to Build will enable you to apply for an equity loan of between 5% and 20% of the total estimated land and build cost (up to 40% in London), which is interest-free for five years.
This will lower the required deposit and free up capital. It will also reduce the amount you need to borrow from your mortgage lender on a repayment mortgage.
Lending will only be available through stakeholders registered with the scheme.
How Does the Equity Loan Fee Work?
You'll only start to pay interest on the equity loan from year six. Payback amounts will be calculated on the value of your home at the point of sale – so if this rises then so will the amount you owe on the loan.
It's worth noting that the value of a completed self build is usually more than the cost to build it, whereas when buying a new build property through Help to Buy, the property value is likely to fall.
The loan must be repaid at the end of the term (normally 25 years), and there's a £1 monthly management fee for the life of the loan.
And as mentioned earlier, once your build is complete, your self build mortgage will automatically switch to a repayment mortgage. This will then be in place for the duration of the equity loan.
Who is Eligible for Help to Build?
You can apply for Help to Build if you meet the following criteria:
You have outline planning permission for the land you want to build on - this will be required by most lenders before they approve your self build mortgage
Your planned house is your only home
You can secure a self build mortgage from a lender registered with Help to Build
When is Help to Build Open for Applications?
Applications will open this winter, but we are awaiting further information on the launch date.
How Long Will Help to Build Run?
The government has confirmed that the Help to Build will be a four-year scheme.
What Does Help to Build Mean for Self Builders?
Help to Build "could open up a range of opportunities" and provide financial assistance to a generation of aspiring self builders, according to MP Richard Bacon.
Mr Bacon, an ambassador of the Right to Build Task Force, says the scheme could be transformational for increasing access to the self build market.
Mr Bacon told Homebuilding & Renovating: "I lobbied very hard to get something on Help to Build into the December 2019 Conservative manifesto. We can't have discrimination against people who want to build their own home, so we need to extend the Help to Buy programme to include self builders."
Raymond Connor, chief executive of BuildLoan, said: "We have been waiting for Help to Build for a long time and, now that it's here, we expect it to be extremely popular.
"The fact that people only need to find a 5% deposit by using this scheme, instead of typically 20-25% without it, is an extremely attractive proposition."
Jack has worked in journalism for 11 years and is the News Editor for Homebuilding & Renovating, a role he has had since 2019. He strives to break the most relevant and beneficial stories for self builders, extenders and renovators, including the latest news on the construction materials shortage and hydrogen heating. In 2021 he appeared on BBC's The World at One to discuss the government's planning reforms.
He enjoys testing new tools and gadgets, and having bought his first home in 2013, he has renovated every room and recently finished a garden renovation.
Homebuilding & Renovating Newsletter
Get the latest news, reviews and product advice straight to your inbox.
Thank you for signing up to Homebuilding. You will receive a verification email shortly.
There was a problem. Please refresh the page and try again.