New Mortgage Guarantee Scheme Unveiled in Budget
By Hugh Metcalf published
A new scheme, announced in Wednesday's budget, will see the government offer a guarantee to lenders on small deposit mortgages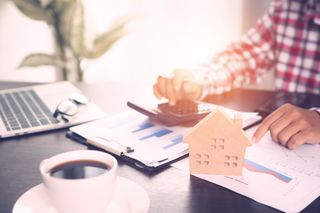 (Image credit: getty images)
A new mortgage guarantee scheme to help homebuyers with low deposits was announced by chancellor Rishi Sunak in Wednesday's Budget.
Launching in April, the scheme will allow participating lenders to offer mortgages to homebuyers who only have small deposits saved.
It will see providers that offer mortgages to people with deposits of just 5% given a government-backed guarantee to safeguard against potential lending risks.
While Sunak heralded the policy as a means to turn "Generation Rent into Generation Buy", the scheme is applicable to houses up to £600,000 and available for existing homeowners, meaning it may be of use to those looking to buy a home to renovate too.
The scheme will be available for new mortgages until 31 December 2022.
How Will the Mortgage Guarantee Scheme Work?
The government will offer lenders the option to purchase a guarantee on a portion of any qualifying mortgage, offering compensation in the case of losses suffered due to repossession up to 80% of the purchase value of the property.
It will also factor in a small net loss for the lender, in order not to incentivise poor quality loans.
The guarantee will be valid for up to seven years, based on evidence that suggests that loans are unlikely to default after this period has elapsed.
Who Will the Mortgage Guarantee Scheme Benefit?
The mortgage guarantee scheme is designed to increase the availability of mortgages on new or existing properties for those with small deposits.
Alongside the Stamp Duty Holiday extension and Help to Buy equity loan scheme, the re-emergence of high loan-to-value mortgages will particularly help first-time buyers to get a foot on the property ladder.
According to Defaqto, there were 137 95% mortgage products available in the UK in March 2019.
During the COVID-19 pandemic, almost all of this type of mortgage disappeared from the market which, alongside tighter lending restrictions for furloughed workers, created a tougher market for first-time buyers.
However, the mortgage guarantee scheme differs from the likes of Help to Buy in that it is not restricted to first-time buyers or new-build properties.
This means the scheme can also be used by current homeowners looking to buy higher priced properties, aiding movement throughout the property chain to free up more affordable housing stock for first-time buyers.
As part of the scheme, the lender must offer a five-year fixed term option, which the government believes offer valuable certainty for those who struggle to save and there may be more in need of a low deposit mortgage.
The scheme is only available for residential mortgages, not for buy-to-let or second home purchases.
Which Mortgage Providers Are Participating in the Guarantee Scheme?
During Wednesday's budget, Rishi Sunak named-checked several financial institutions that would be participating in the guarantee scheme, including some of the UK's largest providers.
Lloyds, Natwest, Santander, HSBC and Barclays were all mentioned during the Chancellor's Budget speech as taking part in the scheme from the April start date, with Virgin Money also touted for future inclusion.
Criticism of the Mortgage Guarantee Scheme
While the mortgage guarantee scheme has received a largely positive response from financial experts, it comes with warnings that it may increase demand without a corresponding increase in supply.
In response to the scheme's announcement, Leader of the Opposition Keir Starmer compared the mortgage guarantee scheme to an eight-year-old policy from David Cameron and George Osborne's Cabinet.
"[This policy] fuelled a housing bubble, pushed up prices and made owning a home more difficult," Starmer outlined.
However, in the policy paper outlining the new mortgage guarantee scheme, the government refer to the Help to Buy: Mortgage Guarantee scheme of 2013 as a success.
It outlines that the scheme increased the number of 95% value mortgages available significantly and directly helped 100,000 extra people to own their own homes.
Hugh is Digital Editor of homebuilding.co.uk and has worked on a range of home, design and property magazines, including Grand Designs, Essential Kitchens, Bathrooms, Bedrooms and Good Homes. Hugh has developed a passion for modern architecture and green homes, and moonlights as an interior designer, having designed and managed projects ranging from single rooms to whole house renovations and large extensions. He's currently renovating a Victorian terrace in Essex, DIYing as much of the work as possible. His current project is a kitchen renovation which involves knocking through walls and landscaping a courtyard garden.
Homebuilding & Renovating Newsletter
Get the latest news, reviews and product advice straight to your inbox.
Thank you for signing up to Homebuilding. You will receive a verification email shortly.
There was a problem. Please refresh the page and try again.