Stamp Duty Holiday Extension Ends Today: Here's What You Need to Know
By Jack Woodfield published
The stamp duty holiday extension ends today, as homebuyers rush to complete their deals on time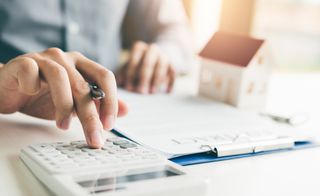 (Image credit: Getty Images)
The stamp duty holiday extension ends today, and as homebuyers frantically rush to complete deals it is feared that 50,000 sales may not be finalised in time.
Since its introduction last July, the stamp duty holiday has been widely praised for helping more people get onto the property ladder, and for its potential to help those considering renovating a house, who can reinvest the savings made into their project.
Homeowners can save a maximum of £15,000 through the tax break, and Rightmove estimates that 1.3 million buyers have benefitted from tax savings since the holiday was announced.
However, there are roughly 704,000 sales going through the conveyancing process, according to Rightmove, which has caused the biggest conveyancing logjam in a decade. Zoopla estimates that more than 50,000 homebuyers could be at risk of missing out on the tax break because of delays in the system.
Ahead of the stamp duty holiday extension ending, here's what you need to know if you are in the midst of buying or selling a home.
Demand Soars to Benefit from Stamp Duty Holiday Extension
The stamp duty holiday has exempted the first £500,000 of all property sales from stamp duty since it was introduced in July 2020, initially running until 31 March 2021.
But the pace of transactions slowed at the turn of the year, and it was widely feared that thousands of sales would fall through without an extension. A three-month extension until 30 June was then announced in the Spring Budget.
Chancellor Rishi Sunak also confirmed that once the extension ends, a tapering period will be introduced from 1 July. Stamp duty exemption will be kept at double its standard level (£250,000) until the end of September, and then return to its current level (£125,000) from 1 October.
The huge influx of demand to make the most of the tax holiday has led to half of properties marked since the extension announcement selling within 31 days, according to Andrews Property Group.
This has caused delays in the latter stages of the transaction process, and homebuyers have been advised that patience will be necessary as their end date nears. The extension has also been a driving factor in house prices reaching record highs this year.
Worryingly for homebuyers, GetAgent reported in June that the average time for a property to go from being listed online to going through the final conveyancing process and completion is taking more than five and a half months.
As some homebuyers brace themselves for missing out, Colby Short, founder and CEO of GetAgent, says: "The industry has struggled to cope and none more so than the conveyancing industry whose failure to keep pace has led to a huge build-up of transactions and very lengthy delays at the back end of the transaction process."
What Happens to Homebuyers Who Miss Out?
Deals which are not completed by 30 June will result in homeowners paying stamp duty on properties costing £250,000 or more. It could also mean some buyers pulling out of purchases, putting chains of sales at risk.
The Law Society said in June that solicitors are working late nights and weekends to help buyers complete deals, but conveyancing solicitors are warning clients to have realistic expectations if it's unlikely they'll meet the 30 June deadline.
With the system under pressure, property agents have been warned not to rush deals through to meet the stamp duty holiday deadline amid fears that criminals and fraudsters will take advantage.
Martin Cheek, managing director at SmartSearch, said: "Property transactions remain the number one target for money laundering and with the volume currently going through the system there is a danger that some AML checks and procedures may be rushed through.
"But in a way the bigger danger is from agents and legal firms still using manual methods of verification for anti-money laundering processes. Document forgery is a major industry with highly sophisticated products available on the black market."
From July, some sellers may need to expect buyers trying to renegotiate the price if they miss the stamp duty deadline, especially if their sale is priced over the £250,000 mark.
Will There be Another Extension?
No. The tapering effect taking place from July is intended to mitigate a potential cliff edge for homeowners buying properties costing £250,000.
But some solicitors have called for the government to amend the deadline to the exchange of contract, rather than completion, to ensure more deals go through.
And conveyancing firm Taylor Rose MW warned in June that not extending the tax break again is causing panic across the housing market.
Adrian Jaggard, CEO of Taylor Rose MW said: "As house buyers and sellers consider the implications of missing the revised SDLT deadline, they are increasingly applying pressure to lawyers to try and push their transaction through.
"This situation once again underlines the folly of the government's refusal to shift on the June-end cut off."
How Much is Stamp Duty?
The amount of stamp duty you pay depends on several factors. These include purchase price, whether the property will be your main residence and, of course, when the purchase is made.
The rate will also depend on if you're a first-time buyer. From 1 July, first-time buyers will pay no stamp duty worth up to £300,000, and no stamp duty on the first £300,000 of properties costing up to £500,000 - a 5% rate will be paid on the remaining amount, up to £200,000.
You can use the Stamp Duty Land Tax (SDLT) calculator to see how much stamp duty will be for a particular purchase.
Jack has worked in journalism for 11 years and is the News Editor for Homebuilding & Renovating, a role he has had since 2019. He strives to break the most relevant and beneficial stories for self builders, extenders and renovators, including the latest news on the construction materials shortage and hydrogen heating. In 2021 he appeared on BBC's The World at One to discuss the government's planning reforms.
He enjoys testing new tools and gadgets, and having bought his first home in 2013, he has renovated every room and recently finished a garden renovation.
Homebuilding & Renovating Newsletter
Get the latest news, reviews and product advice straight to your inbox.
Thank you for signing up to Homebuilding. You will receive a verification email shortly.
There was a problem. Please refresh the page and try again.