Stamp Duty Holiday Extension Leads to Biggest Sales Logjam in a Decade
The stamp duty holiday extension ends this month, as homebuyers race to get deals completed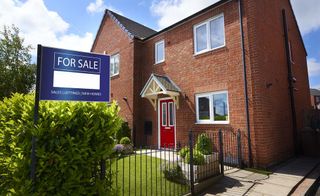 (Image credit: Getty Images)
The soon-to-end stamp duty holiday extension has led to the biggest conveyancing logjam in a decade, Rightmove says, as buyers rush to complete deals in time. 
The stamp duty holiday extension announced in March will end on 30 June, with around 704,000 sales going through the conveyancing process. This is the highest number of sales subject to contract that Rightmove has recorded over the last 10 years. 
Since its introduction last July, the stamp duty holiday has been widely praised for helping more people get onto the property ladder, and for its potential to help those considering renovating a house, who can reinvest the savings made into their project. Homeowners can save a maximum of £15,000 through the tax break.
However, with less than three weeks ago until the tax break ends, some sellers may need to brace themselves for missing the deadline. 
Ahead of the stamp duty holiday extension ending, here's what you need to know if you are in the midst of buying or selling a home. 
Demand Soars to Benefit from Stamp Duty Holiday Extension
The stamp duty holiday has exempted the first £500,000 of all property sales from stamp duty since it was introduced in July 2020, initially running until 31 March 2021. 
But the pace of transactions slowed at the turn of the year, and it was widely feared that thousands of sales would fall through without an extension. A three-month extension until 30 June was then announced in the Spring Budget.
Chancellor Rishi Sunak also confirmed that once the extension ends, a tapering period will be introduced from 1 July. Stamp duty exemption will be kept at double its standard level (£250,000) until the end of September, and then return to its current level (£125,000) from 1 October. 
The huge influx of demand to make the most of the tax holiday has caused delays in the latter stages of the transaction process, and homebuyers have been advised that patience will be necessary as their end date nears. 
Of the 704,000 sales going through, 220,000 were marked as sold subject to contract between July 2020 and the end of February this year, and are yet to complete.
And of these 220,000 sales, 131,000 agreed sales are for homes over £250,000, with these homebuyers at risk of paying stamp duty in full unless their deal is completed this month. 
Colby Short, founder and CEO of GetAgent.co.uk, said of the logjam: "Unfortunately, there isn't much you can do to bypass this backlog other than sit tight and be patient. At least, at present, those currently delayed will have the reward of thousands saved in stamp duty when they do finally come to their completion date."
What Happens When the Extension Ends?
Deals that are not completed by 30 June will result in homeowners paying stamp duty on properties costing £250,000 or more. 
The Law Society said this week that solicitors are working late nights and weekends to help buyers complete deals, but conveyancing solicitors are warning clients to have realistic expectations if it's unlikely they'll meet the 30 June deadline. 
From July, some sellers may need to expect buyers trying to renegotiate the price if they miss the stamp duty deadline, especially if their sale is priced over the £250,000 mark. 
Will There be Another Extension?
It does not appear that there is a huge desire either among MPs or the housing sector for a second extension. 
And the tapering effect taking place from July seems intended to mitigate a potential cliff edge for homeowners buying properties costing £250,000.
How Much is Stamp Duty?
The amount of stamp duty you pay depends on several factors. These include purchase price, whether the property will be your main residence and, of course, when the purchase is made.
The rate will also depend on if you're a first-time buyer. From 1 July, first-time buyers will pay no stamp duty worth up to £300,000, and no stamp duty on the first £300,000 of properties costing up to £500,000 - a 5% rate will be paid on the remaining amount, up to £200,000. 
You can use the Stamp Duty Land Tax (SDLT) calculator to see how much stamp duty will be for a particular purchase.
Homebuilding & Renovating Newsletter
Get the latest news, reviews and product advice straight to your inbox.
Thank you for signing up to Homebuilding. You will receive a verification email shortly.
There was a problem. Please refresh the page and try again.