Stamp Duty Holiday Extension a Boost for Homebuyers, But Delays Are Expected
The stamp duty holiday extension will enable more deals to be completed, but the average selling time has been pushed up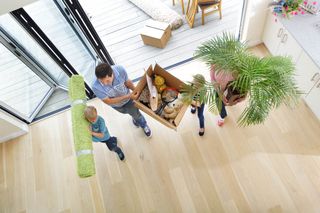 (Image credit: Getty Images)
Amid the stamp duty holiday extension to 30 June, the average selling time has been pushed up to 295 days as delays continue to impact the housing market. 
The stamp duty holiday exempts the first £500,000 of all property sales from stamp duty. The policy was introduced in July 2020 and has been widely praised for helping more people get onto the property ladder, and for its potential to help those considering renovating a house, who can reinvest the savings made into their project.
But it's now taking 43 days longer to sell a property due to delays caused by the tax break compared to this time last year, GetAgent.co.uk reports.
The huge influx of demand to make the most of the tax holiday has caused delays in the latter stages of the transaction process, and homebuyers have been advised that patience will be necessary as their end date nears. 
Colby Short, founder and CEO of GetAgent.co.uk, said: "It's now taking more than six weeks longer to complete a sale than it was the previous year and this can feel like an eternity as anyone who has bought or sold a house will tell you. 
"Unfortunately, there isn't much you can do to bypass this backlog other than sit tight and be patient. At least, at present, those currently delayed will have the reward of thousands saved in stamp duty when they do finally come to their completion date."
There is some good news though. The data also revealed that the average time from when a home is listed online until the point an offer is accepted is down by 14 days, compared to 1 January 2020 and 8th July 2020 (before the stamp duty holiday began). 
Why The Stamp Duty Holiday Extension Could be Vital
The stamp duty holiday extension until 30 June was announced in the Spring Budget by chancellor Rishi Sunak, and was welcomed by industry experts and homebuyers alike. 
The stamp duty holiday initially ran until 31 March 2021, but transactions have slowed down since the turn of the year, and it had been widely feared that thousands of sales would fall through without an extension. 
Property website Rightmove said in March that 412,000 sales agreed in 2020 remain in the legal process, and around 100,000 might not have been completed.
Rightmove estimates an additional 300,000 property transactions in England could benefit from the three-month extension, meaning buyers could save £1.75 billion on the tax.
Following the Budget announcement, Nicky Stevenson, managing director at national estate agent group Fine & Country, said: "That sound you just heard was hundreds of thousands of people all breathing a collective sigh of relief." 
Paresh Raja, CEO of Market Financial Solutions, added: "Extending the stamp duty holiday to 30 June is exactly what the property market needs. The appetite among buyers remains strong, and it makes sense for the government to build on this momentum through targeted tax reliefs."
Mr Sunak also confirmed that from 30 June, stamp duty exemption will be kept at double its standard level (£250,000) until the end of September, and then return to its current level (£125,000) from 1 October. 
Lockdown Means Delays Have Escalated
There was already massive demand to make the most of the tax break prior to the third lockdown. 
But since the turn of the year, logistical delays have been escalating, with the average transaction now taking 20 weeks to complete, up from 12 weeks before the pandemic started. 
MPs Had Been Undecided on Extension Route
A virtual parliamentary debate in February saw cross-party MPs pledge support for an extension, while others disagreed this was the best way forward. 
The debate was triggered after a petition calling for a stamp duty holiday extension hit 100,000 signatures, amid growing pressure on the government to extend the tax break. 
Elliot Colburn, Conservative MP for Carshalton & Wallington, said: "A stamp duty holiday extension will assist many buyers to move to a property that they would not be able to purchase otherwise. This will help stabilise the housing market."
But Labour MP Abena Oppong-Asare called the design of the stamp duty holiday "perverse" for leaving homebuyers on a cliff edge, and fears another extension will lead to a similar situation in three months. 
Homebuilding & Renovating Newsletter
Get the latest news, reviews and product advice straight to your inbox.
Thank you for signing up to Homebuilding. You will receive a verification email shortly.
There was a problem. Please refresh the page and try again.