5 Ways to Fix the Ill-Fated Green Homes Grant
By Jack Woodfield published
Amid reports the Green Homes Grant will be scrapped in March, these are five solutions experts say should happen next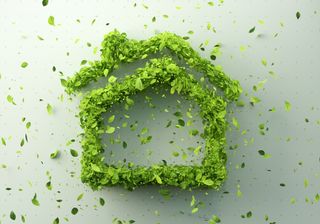 (Image credit: Getty Images)
There are reports that the Green Homes Grant will be scrapped in March, following months of unrest from homeowners and industry. And against a backdrop of budget cuts, administrative problems and tradespeople awaiting payment, there are varying views on what should happen next.
The current situation is a shame because the Green Homes Grant was welcomed upon its launch in September 2020 for helping to green up housing stock. There were fears the initial deadline of 31 March 2021 was too short, but this was ratified through an extension until March 2022 to give more homeowners time to complete their improvements.
But in November, an Environmental Audit Committee (EAC) report revealed 86% of homeowners have had a poor experience with the application process, and nearly 75% found it difficult to find a registered contractor.
The speed of the issuing of vouchers has been criticised too. As of February 2021, fewer than 23,000 vouchers have been issued, despite more than 70,000 households having applied for the scheme. The government's aim was to upgrade 600,000 homes, and at this rate it would take 10 years to meet this target.
The government confirmed in February that funding for the scheme will be slashed from April - just £320m will be made available from March - and ministers are under pressure to reverse this decision. Just 6.3% of the government's £1.5bn budget for homeowners has so far been paid out.
What's more, many installers are reportedly yet to be paid for the work they have done by ICF, the US firm awarded the contract for the Green Homes Grant.
What Should be Done with the Green Homes Grant?
The Green Homes Grant is facing an uncertain future, and these are some of the solutions experts believe could fix the scheme, or help kick-start green retrofitting once the grant is gone.
1. It should be extended again
The grant will end on 31 March 2022, but the government is facing pressure to introduce a longer-term plan, after EAC chair Philip Dunne described current progress as moving at a "snail's pace".
Dunne said: "The principle of the scheme should be commended. But unless overhauled and further extended, this scheme will fail to deliver its ambition."
Lord Jonathan Oates, Liberal Democrat Lords Spokesperson for Energy and Climate Change, told Homebuilding & Renovating he believes the scheme should be extended to a minimum of five years. "I think we need to look at this as a much longer-term programme which really ramps up the ability to meet demand."
2. Roll over the funding
Ian Henderson, managing director of North East-based Boiler Plan UK, wrote to business secretary Kwasi Kwarteng earlier this month urging him to roll over the £1.5bn budget pledged for the scheme.
"Rather than a cut-off date, the Green Homes Grant scheme should remain open until all its £1.5bn budget is claimed – and the government should seriously consider increasing the fund even further," he wrote.
Shadow business secretary, Ed Miliband, added his voice to the call: "Ministers must make good on their funding promise and reverse this farcical decision by rolling all the funds not allocated over into 2021," he said.
3. Vouchers should be processed immediately
There should be an immediate acceleration of payments and processing of vouchers, according to multiple industry groups, including the Microgeneration Certification Scheme (MCS), Solar Energy UK, Renewable Energy Assurance Ltd (REAL) and the Home Insulation and Energy Systems Quality Assured Contractors Scheme (HIES).
This, the groups say, will help to increase the pace of installations for homeowners and address cashflow concerns for installers.
MCS chief executive Ian Rippin, said: "Delays to payments are especially damaging and we are calling for consumer incentives like this to be simplified to enable renewable energy businesses to do what they do best, without worrying about their financial health."
4. Expand the eligibility criteria
The EAC said earlier this month the eligibility criteria has prevented homeowners from being able to access vouchers. This, it says, is due to the rule that a primary measure (insulation or low-carbon heating) must be installed before a homeowner can receive the same funding towards secondary measures.
Expanding the criteria has been backed by the National Residential Landlords Association (NRLA), which says 43% of landlords are interesting in applying for a grant.
"We agree that the eligibility criteria for the scheme is preventing many from being able to access it and ministers need to address this as a matter of urgency."
5. A long-term plan should be introduced
The Green Homes Grant was initially intended as a short-term stimulus, and following the funding cut, industry groups want the rolled over funds to be reinvested into a new strategy.
Solar Energy UK chief executive Chris Hewett says any unspent funds must be recommitted in following years. "If this government is serious about driving a green economic recovery it has to put its money where its mouth is," he said.
One such measure could be a longer-term programme of zero-carbon retrofitting. The Federation of Master Builders has long campaigned for VAT on retrofit to be cut, and says the poor take up of the Green Homes Grant demonstrates the need for a longer-term strategy to upgrade existing homes to make them greener and more energy efficient.
Brian Berry, chief executive of the FMB, said: "The government needs to think bigger and bolder and back a long-term national retrofit strategy."
Jack has worked in journalism for 11 years and is the News Editor for Homebuilding & Renovating, a role he has had since 2019. He strives to break the most relevant and beneficial stories for self builders, extenders and renovators, including the latest news on the construction materials shortage and hydrogen heating. In 2021 he appeared on BBC's The World at One to discuss the government's planning reforms.
He enjoys testing new tools and gadgets, and having bought his first home in 2013, he has renovated every room and recently finished a garden renovation.
Homebuilding & Renovating Newsletter
Get the latest news, reviews and product advice straight to your inbox.
Thank you for signing up to Homebuilding. You will receive a verification email shortly.
There was a problem. Please refresh the page and try again.