Undertaking Roof Repairs or a Loft Conversion? Here's What You Need to Know About Rising Costs
By Jack Woodfield published
Price rises and lead times of up to six months for some roof materials could hit homeowners this year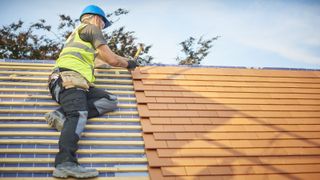 (Image credit: Getty Images)
The cost of building materials is an ongoing problem for the construction industry, and rising prices could be a significant factor if you're undertaking a roof project this year.
89% of roofing companies in 2021 saw the price of roof materials rise compared to 2020, according to the National Federation of Roofing Contractors, which meant the cost of products essential to roof repairs or loft conversions, such as roof tiles, insulation and timber battens, all went up.
Shortages remain a problem too, with lead times for roof tiles averaging 24 weeks, and increasing to 41 weeks in some instances. So for those converting a loft or repairing your roof this year we look at what you need to know, and ask experts for their tips on how to get ahead on your project.
Prices Could Continue to Increase
The ongoing construction materials shortage which has affected homeowners and homebuilders for well over 12 months has particularly impacted roof materials.
Prices soared amid the shortages. The cost of roofing battens rose in excess of 50% between January-May 2021, national roofing contractor Avonside Group said. Then in September, builders' merchants Jewson announced a 12% rise in glass wool insulation and a 10% rise in the price of timber battens.
Roof tiles continue to be in short supply, with demand outstripping supply against a backdrop of rising inflation, the Construction Leadership Council (CLC) warned this week. And materials could continue to rise in cost.
Tim Phillips, a senior Quantity Surveyor specialising in self build and renovation projects, says: "The RICS service BCIS All-in Tender Price Index (TPI) reports an increase in tenders of 4.3% in the year. So homeowners might expect to pay an average of just over £1,000 more on the average loft conversion cost of £24,500 (4Q21 estimate of Tender Price Inflation (rics.org).
"Minor roof repairs may be at a higher premium, due to the rise in labour costs coupled with a materials shortage and price hike, plus the amount of work available to builders. But unfortunately, you don't have time to test the marketplace when your roof is leaking."
The CLC adds that rising energy costs and price inflation (the latest forecasts anticipate 2022 price inflation from 7-10+%), could lead to multiple increases for some products. Although Philips adds that there could be a slight reduction in the price of general roofing materials, due to the slowing down of the 'supply & demand' compared to last year.
Why Have Prices Gone up?
Prices have risen due to a number of factors, including labour challenges and a lack of lorry drivers, as well as Brexit construction challenges affecting the cost and speed of delivery of materials though ports.
Philip Campbell, Head of Policy & Communications at the National Federation of Roofing Contractors, explains: "Prices are rising for a variety of reasons — many of which are worldwide factors beyond UK manufacturers' control. Take timber battens as an example; 2021 saw supply of timber dry up in the US which then had a knock-on impact on European stocks, driving up prices.
"We have also seen the cost of raw materials, such as the chemicals that go into manufacturing insulation, rise due to the rising price of crude oil. We are also expecting the energy-intensive products, such as clay tiles, to be impacted by rising energy costs."
Another factor to consider is that many tradespeople have put their prices up. The cost of skilled labour on site increased by 3.6% in September, following strong demand for housing projects.
"Tradespeople's prices have definitely gone up as now builders have more control over which projects they work on due to the increased demand, compared to pre-pandemic when some may have had less work," added Phillips.
Top Tips for Your Project
"If you are considering a roof repair or loft conversion in 2022, then make sure you factor in rising material costs and long lead times into your plans," warns Campbell.
"We are still seeing extended waiting times on some products such as roof tiles, where you could find yourself waiting over four months. You need to therefore plan well in advance of any project, factoring in any price rises into your budget, and work closely with your roofing contractor or builder to navigate these issues."
The CLC added in its January Construction Product Availability Statement: "We continue to stress the importance of maintaining open lines of communication throughout the supply chain."
Jack has worked in journalism for 11 years and is the News Editor for Homebuilding & Renovating, a role he has had since 2019. He strives to break the most relevant and beneficial stories for self builders, extenders and renovators, including the latest news on the construction materials shortage and hydrogen heating. In 2021 he appeared on BBC's The World at One to discuss the government's planning reforms.
He enjoys testing new tools and gadgets, and having bought his first home in 2013, he has renovated every room and recently finished a garden renovation.
Homebuilding & Renovating Newsletter
Get the latest news, reviews and product advice straight to your inbox.
Thank you for signing up to Homebuilding. You will receive a verification email shortly.
There was a problem. Please refresh the page and try again.