10-Year Inflation High Driven by Rising Energy Prices
By Jack Woodfield published
Many homeowners have been hit by energy prices soaring since October, and the cost of living is now up by 4.2%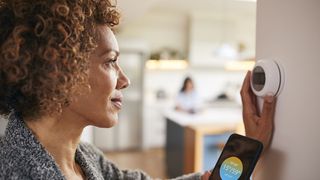 (Image credit: Getty Images)
The rate of inflation increased at the fastest rate for almost 10 years in the 12 months to October, with energy price rises the biggest driving factor.
The Office for National Statistics (ONS) says that inflation (the cost of living) has surged by 4.2%, far higher than the 3.1% rise in September, and more than double the Bank's target of 2%.
This is mainly due to higher fuel and energy prices, while the cost of goods produced by factories and the price of raw materials have also risen substantially, and are now at their highest rates for at least 10 years.
The construction materials shortage has also pushed up prices, while a global chip shortage (which affects the production of new vehicles) has led to an increase in demand and the cost of used cars.
The Bank of England is now under pressure to act, and could raise interest rates in the coming months to tackle the surging prices. This could impact mortgage rate rises, potentially impact those working on self build and renovation projects.
Will Energy Prices Continue to Rise?
ONS figures show the 12% increase in the energy price cap on 1 October was a significant contributing factor to the surge in inflation.
The Consumer Prices Index including owner occupiers' housing costs grew 3.8% in the year to October 2021. This is up from the 2.9% growth in year to September 2021 https://t.co/nm5YIaBms8 pic.twitter.com/jS2T0QEFrDNovember 17, 2021
The price cap rise meant that from 1 October those on standard tariffs saw an increase of £139 per year, from £1,138 to £1,277. And while those on a fixed tariff shouldn't be affected by October's increase, your energy supplier may not be able to offer you a cheaper deal once you approach the end of your contract.
Energy bills have primarily risen due to a surge in wholesale gas prices, but the energy cap prevents energy firms from passing these costs onto their customers.
However, the energy watchdog Ofgem, is set to launch a consultation to whether the price cap - next set to be reviewed in the spring - is still fit for purpose.
The Financial Times reports that analysts predict the cap will rise steeply in April, potentially by several hundred pounds, unless Ofgem changes the way the cap will work.
Jack is News Editor for Homebuilding & Renovating, and strives to break the most relevant and beneficial stories for self builders, extenders and renovators, including the latest news on the construction materials shortage and planning reforms. Having bought his first home in 2013, he and his wife have renovated almost every room and recently finished a garden renovation.
Homebuilding & Renovating Newsletter
Get the latest news, reviews and product advice straight to your inbox.
Thank you for signing up to Homebuilding. You will receive a verification email shortly.
There was a problem. Please refresh the page and try again.