Brexit Construction Fears Rise Amid Exodus of Foreign Workers
Post-Brexit construction could be impacted by the departure of skilled EU workers, and labour costs could rise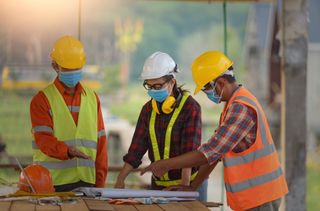 (Image credit: Getty Imagess)
Brexit construction fears have risen amid a potentially "major skill shortage" due to a lack of overseas workers. 
The Office for Budget Responsibility (OBR) has this week warned that thousands of overseas workers who have left the UK in the past year will not return, and post-Brexit immigration rules could put them off coming back. 
This has prompted warnings from businesses, including those within construction, that this will put the government's recovery from the pandemic at risk, and jeopardise its aim to build 300,000 homes per year. 
The impact could also be felt by self builders and those renovating a house, so for those concerned about whether Brexit could impact your project, here is what you need to know.
(MORE: Beginner's guide to self build)
Brexit Construction: What's Been Said About EU Workers?
A depleted workforce is a major post-Brexit concern, following many EU workers choosing to leave before the end of the transition period in December, which was exacerbated by the pandemic.
The UK lost a quarter of its EU-born construction workforce between January 2020 and January 2021, and this 28% drop was greater than the 7% fall in total employment in construction, according to the Construction Products Association.
Rico Wojtulewicz, head of housing and planning policy at the National Federation of Builders, said the exodus poses a "real danger that we're going to have a major skill shortage".
He added: "We need 300,000 homes a year, but we're building 180,000 new ones, or 220,000 if you count conversions, so we are well away from that target."
In response, Kevin Foster, the minister for future borders and immigration, said: "Engaging with training, apprenticeship programmes and schemes to get people back to work, especially when many UK-based workers face an uncertain future, should be the first recourse for employers with vacancies, rather than viewing immigration as the primary solution."
However, in February Lords minister Susan Williams suggested the government could be open to reviewing immigration policy for construction workers after the Covid-19 pandemic.
She said the list of occupations which are allowed easier access into the UK could be reviewed after "assessing how the UK labour market develops post-Covid-19".
Labour Costs Could Rise
Another consequence of a skills shortage is that project costs could be driven up if demand for labour exceeds supply. 
Andy Stevens, builder and consultant with Eclipse Property Consultants and contributor to Homebuilding & Renovating magazine, said: "A lot of EU workers have returned home and a lot more could follow. These workers make up a high percentage of our industry, especially in big cities. This has a big impact on the industry for contractors and self-builders alike. 
"How are these skilled personnel going to be replaced? At the moment, there simply aren't enough apprentices coming through. It's simple maths — with more tradespeople leaving the industry than coming in, there will be a shortfall of skilled labour. 
"This in turn will most likely lead to an increase in labour costs, as those that are left will be in higher demand and can therefore put their prices up." 
Moreover, employers are facing uncertainty over the future of their workforces. Only one in 10 construction employers surveyed by the Construction Industry Training Board (CITB) in January said they understood the new points-based immigration system, while 72% of employers believe the end of free movement will impact the industry's ability to secure a skilled workforce.
Employers also have concerns over the associated costs and making sure they are able to support EU-born staff through the process of applying to remain, which could affect the ability to deliver on targets.
What's the Latest on Building Materials?
Even after the UK agreed a trade deal with the EU in December, concerns have persisted over the construction materials shortage.
Around £10 billion of building materials are imported to the UK every year, and the trade deal ensured the continued importation of building materials from the EU without additional tariffs. This helped to mitigated the potential for the availability of materials to decline. 
But the construction industry is experiencing challenges with certain building materials, including timber and plaster shortages, which can be traced back to the first lockdown. 
The availability of supplies will also be influenced by the length of supply chains, which remain strained, although not entirely due to Brexit. There has reportedly been a slowdown in the production from some factories in the EU because of Covid-19.
This disruption could cause delays to projects across the country, and concerns remain over the availability of some building materials.
Delays and Disruption are Possible
The flow of goods between the EU and the UK post-Brexit has long been a point of concern.
The Construction Leadership Council said the trade deal would "undoubtedly help to avoid some of the risks of delay and disruption", while the British Merchants Federation (BMF) said in January that it had the assurance of "the continued free flow of materials".
However, a survey this week by the Timber Trade Federation revealed that the time and cost to fill out customs and due diligence paperwork are adding pressure to an already tight timber supply chain, and this is slowing down trade. 
Construction firms were warned earlier this year by the government that new post-Brexit border controls will be introduced in July, which will impose new rules on customs declarations. 
Will Brexit Impact Construction Price Rises?
Roughly 60% of imported materials used in UK construction projects comes from the EU, according to the Construction Leadership Council, and increased congestion reported at UK ports since the start of the year has caused delays.
The impact of Brexit could lead to short or medium-term disruption, so to avoid price rises Andy Stevens has this advice: "Sit down with your drawings and spec sheets and tell suppliers what you need, even if your project is months or even a year away. Negotiate hard and don't be afraid to bounce them off each other.
"If you can order your materials early and store them, this could help you dodge the looming price increases."
Another method is using reclaimed materials, which is cost-effective and protects the environment. "Roof timbers, for example, can be used for stud work," Stevens says. "Planing them to the correct size will be cheaper than buying new timber. Shopping around and securing prices before costs go up will save you a lot of money too. It's never too early to start." 
(MORE: How to find a builder)
Jack is News Editor of Homebuilding & Renovating and strives to break the most relevant and beneficial stories for self builders and renovators. Having bought his first home in 2013, he and his wife have renovated almost every room and recently finished a garden renovation. Jack reports on all of the latest news that could affect your project.
Homebuilding & Renovating Newsletter
Get the latest news, reviews and product advice straight to your inbox.
Thank you for signing up to Homebuilding. You will receive a verification email shortly.
There was a problem. Please refresh the page and try again.