Brexit Construction Fears Assuaged by Trade Deal, But Concerns Remain Over Building Materials
Brexit construction outcomes are brighter following the trade deal agreed with the EU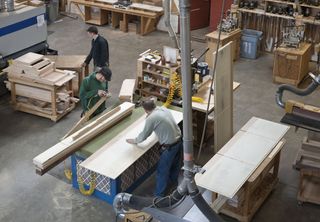 (Image credit: Getty Images)
Brexit construction fears were assuaged after the UK agreed a trade deal with the EU in December, but concerns remain over the availability of building materials.
Construction leaders welcomed the deal announced on Christmas Eve, which will allow the continued importation of building materials from the EU without additional tariffs. 
By avoiding extra quotas, it is believed this will reduce the risk of self builders and those renovating a house overpaying for building materials, and mitigate the potential for the availability of materials to decline. 
(MORE: Beginner's guide to self build)
So if you're planning a new project for 2021, or in the midst of a product now, here's what to know if you're looking to buy building materials in the near future. 
Brexit Construction Deal to Reduce Delays
There was great uncertainty prior to the trade deal about imports following the potential outcome of a no-deal Brexit, when standstill queues were recorded at ports in December, attributed in part to stockpiling due to fears of a no-deal Brexit. 
But the trade deal means that goods including building materials should move faster through ports than they were in December. And photos taken on Monday 4 January showed things running smoothly at the Port of Dover.
The Construction Leadership Council said the deal will "undoubtedly help to avoid some of the risks of delay and disruption", while the British Merchants Federation (BMF) said it now has the assurance of "the continued free flow of materials".
However, John Newcomb, CEO at BMF warned this week: "We remain concerned over the capacity problems at UK container ports, which in recent weeks have demonstrated how quickly shortages and consequential price increases can occur."  
Supply Chains Remain Strained
The availability of supplies will also be influenced by the length of supply chains, which remain strained, although not entirely due to Brexit. There has reportedly been a slowdown in the production from some factories in the EU because of Covid-19.
For some industry experts though, the deal came too late. Brian Berry, chief executive of the Federation of Master Builders (FMB) says that FMB members are facing rolling shortages of key building materials, and the deal "will have come too late for many already feeling the effects of prolonged indecision."
And Alan Vallance, chief executive of RIBA, said: "While this deal provides us with some certainty around the future relationship between the UK and EU, hesitation and vagueness around trade in services remains a serious concern for our profession.
Watch Out for Price Rises
One major concern from a no-deal Brexit was a potential spike in the prices of building materials. But the tariff-free imports agreed in the trade deal should mitigate the risk of this, says Vallance.
"It's our hope that this deal will keep the costs of importing construction materials down and – current border issues aside – at least provide some confidence over trading in goods."
(MORE: How to find a builder)
However, Andy Stevens, builder and consultant with Eclipse Property Consultants and contributor to Homebuilding & Renovating magazine, still expects "the usual year-on-year price increases across all materials from aggregates and roofing products to plaster and paint". 
To avoid potential price rises, Stevens has this advice: "Sit down with your drawings and spec sheets and tell suppliers what you need, even if your project is months or even a year away. Negotiate hard and don't be afraid to bounce them off each other.
"If you can order your materials early and store them, this could help you dodge the looming price increases."
Another method is using reclaimed materials, which is cost-effective and protects the environment. "Roof timbers, for example, can be used for stud work," Stevens says. "Planing them to the correct size will be cheaper than buying new timber. Shopping around and securing prices before costs go up will save you a lot of money too. It's never too early to start."
Building Materials Shortages
Prior to the trade deal being agreed, the construction industry was already experiencing challenges with certain building materials, including plasterboard and timber, which can be traced back to the first lockdown. 
"The nationwide shortage of gypsum-based products like plasterboard and timber not only affected plasterers but self builders and those carrying out renovation and extension projects, as it had a knock-on effect," said Stevens.
"With plastering left undone, plumbers, electricians and carpenters couldn't carry out second fix work, kitchens and bathrooms couldn't be fitted, and decorators couldn't finish the job."
Meanwhile, the shortage of timber has had a phenomenal impact on the industry, which it hasn't yet recovered from.
"Timber is one of the main materials that we import, and it's hard to replace that with timber from the UK because it's not always suitable for construction grades," added Mark Brinkley, author of the Housebuilder's Bible.
In 2020 the BMF reported a 150-300% increase in demand for timber-composite products, such as fence panels, fence panels and decking.
The gap between supply and demand has still not been filled, and experts anticipate timber products (which are widely imported from countries outside the EU like China and Brazil, but also from EU countries such as Germany and Spain) to rise in price between the end of 2020 and the beginning of 2021.
Brinkley adds, however, that the longer-term outcome might not be so bleak, and that more building materials commonly imported into the UK could end up being made by British companies. 
Homebuilding & Renovating Newsletter
Get the latest news, expert advice and product inspiration straight to your inbox.
Thank you for signing up to Homebuilding. You will receive a verification email shortly.
There was a problem. Please refresh the page and try again.