Brexit Construction Relief as Government Delays New Rules on Building Materials
By Jack Woodfield published
Post-Brexit construction is being impacted by labour shortages and dwindling supplies of building materials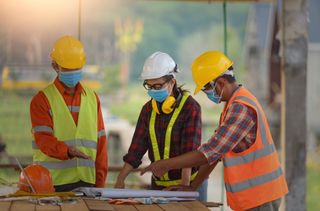 (Image credit: Getty Imagess)
To calm Brexit construction problems the government has delayed the start date for new rules for construction products, a move which has been welcomed by industry leaders.
This delay to post-Brexit reforms follows disruption to the construction industry due to the pandemic and leaving the EU. There is a construction materials shortage impacting builders and businesses across the UK, and the government hopes that this delay will give companies more time to adapt.
The deadline to replace the current CE markings, which are used to certify construction and other products such as electrical goods, had been January 2022, when companies would have to start using the new UKCA mark. This will replace the EU's CE mark.
But industry groups had raised concerns about capacity to test products, and that it would come with significant cost at a pivotal moment for the UK economy.
James Talman, chief executive of the National Federation of Roofing Contractors said of the announcement: "At a time when we are facing some of the worst material availability and inflation in living memory, this announcement will come as a welcome relief for manufacturers and merchants."
Brexit Construction Problems Ongoing
The UK agreed a trade deal with the EU in December to ensure the continued importation of building materials from the EU without additional tariffs, but knock-on effects from Brexit and Covid-19 remain for the construction industry.
The IHS Markit/Cips UK construction purchasing managers' index for July revealed that two-thirds of businesses said they had to wait longer for deliveries of construction materials, which they put down to Brexit friction, congestion at ports and a shortage of transport.
The impact of Brexit could also be felt by self builders and those renovating a house, so for those concerned about whether Brexit could impact your project, here is what you need to know.
(MORE: Beginner's Guide to Self Build)
Unemployment Problems
A depleted workforce is a major post-Brexit factor, following many EU workers choosing to leave before the end of the transition period in December 2020.
The demand for construction workers was close to a 20-year high in July, according to the Office for National Statistics (ONS), with employment in the construction sector falling from 2.3m in 2017 to 2.1m at the end of 2020. This represents a 4% fall in UK-born workers and a 42% fall in EU workers.
Builder Andy Stevens from Eclipse Property Consultants said earlier this year: "Labour rates have gone through the roof in some areas, all driven by market factors. Firstly, a number of Eastern European workers went back to their respective countries as a result of Brexit; this has hit the south east in particular."
(MORE: How to Find a Builder)
Shortage of Lorry Drivers
The lack of lorry drivers is a major problem for the construction industry. The UK has lost 15,000 European drivers this year due to Brexit, according to the Road Haulage Association, which has exacerbated existing driver shortages.
Construction businesses are one of the largest users of the UK road network, yet some suppliers are reportedly asking builders' merchants to collect their orders as they cannot get enough drivers to complete deliveries.
This situation has worsened further following thousands of tradespeople and lorry drivers self-isolating in July after being 'pinged' by the NHS Covid app, putting pressure on businesses and builders' merchants.
Labour Rates Have Increased
Labour rates have reportedly skyrocketed in some areas, due to a combination of demand outstripping labour supply, and some trades putting up their rates due to being overwhelmed with work.
What's the Latest on Building Materials?
The availability of supplies is influenced by the length of supply chains, which remain strained, although not entirely due to Brexit. There has been a slowdown in the production from some factories in the EU because of Covid-19.
Roughly 60% of imported materials used in UK construction projects comes from the EU, according to the Construction Leadership Council. And despite this year's UK-EU trade deal easing construction fears, Brexit has lengthened the supply lines for a number of core supplies from Europe.
The Timber Trade Federation (TTF) said in May that Brexit-related complications have squeezed UK timber stocks, as 80% of the softwood used in building comes from Europe, and 90% of the softwood used for new build homes comes from the continent.
How to Avoid Project Disruption
The impact of Brexit could yet lead to further disruption, including price rises for building materials.
To avoid problems, Andy Stevens has this advice: "Sit down with your drawings and spec sheets and tell suppliers what you need, even if your project is months or even a year away. Negotiate hard and don't be afraid to bounce them off each other.
"If you can order your materials early and store them, this could help you dodge price increases."
Another method is using reclaimed materials, which is cost-effective and protects the environment. "Roof timbers, for example, can be used for stud work," Stevens says. "Planing them to the correct size will be cheaper than buying new timber. Shopping around and securing prices before costs go up will save you a lot of money too. It's never too early to start."
Jack has worked in journalism for 11 years and is the News Editor for Homebuilding & Renovating, a role he has had since 2019. He strives to break the most relevant and beneficial stories for self builders, extenders and renovators, including the latest news on the construction materials shortage and hydrogen heating. In 2021 he appeared on BBC's The World at One to discuss the government's planning reforms.
He enjoys testing new tools and gadgets, and having bought his first home in 2013, he has renovated every room and recently finished a garden renovation.
Homebuilding & Renovating Newsletter
Get the latest news, reviews and product advice straight to your inbox.
Thank you for signing up to Homebuilding. You will receive a verification email shortly.
There was a problem. Please refresh the page and try again.