Smart Home Gadgets: Today's Best Deals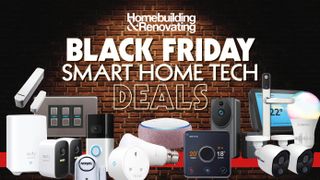 (Image credit: Future)
Smart home gadgets are now seen as essential items for the home as opposed to luxuries and this increase in their popularity means there are some really great deals to be had — if you know where to look. Luckily for you, we do where to look!
We've taken the legwork out of finding the best smart home gadget deals and our round up covers everything from video doorbells to home assistants and smart home security. 
Maybe you are after a gift for a gadget-loving relative or perhaps you are trying to choose the best smart home gadgets in order to ensure your home is fully kitted our and future-proofed — or, like so many others, are you just starting small with something like a home assistant that can play your favourite music on demand or keep track of your shopping list?
Whatever your particularly needs, we've found today's very best prices for a range of smart home gadgets that can transform how you live in and interact with your home. 
And with Black Friday just around the corner, now's definitely the right time to start your search.
Quick Links to Best Smart Home Gadget Deals
Best Deals on Smart Plugs
If you are wondering, 'what is a smart plug?' then wonder no more. Smart plugs basically turn ordinary appliances into clever ones. This means that you can control these newly-smart appliances from your mobile device wherever you might be. Plus, if you have a smart assistant that is compatible with your smart plug, you will be able to use voice control to operate your appliances.
Smart Light Bulbs
Smart bulbs make the perfect addition to any home. They allow you to programme your lights to come on at a certain time, even when you are not at home — perfect for deterring any unwanted visitors. Some smart bulbs allow you to choose from a selection of mood lighting settings too.  
Best Deals on Video Doorbells
In recent years video doorbells have grown and grown in popularity — and for good reason. They make a great investment, increasing the security levels of your home and also acting as a convenient feature when it comes to receiving deliveries. With a video doorbell, not only can you see who is at the door before you answer it, but you can effectively answer your door even if you aren't home. You'll never miss a parcel again!
Deals on Smart Assistants and Speakers
Smart assistants, such as the Echo Dot, are really easy to set up and operate — plus they can be used used as central hubs for compatible smart devices, such as smart plugs or bulbs. They allow you to set timers, check the news or the weather, create shopping lists, play music —  there really are endless possibilities when it comes to what a smart assistant can do.  
Smart Ways to Control Your Heating
We have all become a lot more conscious of how much energy we are using in our homes lately — not only from an environmental perspective but also from a money-saving point of view. 
The new ranges of smart thermostats out there will help you to use energy smarter.
Smart Home Security Deals 
Protecting your home and your loved ones living should be high priority and using smart tech gadgets, such as smart security cameras or alarms will ensure you have the highest levels of protection at home.
Wireless versions should be easy enough to install on a DIY basis, but wired versions will require the work of a professional — this is one area you want to get right. 
Homebuilding & Renovating Newsletter
Get the latest news, expert advice and product inspiration straight to your inbox.
Thank you for signing up to Homebuilding. You will receive a verification email shortly.
There was a problem. Please refresh the page and try again.