Smart Home Gadgets: The Best Christmas Gifts for Any Budget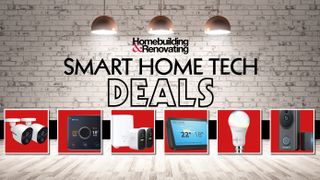 (Image credit: Future)
Smart home gadgets have become something of a staple in most homes in recent years — and there are some great Christmas deals available right now.
If you're looking for a last-minute Christmas present, how about 50% off the Echo Show 5? Or the Ring (Generation 2) Video Doorbell for just £89?
We've rounded up the best deals on video doorbells, home assistants, smart home security and nifty smart plugs and bulbs - to help add smart home tech to your (or someone else's) pad.
Best Smart Home Gadget Deals: Quick Links
Today's Best Smart Home Gadget Deal
Best Deals on Smart Plugs
Smart plugs basically turn any standard appliance into a clever one. What this means is that, once plugged into the smart plug, your appliance (be that a lamp, fan, coffee machine or radio) can be controlled from your mobile device wherever you might be.
Plus, if you have a smart assistant such as Alexa or Google Home Assistant that is compatible with your smart plug, you will be able to use voice control to operate your appliances — "Alexa, turn on the Christmas tree lights!"
Smart Lights Deals
Smart bulbs allow you to programme your lights to come on and go off at certain times during the day, even when you are not at home — perfect for deterring any unwanted visitors. They are also handy in children's bedrooms as they can be set on a timer to go off once children are asleep.
Some smart bulbs allow you to choose from a selection of mood lighting settings too.
Today's Best Video Doorbell Deals
Video doorbells are a brilliant way to increase the security of your home and make a very wise investment. Plus, video doorbells also provide a useful service when it comes to receiving deliveries. Finding a frustrating 'Sorry we missed you' note on your doormat can now be a thing of the past.
With a video doorbell, not only can you see who is at the door before you answer it, but you can effectively answer your door even if you aren't home as most feature two-way audio.
Great Deals on Smart Assistants/Speakers
Smart assistants, such as the Echo Dot or Google Home, are really simple to set up and operate — plus they can be used used as central hubs for other compatible smart devices, such as smart plugs, bulbs or video doorbells.
They allow you to set timers, check the news or the weather, create shopping lists, play music — there really are endless possibilities when it comes to what a smart assistant can do.
Some of the newest models, such as the Echo Show 8, also allow you to hold video calls and see the weather and news.
Smart Heating: Today's Best Offers
All of us are becoming more aware of the importance of saving energy — even if just to save money on household bills. Plus, an increase in working from home means it has become more important than ever to keep an eye on those heating bills.
The latest range of smart heating controls allow you to keep track of how much energy you are using and ensure your home is always set at the perfect temperature for you.
Best Home Security Deals
Most of the newest smart security cameras or alarms are easy to set up and install and can be paired simple with mobile devices.
Wireless versions should be easy enough to install on a DIY basis. However, if you opt for a wired smart home security system, you should seek the services of a professional installer — this is one area you don't want to cut corners on.
Homebuilding & Renovating Newsletter
Get the latest news, reviews and product advice straight to your inbox.
Thank you for signing up to Homebuilding. You will receive a verification email shortly.
There was a problem. Please refresh the page and try again.