Power Tools Sale: The Best Deals in the January Sales
By Sarah Handley , Jack Woodfield
Looking for a power tools sale? These are the best January Sales from major brands such as Bosch, Makita and JCB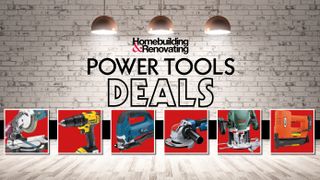 (Image credit: Future)
Eyeing up a power tools sale bargain? Then look no further. We've found the best January Sales on cordless drills, lawnmowers and much more so you don't have to - but hurry, these deals won't be around for long.
Power tools can be expensive purchases, especially if you're looking to buy a suite of tools, but bargain hunters can make huge savings now from major brands such as Bosch, DeWalt, Flymo and Ryobi.
Quick Links to Power Tool Sales
Today's Best Power Tool Deal
More of Today's Best Power Tool Deals
Don't miss some of these amazing power tools deals available right now from brands such as Bosch, Makita and Ryobi.
Today's Best Cordless Drill Deals
A cordless drill is an essential for every homeowner, although they can normally be on the pricey side - so grab these deals while you can!
If you're unsure what you need, remember this: an impact driver is great for most internal jobs, but if you are planning on drilling into masonry, then make sure you opt for a combi drill with hammer functionality.
Today's Best Garden Power Tools
If you are looking for great deals on garden power tools, such as a robot lawnmower, hedge trimmer or pressure washer, here are today's best prices across brands like Black + Decker, Bosch and Ryobi.
Today's Best Power Tools at £50 or Less
Power tools can normally be expensive, but that doesn't mean you can't find a bargain under £50. These are some the best deals on power tools which are all priced at £50 or under.
How to Choose the Right Power Tools
There's a lot to consider when choosing the right power tools for your toolkit. Firstly, will you be doing multiple DIY tasks? If so, you might need to buy more than one tool for your toolkit in order to complete your range of jobs.
Secondly, you'll need to choose whether you want corded or cordless. Cordless models are infinitely flexible and offer great freedom of movement, whereas corded models are often preferable for more substantial projects.
One particularly advantage to cordless models is that many brands, including Bosch, Ryobi and DeWalt, have ranges of tool bodies that are all compatible with the same battery and charger.
Therefore, it's worth checking any cordless tools you might already own. This can save you money because once you have the battery/ies and charger, you need only buy bare tools moving forward. It can also be incredible useful when it comes to having to store the tools.
Homebuilding & Renovating Newsletter
Get the latest news, reviews and product advice straight to your inbox.
Thank you for signing up to Homebuilding. You will receive a verification email shortly.
There was a problem. Please refresh the page and try again.