5 Best Orbital Sanders, Plus What You Need to Know When Buying One
By Hugh Metcalf published
Looking for the best orbital sander for your next DIY project? Here's our top pick, alongside all the info you need to know when shopping for one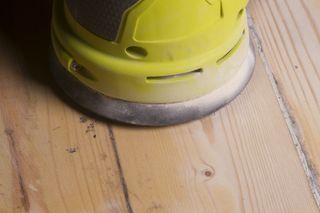 (Image credit: getty images)
Looking for the best orbital sander? This tool is a useful and versatile piece of kit for your toolbox, and they can be relatively inexpensive to buy.
First things first though, make sure this is a tool you actually need. It's best used for small sanding projects like stripping paint from wood and evening out plaster, rather than larger jobs like sanding floors.
After that, you'll have you choice between corded and cordless models, each with their own pros and cons. We've included both in our pick of the 5 best orbital sanders, alongside all the information you need to make an informed decision with your purchase.
(MORE: 15 DIY Tips Every Beginner Should Know)
Best Orbital Sanders
Ryobi ONE+ 18v Cordless Random Orbit Sander
An easy-to-operate, budget-friendly orbital sander
Specifications
Extraction:
Integrated filter
Charge:
50 minutes on single charge
Reasons to buy
+
Integrated dust filter
+
Quick change velcro system
Reasons to avoid
-
Less suitable for heavy duty applications
-
One speed setting
Ryobi's cordless orbital sander offering is a great starter for the home DIYer. With a cordless 18V battery, it's not as high-powered as some mains-powered sanders, but it's powerful enough for the majority of jobs you'd need an orbital sander for.
The built-in filtration system is important for capturing fine dust generated by using an orbital sander, but we'd still suggest using a mask and google when operating in a confined space. The velcro system for attaching sanding pads is easy to use, making changing between sandpaper grits quick and simple.
As part of Ryobi's One+ range, batteries can be used interchangeably between 150 different cordless tools.
Buy the Ryobi ONE+ 18V Cordless Random Orbit Sander (opens in new tab)
---
Makita BO5041 240v Random Orbit Sander
A powerful orbital sander with an ergonomic design
Specifications
Extraction:
Built-in dust collection
Reasons to buy
+
Rotatable front grip
+
Powerful
+
Variable speed
Reasons to avoid
-
Cord length may restrict movement
Makita's BO5041 orbital sander has an ergonomic body along with a front grip that makes the tool much easier to handle. As a corded model, it's slightly larger than cordless varieties, which can make storage more of an issue, but for those instances where power is important, the 240v motor comes up trumps.
A variable speed setting is a major benefit of this Makita's orbital sander, allowing you to set the rotation speed depending on the task at hand, allowing for more control when trying to lightly sand.
This tool has a built-in dust extraction system, and uses a velcro hook and loop system for sanding pads.
Buy the Makita BO5041 240v Random Orbit Sander (opens in new tab)
---
DeWalt DWE6423 Random Orbit Sander
A tough, robust sander with great anti-vibration
Reasons to buy
+
Quick plate stopping
+
Long cord
+
Low vibration
Orbital sanders can cause hand fatigue when used for long periods, but DeWalt's DWE6423 orbital sander has low-vibration technology to reduce the effect, all the while offering a variable speed control for sanding all kinds of materials.
A super long 4 metre cord means this tool offers all the power of a corded orbital sander, but with great flexibility in movement and using at distances away from power outlets without an extension cord.
However, while this orbital sander has an ergonomic palm grip design, it lacks an extra grip for superior handling.
Buy the DeWalt DWE6423 Random Orbit Sander (opens in new tab)
---
Bosch PSS 250 AE Orbital Sander
A budget orbital sander with a rectangular sanding pad
Specifications
Extraction:
Dust microfilter box and Bosch micro filter
Reasons to buy
+
Long sanding plate
+
Larger dust collector
Reasons to avoid
-
Less standard sanding sheets
You might think an orbital sander needs to be round, but that's not the case. Bosch's PSS 250 AE has a long rectangular sanding plate, which can help make tasks where you need to get into corners easier than a circular plate.
While the rectangular sanding sheets for an orbital sander may not be as common as the circular ones, you shouldn't have too much trouble finding them at any DIY store or ordering online.
In all other fields, it's a relatively powerful orbital sander with a wide-ranging variable speed. Though it doesn't have a secondary handle, the design is ergonomic enough for easy use, and the 2.5m cable isn't the longest available, but is sufficient for most uses.
Buy Bosch PSS 250 AE Orbital Sander (opens in new tab)
---
Erbauer EXT ERO18-Li Cordless Orbital Sander
A compact, but quality cordless orbital sander
Specifications
Extraction:
Transparent dust box with micro-filter
Reasons to buy
+
Anti-vibration for comfortable use
+
Small for easy storage
+
Vacuum adapter
Erbauer ERO18-Li orbital sander is part of the EXT range which can interchangeably use batteries from across the range, but note that they're not compatible with older non-EXT Erbauer models.
It's a good shape and size for a cordless orbital sander, making it easy to store while suiting lightweight sanding projects perfectly. The sander has a clear dust extraction box, but also comes with a vacuum adapter.
Again, this cordless orbital sander is one speed only, making it less versatile, but simple to operate and a good fit for DIY beginners with simple tasks to carry out.
Buy Erbauer EXT ERO18-Li Cordless Orbital Sander (opens in new tab)
---
What is an Orbital Sander?
An orbital sander doesn't just refer to a sander that is circular, as not all orbital sanders are, but rather one that moves in miniscule circular motions without rotating.
The majority of modern orbital sanders are referred to as 'random' orbital sanders. Where a traditional orbital sanders just moves in circles, a random sand moves up and down too, helping to reduce swirl patterning in the wood as a result of using the sander.
What Jobs is an Orbital Sander Suitable for?
A decorator might use an orbital sander for walls to even out uneven plastering, using a fine grit of sandpaper. It can also be used in between coats of plaster, with a very fine grit sandpaper, for a smoother, even finish.
An orbital sander is also used to sand down wood. If you're putting a worktop in, for example, and it's a bit rough, or if you put a joint in with a small discrepancy of half a mm or so, an orbital sander is perfect for making right.
An orbital sander can also be used to strip paint off, and is particularly useful when renovating a house with architraves and skirtings covered in 6 or 7 layers of gloss paint. Use a high grit and you'll be able to strip this wood back, ready for your primer and undercoat.
Orbital sanders aren't suited to large surface areas of wood — a belt sander has a large surface of sandpaper so will be a lot quicker to use.
A orbital sander can't be used to cut objects, and it won't polished up concrete or screed — it's purely for timber and the likes of filler and plaster.
What Should You Look Out for When Buying One?
When you look to buy one, look for dust extraction. You have different kinds of filters, and some have a hose that can be fitted to an extraction unit. As it produces a very fine dust, you don't really want to breathe that in. Check you have a good filter system, or an extraction point you can connect a hose to.
For cordless models, look for a high AH rated battery and always opt for two batteries and one charger, as if you're using it for a whole day, one battery won't last.
Sandpaper-wise, you should look for clog-free velcro sandpaper. You can get ones that don't have the holes, but these are more likely to clog up and make it more difficult for the pads to stick to the orbital sander.
Also consider whether a guiding handle is useful for the task in hand. A lot of them don't but with this you can guide it a lot better, rather than just having your palm on it.
How Much Maintenance Does an Orbital Sander Need?
With the fine dust, it can get clogged up internally. Look for something that can blast it with air to clean it. Change the filters regularly to check they're working. If you've got an extraction unit, make sure that you check that's not clogged too. Give it a bit more maintenance than a combi drill or an angle grinder.
Hugh is Digital Editor of homebuilding.co.uk and has worked on a range of home, design and property magazines, including Grand Designs, Essential Kitchens, Bathrooms, Bedrooms and Good Homes. Hugh has developed a passion for modern architecture and green homes, and moonlights as an interior designer, having designed and managed projects ranging from single rooms to whole house renovations and large extensions. He's currently renovating a Victorian terrace in Essex, DIYing as much of the work as possible. His current project is a kitchen renovation which involves knocking through walls and landscaping a courtyard garden.
Homebuilding & Renovating Newsletter
Get the latest news, reviews and product advice straight to your inbox.
Thank you for signing up to Homebuilding. You will receive a verification email shortly.
There was a problem. Please refresh the page and try again.