'Iconic' Brutalist flat designed by Bond villain namesake Erno Goldfinger goes on sale for £550,000
Trellick Tower is a well-known part of the London skyline. Now a flat that could perhaps be renovated to inject a nod to its architecture has come up for sale inside the Grade II* listed building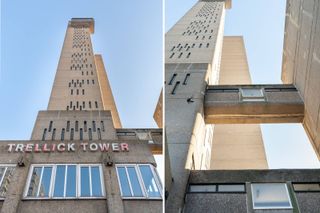 (Image credit: Foxtons)
A flat in an iconic brutalist building has gone on sale in North Kensington in London, ready for a new owner to put their own stamp on it.
The two-bedroom leasehold flat is in the Trellick Tower and has an asking price of £550,000. Other flats inside the building have already been renovated with impressive results, incorporating the exterior concrete of the building into the interior design.
The concrete monolith was designed by Hungarian-born architect Erno Goldfinger — who was the inspiration for the James Bond Villain — and is Grade II*-listed, so if you're interested check out our guide to buying a listed building.
What is Brutalist architecture?
According to the Tate Modern – itself a Brutalist structure – Brutalism is an "architectural style of the 1950s and 1960s characterised by simple, block-like forms and raw concrete construction".
The term was coined by the British architectural critic Reyner Banham to describe the many angular and unadorned buildings that went up in the 1950s and 1960s. The style was widely maligned for decades but has since undergone a critical reappraisal.
Famous examples of the style include Robin Hood Gardens, a residential estate in Poplar, London, Le Brasilia in Marseille, France, and the 1964 New Street Signal Box, better known as the Big Box, in Birmingham.
Brutalism is mostly associated with large residential or public buildings, but some house styles adopt design elements of the form.
Image 1 of 5
Concrete high rise with distinctive silhouette
Trellick Tower, which was completed in 1972, was designed by Erno Goldfinger, a Hungarian-born architect who played a pivotal role in the Modernist architectural movement.
He designed numerous buildings throughout London in the 50s and 60s and became well-known for designing high-rise apartment blocks as the British government battled to solve the huge shortage of housing in the country after the Second World War.
Highlights include Balfron Tower and Carradale House in Poplar which, along with Trellick, from some of the most well-known Brutalist buildings in the capital.
The tower is believed to have been the inspiration behind J. G. Ballard's dystopian novel High Rise and is mentioned in the Martin Amis' book London Fields. It is also referenced in Blur's song Best Days.
It has a striking profile thanks to its separate access tower containing the building's vital mechanical and electrical equipment, including lifts, stairs, wiring, pipes, and communal laundrettes.
The plant room at the top houses the heating system and water tanks, allowing water to run down to the flats using gravity.
Balconies with doors that slide rather than swing
The two-bedroom flat features doors that slide rather than swing to maximise the space and large windows to provide as much light as possible. For more inspiration, read our guide to large window ideas.
It has wood flooring through most of the flat – more here about the different types of wooden flooring – while a balcony provides views of London's world-famous skyline.
How its architect — Erno Goldfinger — inspired a Bond villain
Goldfinger was a notoriously hard person to get along with and inspired James Bond author Ian Fleming, who knew the architect's cousin, to name the villain Auric Goldfinger after Erno.
Some cottages in Hampstead were flattened to make way for Goldfinger's house and Fleming was one of the objectors to their removal.
Goldfinger was angered when his name was used in the book and started legal action, but the writer and architect eventually settled out of court.
Get the Homebuilding & Renovating Newsletter
Bring your dream home to life with expert advice, how-to guides and design inspiration, direct to your inbox.
Sam is based in Coventry and has been a news reporter for nearly 20 years. His work has featured in the Mirror, The Sun, MailOnline, the Independent, and news outlets throughout the world. As a copywriter, he has written for clients as diverse as Saint-Gobain, Michelin, Halfords Autocentre, Great British Heating, and Irwin Industrial Tools. During the pandemic, he converted a van into a mini-camper and is currently planning to convert his shed into an office and Star Wars shrine.