Discover this New England-Style Self Build in Cornwall
By Alison Wall Contributions from Amy Reeves published
Ash and Jess Alken have built a timeless seaside house in Cornwall with family-friendly features at its heart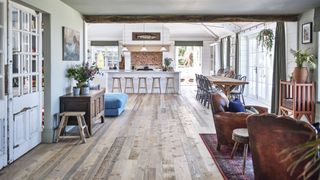 (Image credit: Dan Duchars)
Self builders are a keen tribe, none more so than young couple Ash and Jess Alken, who even wove plans for their future dream home into their wedding vows. Remarkably, Ash had already self built two houses while still in his thirties, and Jess was keen to build a family home with Ash near to her own family and childhood roots in Cornwall.
So when a 1930s seaside bungalow plot with scope for redevelopment came onto the market – the very same house, owned by her grandmother, that Jess had grown up in – neither hesitated.
And rather than knocking down and building a modern home with vast swathes of glazing (a natural enough response to the stunning sea views) the couple chose to self build a home with a Georgian/Hamptons beach vibe, complete with a soft white rendered exterior, vintage roof slates and classically proportioned mullioned windows.
A Floorplan with Family at the Heart
Once you understand that the couple were intent on building a traditional-style home for their family, the floorplan of the masonry-built house makes perfect sense.
"We deliberately positioned the playroom to be in the middle of the house, the heart of the home," begins Jess.
"We used a pair of large sliding doors reclaimed from an old hospital to close it off — hiding the mess and children when necessary! Later, as the children grow, this room could also grow with them, perhaps into a little cinema room, homework area or library. It could eventually be a study when the children leave the nest."
And upstairs, space that could have been used for bedrooms has been kept for a large family landing, which is big enough for their two young children to play in. "We wanted to make this central landing a priority," says Jess.
"We sacrificed bedroom space so that we could have a large communal circulating space between all of the upstairs rooms. It's light and airy, and gets the morning sun. It's where we start and finish the day as a family — and where our little boy learnt how to crawl!"
Capturing Indoor-outdoor Living
Outside, the carefully landscaped garden design incorporates an in-ground trampoline, a slide built into a mound surrounded by stepping logs and a child-friendly clubhouse, along with a terraced area with pergola for the grown-ups to enjoy alfresco dining and entertaining.
The needs of adults are catered for inside the house, too, with an entertainment-friendly open plan kitchen/dining/seating area with a dramatic double-height vaulted space above.
"We sacrificed a lot of space to have that — we could have fitted in another two bedrooms but as it is, we have four bedrooms in the house and a fifth over the garage that's our guest room," explains Ash.
A cosy snug provides privacy away from the main open plan living quarters. "We're only ever there in the evening, and with the big open fire it's nice and cosy," he adds.
Traditional Coastal Interiors with Reclaimed Materials
Throughout, the interiors meld traditional and modern, in tune with the couple's plans to build a home with a timeless feel. The lighting design plays an important part, with £2,000 of their budget dedicated to this.
"Ash wasn't sure at first, but I knew that bringing in lighting designer Millard & Flo (opens in new tab) would be a really good idea," says Jess. "It's the little things, such as the sensor lights in the bathroom for the children and the internal lights in the cupboards. Planning ahead makes such a difference to both the functionality and beauty of our home."
The relaxed beachside character of the house belies the hard work, meticulous planning and attention to detail that the couple put in.
Self-confessed recycling fans, Ash and Jess have incorporated old red bricks from the original bungalow in their build, along with some fun choices, including old school gym benches, slate window cills from an old lemonade factory and a bunch of old cheese boards that have found new life as a sliding door.
As the couple discovered, using recycled materials isn't always cheap, but they love the way that each reclaimed brick, stone and timber plank infuses the house with a sense of history.
"All the roof slates are 100 years old," says Ash. "They're originally from an old school in Devon that we found in a reclamation yard. They look like they've been there for 30 years and they've settled into the landscape. They were the very first thing we bought for the house — and expensive, at £25,000, but worth it."
"I'd recommend planning everything before you start — even down to room layouts and where the furniture is going to go," says Ash. "It will help when working out your electrical and plumbing layouts so you get as much right at the start. You can always change things as you go but there is nothing more annoying than when you move in to a new house and then wish you'd put a switch, socket or tap somewhere else.
"Now that we've moved in, all those hours thinking and planning have paid off in the end. We absolutely love our new home — it works perfectly for us as a family and most importantly, our two boys love it!"
Homebuilding & Renovating Newsletter
Get the latest news, reviews and product advice straight to your inbox.
Thank you for signing up to Homebuilding. You will receive a verification email shortly.
There was a problem. Please refresh the page and try again.