6 Clever Self Builders That Built Flood-Resilient Homes
By Hugh Metcalf published
Working with brilliant architects, these homeowners created homes on flood-prone plots, designed to withstand rising waters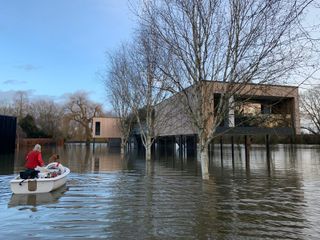 (Image credit: Max Narula/John Pardey Architects)
Living waterside might offer scenic views of rivers, lakes or even the sea, but there's also a potential downside to these water-adjacent plots — flooding. However, it's not only these plots that are at risk. As heavier rainfall and extreme weather events become more regular in occurrence, it's not uncommon to see many towns and villages suffering the consequences of flooding, caused by water surface run-off rather than a nearby body of water.
When it comes to finding a plot for your self build, the potential long term risks of flooding are something that will need to be identified before you begin, and your planning application is likely only to be successful if you demonstrate that your build is flood-resilient.
With that in mind, we've rounded up six of the very best examples of self build homes designed by architects to withstand flood waters.
Amphibious House, Baca Architects
Image 1 of 3
Image 2 of 3
Image 3 of 3
Amphibious is the perfect description for this project by Baca Architects, built on a 15-home island on the River Thames in Buckinghamshire. While the majority of the homes on the island are built one metre raised from the ground, this only factors in regular flooding, rather than any extreme flooding event.
Their self build, they discovered, would need to be raised another 1.4 metres in order to cope with this potential, meaning the home would need to be built some 2.4 metres off the ground to comply.
Rather than pressing ahead with this tall order, Baca Architects came up with a clever solution, an amphibious home that sits on dry land when the conditions permit, while when flooding occurs, it floats, rising in its dock.
This meant the house could be built under the 1m elevation, allowing for three-storeys instead of one, and a generously sized three bedroom home.
Chiquet Flood House, Ben Adams Architects
Image 1 of 2
Image 2 of 2
Built in 2011 for a budget of £400,000, Chiquet Flood House by Ben Adams Architects is another design seeking to cope with the swelling waters of the River Thames. Located on a flood plain, all the homes face the river, and the site is flooded at least two times a year, as well as becoming regularly waterlogged.
Here, the ground floor level is raised loftily above, but while maintaining the qualities of living riverside, with a large picture window overlooking the Thames and a unobtrusive pivot door offering access out onto the veranda.
Narula House, John Pardey Architects
Image 1 of 3
Image 2 of 3
Image 3 of 3
In this bold, contemporary home on the banks of the River Loddon in Berkshire, John Pardey Architects raising the property the 2.2 metres from ground level to combat the future potential flood risk has also been used to create a parking space with open-tread stairs leading directly up to the house.
A vast balcony runs along the side of living space, while vast glazing also means the view of the river is unspoilt while inhabiting the space.
Made from a steel frame with timber frame inserts, each structural column is sat on deep (and expensive) pile foundations up to the task of holding up this monumental home.
(MORE: Foundations for Difficult Sites)
The Dentist House, Footprint Architects
Image 1 of 2
Image 2 of 2
While it's elevation may not be as dramatic as some flood-resilient homes, this garden plot was located on a flood plain, and therefore Footprint Architects were required to adapt this self build home to adapt.
The raised terrace and gently sloping path leading to the front door are the only suggestion from the exterior that this home has been designed with flood-resilience in mind.
Shipston Road, Baca Architects
Image 1 of 3
Image 2 of 3
Image 3 of 3
Baca Architects reclaimed a flood-risk brownfield site in Stratford-Upon-Avon to create 11 new flood-resilient custom build homes. With the houses raised above the floodplain level, an elevated timber pathway provides a pedestrian and cycle way across the site when flooding does occur, while a gently ramped road leads up to them homes at the front of the property.
The gardens have been landscaped with rain gardens and swales to help control retain and control run off. Each of the properties shares a larger communal garden, as fences would need to sit in the flood-prone area, with louvres separating the rear patios.
(MORE: Garden Design)
Island Rest, Strom Architects
Image 1 of 3
Image 2 of 3
Image 3 of 3
Located on a beautiful creek on the Isle of Wight, Ström Architects' Island Rest had to respond to the typology of the site to safeguard the home from the potential of future flooding.
Thanks to a sloping plot, the floor level has been raised to the highest point on the plot, above the future flood risk level — with the rest of the single storey self build suspended over the terrain as the ground slopes away.
(MORE: How to Build on a Sloping Plot)
Hugh is Digital Editor of homebuilding.co.uk and has worked on a range of home, design and property magazines, including Grand Designs, Essential Kitchens, Bathrooms, Bedrooms and Good Homes. Hugh has developed a passion for modern architecture and green homes, and moonlights as an interior designer, having designed and managed projects ranging from single rooms to whole house renovations and large extensions. He's currently renovating a Victorian terrace in Essex, DIYing as much of the work as possible. His current project is a kitchen renovation which involves knocking through walls and landscaping a courtyard garden.
Homebuilding & Renovating Newsletter
Get the latest news, reviews and product advice straight to your inbox.
Thank you for signing up to Homebuilding. You will receive a verification email shortly.
There was a problem. Please refresh the page and try again.