Before and After: An Incredible DIY Bungalow Transformation
By Jo Dyson published
Laura and Will Dewar remodelled their dated bungalow under PD rights into an amazing modern family home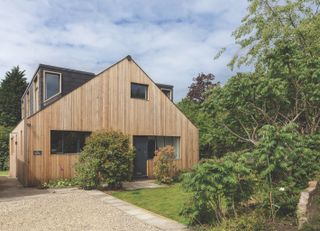 (Image credit: Simon Maxwell)
Laura and Will Dewar had the problem many families living in cities face: a lack of space and a growing family. Keen to move from their small flat in Wimbledon to create their own 'grand design', they had the benefit of Will being an experienced architect, but finding a plot or property proved a big challenge.
London was soon ruled out and they expanded their search, eventually settling on Farnham. "We had a few properties booked in to view that day and it was all a bit rushed," Will recalls. "The first property was called 'The Shambles'; we absolutely loved the area, set back from a quiet road up a small unmade track — it was very picturesque. But as we turned on to the drive to see the tired 1960s bungalow for the first time, it was rather underwhelming."
(MORE: How to Find a Good Renovation Project)
Feeling inspired to find out more?
Laura was less than impressed and Will admits that the 'The Shambles', aptly named by its previous owners, was the ugly duckling on the street, but he could immediately see its potential: "The bungalow was detached, with a large footprint and we could double its size by going into the loft which already had a high ridge height of 2.8m and adding dormers windows.
"The plot had a good-sized garden and an elevated position overlooking woods; it was close to good schools for the girls, commuting distance for us, and near to a pretty pond-side 'beach' in Surrey," he explains.
Image 1 of 2
Image 2 of 2
Will and Laura initially wrote it off and continued looking for a few months in the Farnham area, but anything they remotely liked was at least £100,000 more and the location wasn't as good. Months later, 'The Shambles' was still on the market, so Will sketched out a design for how he believed he could transform the ugly duckling into a beautiful swan. Laura was sold: "When I saw Will's design for a modern family home, I knew it could become everything we were looking for."
A Design Under Permitted Development
Image 1 of 3
Image 2 of 3
Image 3 of 3
Will knew he had to be smart with the planning application for the build, as it was in a sensitive landscape in Surrey. For the addition of two large timber frame dormers, he carried out the works under Permitted Development rights (PD), achieving the maximum allowable additional volume for a detached house of 50m3 (for terraced houses it's 40m3).
This combined with converting the roof space has created a two-storey property with four bedrooms and two bathrooms on the new first floor. To carry out these works under PD, Will had to make sure the new roof didn't go higher than the existing roof and that any side-facing windows needed to be obscure glazing and non-opening below 1.7m.
For the remaining works, Will made a full planning permission application to update the exterior of the building, opting to cover the dated brick façade with Siberian larch cladding, along with reconfiguring the windows and external doors. "My design included larger windows positioned on a southerly aspect to maximise their solar gain in the winter months, along with improving the visual link to the garden," explains Will.
Living Off-Site During the Build
Image 1 of 4
Image 2 of 4
Image 3 of 4
Image 4 of 4
"We told our daughters that we were going on holiday to encourage them to get excited about living in so many different places for the next few months!" says Laura. "We lived in a basic holiday cabin, then with my parents, Will's parents, a few weeks in a rented house, then Will's aunt… before finally moving back in when the stairs had been built and we could safely get to the first floor.
"Still, the only room finished was the girls' bedroom and we used our bedroom as the living room. We definitely learned how to live out of a suitcase and how little you really need."
While Will designed and project managed the build, everyone in the family played their part in creating their home. Laura did most of the interior design and to save project costs, Will did all of the decorating work himself, helped by family and friends whenever possible. "The girls loved 'helping out', too, trying to get involved with painting," laughs Laura.
(MORE: Could you Project Manage Your Building Project?)
A Successful Bungalow Transformation Project
Image 1 of 2
Image 2 of 2
"The house is a bit of a Tardis; from the street it doesn't look very large, but once you're inside the house feels completely different to the original bungalow," says Will. The once cramped, dark hallways and rooms all on one level have been reconfigured and extended up to create a light and airy family home, with generous proportions.
(MORE: Renovate on a Budget)
Laura and Will are understandably proud of what they've all achieved together, though the biggest stamp of approval came for them when daughter Phoebe turned around to Will and said: "You've built the best house ever, Daddy!"
So will their very own, long-awaited, grand design be rightly renamed — The Tardis or Larch Cottage perhaps? "We've lived and breathed the evolution of this building and nothing about it is recognisable, so we felt it only right that it could keep its name," laughs Laura. So it seems once The Shambles, always The Shambles, but now, at least, only by name.
Jo Dyson is an experienced property renovator, reconfiguring and interior design.
Homebuilding & Renovating Newsletter
Get the latest news, reviews and product advice straight to your inbox.
Thank you for signing up to Homebuilding. You will receive a verification email shortly.
There was a problem. Please refresh the page and try again.