Look Inside This Award-winning Self Build by the Sea
By Amy Reeves published
Lizzie and Tristan Stone's elegant new home 'The Boathouse' masterfully integrates itself within the Devonshire coast. The home won The Daily Telegraph Homebuilding & Renovating Awards 2021 Best Self Build.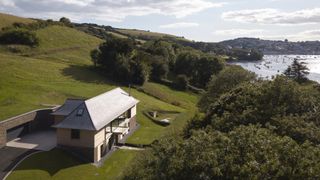 (Image credit: Jim Stephenson)
Located on the Devonshire coast in an Area of Outstanding Natural Beauty, Lizzie and Tristan Stone built their new home, The Boathouse, to be closer to the boatyard that Tristan works on.
It's a project which embodies the essence of self build in many ways — it's a home that is high-quality and considered, and which very much enhances the lives of its occupants. Hunkered down in the hillside, and clad in natural materials, including locally sourced stone, Lizzie and Tristan's 'forever home' is a match for the exceptional site within which it sits.
Here, Lizzie talks to Homebuilding & Renovating's Amy Reeves about the self build process.
Why Did You Decide to Self Build?
Tristan's family has been building boats in the area for many generations and he had a boatyard about 25 minutes from where we were living. A large part of the job is to launch and recover boats while working with the tide at all times of the day and these responsibilities meant that it wasn't very convenient for us living where we were.
The boatyard is in an Area of Outstanding Natural Beauty and we weren't sure if we would be able to get planning permission to build beside it. As a result, we talked for a few years about self build before we decided to eventually take the plunge. We were really lucky. There was loads of local support so planning went through without issue.
What Were Your Main Priorities In the design?
We know Rob from Adams + Collingwood Architects – the practice designed Tristan's boat house – and he suggested that he do the drawings for our home as well. As the field is really steep he designed an upside-down house; it sits into the slope and makes the most of the views.
The main thing about the design for us was that it had to sit within the surrounding and the landscape without being an eyesore! We knew we wanted open-plan living and for it to really function well as a family home so Rob listened to our priorities and he just ran with it — we love it!
Did You Have Any Involvement in the Build Process?
We took on the self-build project management ourselves because it was a lot more cost-effective. I've never done anything like this before and I think I definitely underestimated how time-consuming it would be, but we were lucky in that we only worked with a very small team of individuals we knew already — an amazing carpenter who took ownership of the build process, a stoneworker, an electrician and a plumber. We had total faith in our build team.
Because Tris works just up the road, he was on site all day everyday, plus Adams + Collingwood were amazing in guiding us and holding our hands through the process.
Did You Come Up Against Any Challenges During the Project
As we're on such a slope we had to excavate a load of soil before starting groundworks. We were due to break ground in March and it snowed – which is really rare – and it delayed us by a couple of weeks. Tris also worked with his Dad over on Vancouver Island to source huge pieces of Douglas fir for the flooring in the main living area.
We had wanted it to be all long planks but we're down a really narrow country lane and the lorry couldn't get down the lane so Tris had to strap it to the back of his flat-bed with a forklift behind!
We have a ground source heat pump which was quite an initial outlay budget-wise but we decided it would be the best way forward because we knew we wanted underfloor heating.
We also went above and beyond Building Regulations standard with our insulation. There were lots of ways we could have cut corners but this is our home for life and we tried to get the best we could within our budget.
What was it Like Moving Into Your new Home Once it was Finished?
When we finally moved in, it was amazing on so many levels. Firstly, it has meant that Tris's work-life balance is much better because he's closer to work. On top of that the house also works really well with the kids.
Upstairs is all open-plan – initially I was concerned it would be too big – with the kitchen at one end, the dining table in the middle and a snug with a woodburner at the other.
Because we have the two mezzanine levels either side of the vaulted ceiling and it's broken down into areas it doesn't feel too big at all. We have two sets of sliding doors and the room is so full of light. We had a conversation not too long ago about if we would have done anything differently and I don't think there is anything that we would change.
Assistant Editor Amy began working for Homebuilding & Renovating in 2018. She has an interest in sustainable building methods and always has her eye on the latest design ideas. Amy has interviewed countless self builders, renovators and extenders about their experiences for Homebuilding & Renovating magazine. She is currently renovating a mid-century home, together with her partner, on a DIY basis, and has recently fitted her own kitchen.
Homebuilding & Renovating Newsletter
Get the latest news, reviews and product advice straight to your inbox.
Thank you for signing up to Homebuilding. You will receive a verification email shortly.
There was a problem. Please refresh the page and try again.