Will the Boiler Upgrade Scheme Actually Help Homeowners Save Money?
By David Hilton published
With a new government boiler scheme launching in April, energy efficiency expert David Hilton assesses the cost implications of applying for heat pump grants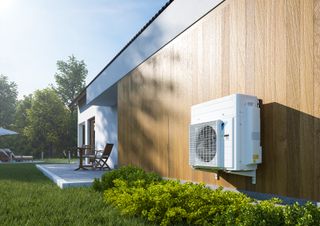 (Image credit: Daikin)
The government has finally published the much-anticipated Heat and Buildings Strategy, and while there are a number of funding commitments that may seem great on the surface, when we dig down they leave a lot to be desired.
Under the Boiler Upgrade Scheme, grants of £5,000 will be offered to homes from April 2022 to fit an air source heat pump, with grants of £6,000 offered to fit a ground source heat pump. There is a budget of £450 million, which may seem high, but that only amounts to 90,000 homes. Considering that there are around 29 million homes with gas boilers that number is not even a splash in the ocean. It is also way short of the government target of installing 600,000 heat pumps a year by 2028.
Another point here is that £5,000 is only just about half the cost of a simple heat pump installation. The cost of a full heat pump retrofit could be nearly three times this figure if we consider the upgrades required to homes' insulation, radiators and hot water cylinder to make the home anywhere near compatible with a heat pump system.
Most heat pumps require low-temperature emitter circuits to be efficient. Simply lowering the flow temperature in your existing radiator circuits will not result in enough heat being released into the room and the balance will be completely wrong, so they need to be correctly designed to be fit for purpose.
This is perhaps the elephant in the room. Our current boiler heating engineers are not all trained on low-temperature systems. Would this budget not have been better spent on training the new generation of installers and perhaps subsidising VAT on home improvement measures to help make them heat pump ready?
'Five More Years of Limbo'
We have been told that heat pumps will save us money when compared with gas boilers. This is, however, not my experience.
On paper they do save on carbon emissions, which is why the government is so keen on them, but the margin of (efficiency) error is large, so on all but the very well-insulated and airtight homes - which have a properly designed and installed system - the running costs inevitably will be lowest for a gas boiler.
On the plus side, the so-called gas boiler ban on new homes has been delayed until 2035 but any decision on what role hydrogen heating will play in the future gas grid has been put off till at least 2026. That still gives us around five more years of limbo.
Manufacturers cannot really commit to upscaling production of 100% hydrogen-ready boilers (most current boilers are partially hydrogen-ready in that they can operate on up to 20% hydrogen in the gas mix) and therefore homeowners will not know whether they should invest in a new boiler or a heat pump system.
Once there is a government commitment with legally-binding milestones, the investment be easier to justify, and we can be more certain that our hard-earned cash is not being thrown at a scheme would could leave us all worse off than if we did nothing.
Take the Initiative
These green initiatives are positive in as much as they are at least an indication of the direction things are likely to go, but taking the initiative is important to ensure your home is cost-effective.
My advice is to insulate and draughtproof your home, recover waste heat, manage the heat in the whole home on a room-by-room basis, and then do your research and install the wisest heating source according to your use, location and affordability.
Self builders have the advantage in that they have better control of the choices and can also implement strategies that allow for easy change at a later stage as, and if, required.
Do not be driven in your decision-making by government 'what ifs' or the time-frame of incentives. Do the best you can for your property and if there is a small pot of gold at the end of that rainbow then that is a bonus.
David is a renewables and ventilation installer, with over 35 years experience, and is a long-standing contributor to Homebuilding and Renovating magazine. He is a member of the Gas Safe Register, has a Masters degree in Sustainable Architecture, and is an authority in sustainable building and energy efficiency, with extensive knowledge in building fabrics, heat recovery ventilation, renewables, and also conventional heating systems. He is also a speaker at the Homebuilding & Renovating Show.
Passionate about healthy, efficient homes, he is director of Heat and Energy Ltd. He works with architects, builders, self builders and renovators, and designs and project manages the installation of ventilation and heating systems to achieve the most energy efficient and cost effective outcome for every home.
Homebuilding & Renovating Newsletter
Get the latest news, reviews and product advice straight to your inbox.
Thank you for signing up to Homebuilding. You will receive a verification email shortly.
There was a problem. Please refresh the page and try again.