Best Radiators: Eye-Catching and Efficient Models for Your Home
The best radiators should offer value for money and be energy efficient to run — not to mention look great too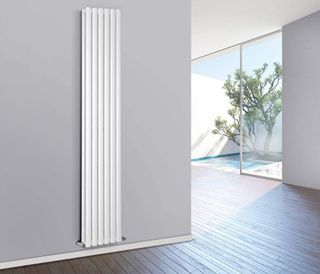 (Image credit: Amazon)
Searching for the best radiators currently on the market? Perhaps you are self building and have chosen radiators as part of your new heating system, or maybe you are renovating an old property with out of date heat sources. Or maybe your existing radiators are perfectly fine but you just fancy swapping them for something a little more eye catching or in a design that will better suit your interior scheme.  
Whatever your reasons, we have rounded up some of the best radiators out there so you can ensure you are choosing the right product at the best price.
Quick Links to Best Radiators
Which is the Best Radiator?
1. NRG Modern Vertical Radiator
Size: 1800 x 354mm | BTU Rating: 6888 | Weight: 27kg | Valves included?: No
Value for money
Contemporary and elegant
Could heat up quicker
This stylish radiator from NRG boasts a contemporary style which enables it to fit with modern and minimalist home designs. 
Not only is it eye-catching, but it's efficient too. Made from 1.5mm premium mild steel and featuring a high quality white finish, it's no surprise this model comes with a 15-year manufacturer's guarantee. 
Given its size, you certainly get bang for your buck, and the attractive low price point makes it a suitable option if you're planning a renovation or conversion on a budget. 
Buy the NRG Modern Vertical Radiator Now
More of the Best Radiators You Can Buy
2. Elegant Modern Vertical Column Designer Radiator
A great heat output with an eye-catching design
Size: 1600 x 480mm | BTU Rating: 6500 - 7000 | Weight: 38.09kg | Valves included?: No
Handy in spaces with limited wall space
Plenty of sizes and colour options
Some buyers found fitting a little tricky
As the name suggests, this really is an elegant way to heat a room. Ideal for awkward spaces, this vertical radiator would look particularly stylish in a kitchen or hallway, both rooms in which wall space is often at a premium. 
Do ensure you get help lifting this one as not only is a little heavier than some in the line up, but its height and width could make it tricky to carry for one person.
The radiator comes in single or double formats.
Buy the Elegant Modern Vertical Column Designer Radiator Now
3. Henrad 110960 Type 11 SC 1003 Compact Radiator
Lightweight and perfect for small spaces
Size: 600 x 300mm | BTU Rating: 868 - 13382 | Weight: 5.91kg | Valves included?: No
Perfect for small space
Lightweight
Inexpensive
Plain design
Whilst this compact radiator from Henrad might not be shortlisted for its eye-catching good looks, there is certainly nothing wrong with them. In fact, many people will be drawn to its ability to simply sit, unnoticed within an interior scheme. 
This is a great little radiator for small spaces, taking up very little space. It is lightweight, meaning even fairly non-substantial walls will hold it easily.
In short, this is the ideal radiator for anyone on a budget, whether replacing old radiators as part of a heating system upgrade or building from scratch. 
Buy the Henrad Compact Radiator here
4. Milano Aruba
Compact radiator with an impressive heat output
Size: 400 x 415mm | BTU Rating: 1074 | Weight: 5.68kg | Valves included?: No
Contemporary design
Impressive 20-year guarantee
Great heat output
Costs more than some compact rads
The Milano Aruba is a small yet mighty radiator. Don't be fooled that its dinky dimensions will mean a low heat output — at just 400 x 415 mm its BTU of 1074 is impressive. 
Ideal for small spaces, awkwardly-shaped rooms or for sneaking in underneath window cills, this is a handy way to heat your home. 
Whilst it might cost a little more than some of the other compact radiators, it also offers a smart, contemporary appearance which makes up for the extra cost.
Made from extra thick low carbon steel, the manufacturers are so confident of its durability, they offer a 20-year guarantee.
5. Wärme Designer Panel Heater
Electric wall heater with a wow factor
Size: 470 x 820mm | BTU Rating: Operates at a 2KW output. One Wärme heater can heat a 22 metre square room | Weight: 9.3kg | Valves included?: N/A
Does not need to be plumbed in
Fitted in minutes
Futuristic design
Programming can be complicated
More expensive to run than traditional rads
Proving that electric radiators are anything but boring, the Wärme Designer Electric Wall Heater Low Energy Panel Heater Radiator will definitely make a statement in your home — it can even be used in bathrooms thanks to its waterproof casing. 
As well as looking pretty space age, its ability to heat the house is not to be sniffed at either. One heater can heat a 22 square metre room, whilst built-in heat sensors avoid overheating.
The heater features a digital thermostat too, allowing you to choose between an 'instant heat' mode or to programme it to work to a weekly cycle. 
Another benefit of this one is how easy it is to install — it is simply mounted on the wall brackets that are included and plugged in. You will need to ensure there is an electrical socket within reach and ensure there is a minimum of 30cm clearance space above and below the unit. 
Buy the Wärme Electric Wall Heater Now
Electric or Plumbed-in Radiators?
Before you begin your search, decide whether you will need electric radiators or those that are plumbed in. 
Electric radiators use mains electricity. Some are designed to be plugged into a socket, while others will need to be fitted by an electrician. You might also see infrared electric radiators for sale. These are good for small spaces as they have a high heat output with a slim profile. 
Plumbed-in radiators are connected to your boiler and use hot water as their heat source. They're controlled as part of the central heating system.
What Size Radiator Do I Need?
In order to choose the best radiator for your room, you will need to determine the heat requirements of the space. 
You will notice that radiators have a 'BTU rating'. BTUs are 'British Thermal Units' and this is the unit in which radiator efficiency is measured. 
Room sizes, window dimensions and even the materials used in the walls will all be used to calculate the required outputs of the radiators you will need to heat the room properly.  
A heating engineer or plumber should be able to work this out for you, or you could use an online BTU calculator.
Our handy guide to finding the right plumber for your project is a must-read.
Natasha is Homebuilding & Renovating's Associate Editor. She is at the end of the DIY renovation and extension of an Edwardian cottage.
Homebuilding & Renovating Newsletter
Get the latest news, reviews and product advice straight to your inbox.
Thank you for signing up to Homebuilding. You will receive a verification email shortly.
There was a problem. Please refresh the page and try again.