What is a multi tool and what DIY jobs is it brilliant for?
There's a clue in the name, multi tools can do a host of different DIY jobs. Here we take a look at what they're capable of and the benefits of owning one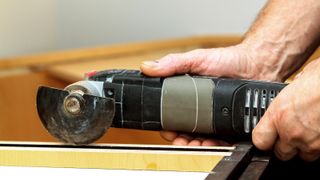 (Image credit: Getty Images)
What is a multi tool? As the name suggests it is a tool that is more than capable of tackling a multitude of jobs. If you do a lot of DIY, a multi tool is definitely a device that you need to add to your kit. This means that you don't have to splash out on an array of power tools making it good value for money for DIYers.
The best multi tools are typically cordless, have a long battery life and will come with a set of attachments to take on a lot of different jobs.
Here we take a look at what jobs they can tackle and what to look for when buying one.
What is a multi tool?
A multi tool – also known as an oscillating tool – is a power tool that oscillates and is capable of taking on a host of DIY jobs, hence the name. Multi tools have a wide range of available attachments allowing the tool to be used for sawing, sanding, cutting, polishing and more.
They are available in corded and – more conveniently – cordless models as Brooke Catullo, Associate Product Manager at Stanley Black & Decker points out: "Oscillating tools have evolved greatly in the last 10 years especially now that virtually every option is available as a cordless, battery-operated tool. A cordless oscillating tool still serves its intended purpose of being that go-to tool, but now it's moved into the 'everyday tool' category for many trades."
What jobs are a multi tool capable of doing?
There are a host of jobs that a multi tool can tackle. Here we take a quick look at the common applications.

1. Cutting
This is one of the most popular applications for a multi tool. With the right attachment blade you can cut almost any type of material. There are saw attachments for cutting wood, metal, plasterboard, flooring, pipe work, furniture, kitchen cabinets and more.

A multi tool is ideal for small cutting jobs such as cutting skirting boards and wooden trim, nails, copper pipe, plastic pipe, cutting holes in plasterboard. That said, a multi tool is not ideal for cutting wood or board that needs a long straight edge.

Sanding
"In addition to cutting, the oscillating tool has the versatility to sand and smooth surfaces on doors, shutters, and furniture," Catullo tells Homebuilding & Renovating. "The slim body of the tool and triangular sanding head makes it ideal for applications with narrow edges and small spaces."

A multi tool negates the need for a hand sander and typically comes with a triangular pad that is good for small sanding jobs such as prepping doors, windows, architrave and furniture.
Caulk removal
Removing silicone and caulk is not an easy DIY job. While you can use a Stanley knife or caulk removal tool to remove it hand, a speedier and more efficient option is using a multi tool with a cutting and scraping blade attachment.
Scraping surfaces
A scraper blade attachment is a useful tool for removing paint from wood and metal surfaces. It can almost be used for scraping cement, plaster or off walls and floors plus any other areas where you would use a traditional scraper.
Removing grout
If you are regrouting tiles you will need to remove the old grout before you can apply the new. This is a labour-intensive project especially when done by hand. With the right multi tool blade set to the right depth you can get rid of grout in no time at all.
What is the best multi tool to buy?
This depends very much on what you intend using it for, how often you are going to be using it and what your budget is.

If you are going to be using your multi tool on a regular basis you need to consider a heavy duty, well-made tool that is built to last. Brands to look out for include DeWalt, Bosch, Ryobi and Makita. In our Makita DTM51Z 18V Cordless Multi Tool Review review, the tool received an impressive five stars.

Corded or cordless? We say cordless due to the flexibility and convenience it offers. You can get into any tight corner without having to worry about a power source or cable length.
If your budget allows, get a multi tool that comes in a set with all the attachments you need so you can start using the tool straight away.
Are multi tool attachments universal?
Yes and no — typically manufacturers will have their own format that works well with their tool. Some manufacturers create attachments that are interchangeable with other brands, but not all brands do.
Other manufacturers create universal attachments that work across all brands. To guarantee that an attachment will work with your multi tool use the manufacturer's blades.

If working on removing skirting boards, for example, and can't find your manufacturer's brand of saw attachment, you can check what other brands' attachments work with yours.
If unsure, go for a universal attachment. In the unfortunate situation where they don't work with your multi tool you can always exchange or get a refund.
Get the Homebuilding & Renovating Newsletter
Bring your dream home to life with expert advice, how-to guides and design inspiration, direct to your inbox.
Steve is Homebuilding & Renovating's DIY content editor, and has been a writer and editor for two decades. He is an avid DIYer with over 20 years of experience in transforming and renovating homes. He specialises in painting and decorating, but has strong all-round building skills, having previously worked in the industry for 10 years.